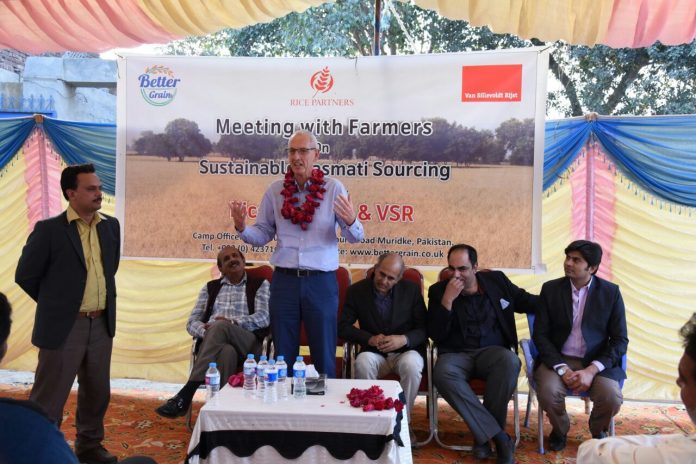 SHEIKHUPURA: An Official from Van Sillevoldt Rijst (VSR) Netherland, VSR Director Henk Verschoor visited the Rice Partners Pvt Ltd (RPL) plant in Muridke, Pakistan. He had interaction with RPL staff talking to the management he said; he was really impressed to see the RPL sustainable rice production program.
Henk also visited farmer's field and interacted with them, talking to the farmers he said Super Basmati Rice is very important to EU. He explained farmers are very important, if they buy rice from farmers then their people will be able to work and earn their livings. He bowed down to the farmers by paying his gratitude. He also said that farmers should adopt good agricultural practices. He also added that all millers should keep interaction with farmers and listen to them as they are an integral part of their business.
He also said he is happy that RPL maintained a very close relationship with the farmers and give them technical guidance, inputs to grow good rice crop. Talking to the farmers and RPL management, VSR official said, now the world and EU will focus on sustainable sourcing of rice from like Pakistan, which is already providing sustainable rice in the global market, he emphasised other rice mills to follow the RPL program to grow sustainable rice.
During the RPL plant visit, he was briefed about the traceability and storages protocols. The VSR official further advised that buyers should interact with farmers to get to know their problems and issues, he is very happy to interact and meet the Pakistani farmers. He said that sustainable rice production is the future of the industry, so every exporter, importer, rice mill, the farmer should follow and promote sustainable rice production. Henk added, farmers are the main asset of every miller, the world needs the farmers and farmers should be encouraged.