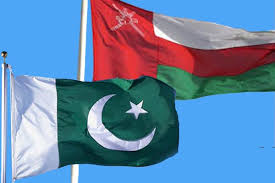 ISLAMABAD: In a visit to Islamabad Chamber of Commerce and Industry (ICCI) on Thursday, Oman's Ambassador to Pakistan Sheikh Mohammed Omar Ahmed Al Marhoon said both countries need to enhance bilateral trade ties.
He disclosed a gas company of Oman will soon ink a memorandum of understanding (MoU) with Pakistan, which he hoped would open new avenues for business collaboration between the two countries, reported an English daily.
Marhoon said Oman was considering building a railway project which would permit to link it with Gulf Cooperation Council (GCC) countries, and added Pakistan's increased cooperation with it would allow easy access to GCC states.
He emphasized both country's private sectors needed to work in tandem to exploit the untapped potential for mutual benefits. Marhoon added China-Pakistan Economic Corridor (CPEC) had attracted global attention towards Pakistan and private sector should make every effort to extract maximum benefits out of this mega project.
The ICCI was told by the Ambassador to increase their interaction with diplomats from Arab countries to find new areas of cooperation in the region.
ICCI President, Sheikh Amir Waheed highlighted both countries were geographically connected via Gwadar, but bilateral trade wasn't up to the mark.
He stressed both Pakistan and Oman need to concentrate at promoting economic and trade relations, which would bring great benefits to both countries.
Waheed added Pakistan could export many products like food, vegetables and fruits, textiles, pharmaceuticals etc to Oman. ICCI President also said both countries need to promote frequent exchange of trade delegations and find areas to maximize cooperation.
Furthermore, he said ICCI was interested in signing an MOU with Oman Chamber of Commerce and Industry and urged their embassy to help in this regard.
He said SEZs being setup under CPEC provided an ideal opportunity for Oman's investors to consider Pakistan for investments and joint ventures.