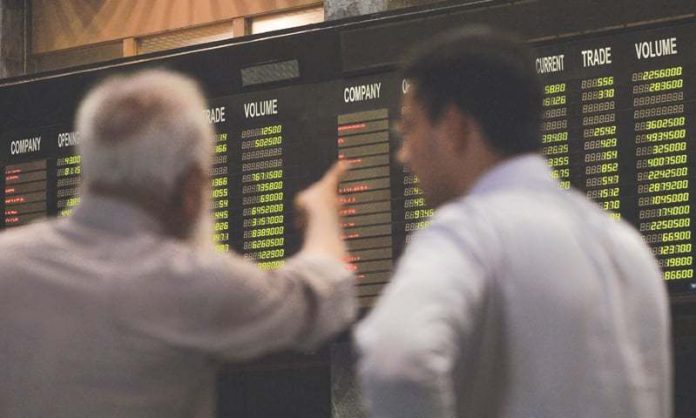 LAHORE: As looming trade war fears continue to plague the sentiment in regional markets, we remain immune and indifferent to global woes as we continued our northbound march and closed up 90.27 points (+0.2 per cent) at 46,103.61 – staging a closing in green for the 6th consecutive day. As animal spirits took center stage, investors' interest in retail favorites led to natural exuberance in select names. Financials hijacked the rally in today's session amid favorable news flow after PBA strongly proposed to FBR to withdraw Super Tax from banking companies in budget 2018-19 and to make amendments in Finance Bill 2018 whereby banks should be paid 2 per cent collection charges on performing withholding tax agent on behalf of federal government. Investor interest in banking stocks also piqued on the back of improving NPLs (down to 8.4 per cent from 10.1 per cent YoY) in 4QCY17. However, profit taking in the final hour led to a reactive close with the 100 Index shedding 371 points from its intraday high of 46,447.
Materials (in particular Cements) came under immense selling pressure amid transient increase in coal prices (+2.1 per cent) as tropical storm Iris leads to a force majeure on Australia's east coast. DGKC (-3.57 per cent) came down sharply amid market rumors of delay in commencement of operations of their ongoing expansion by 6 months. However, channel checks confirmed that the progress on plant commissioning is well within the scheduled timeline. Major contribution to index gains came from Financials (+1.27 per cent), Industrials (+0.35 per cent) and Health Care (+0.19 per cent), amid positive contribution from UBL (+1.30 per cent), HBL (+0.84 per cent), NBP (+4.80 per cent), BAFL (+3.89 per cent), BAHL (+1.35 per cent), HMB (+2.45 per cent), PIBTL (+1.04 per cent), PICT (+1.92 per cent) and SEARL (+0.99 per cent). In market related news, OGRA has given "provisional" license to Energas to build and supply the country's 3rd import terminal for LNG. The group plans to start building USD 150mn offshore terminal at Port Qasim near Karachi in May.
Market participation for the 100 Index increased to 148.45mn shares (+9.36 per cent on d/d basis). Major contribution to total market volume came from EPCL (-0.38 per cent), LOTCHEM (-0.80 per cent) and KEL (+0.43 per cent) churning 50.98mn shares out of the All Share volume of 270.2mn shares. Daily traded value for the 100 Index increased to USD93.55mn from USD81.22mn in the previous session (+15.18 per cent on d/d basis); EPCL (USD 7.20mn), DGKC (USD 5.77mn) and POL (USD 5.24mn) were among top contributors from traded value perspective. Major contribution to the 100 Index upside came from UBL (+1.30 per cent), HBL (+0.84 per cent), NBP (+4.80 per cent), BAFL (+3.89 per cent) and FFC (+1.34 per cent) adding 122 points. On the flip side, DGKC (-3.57 per cent), OGDC (-0.85 per cent) and HUBC (-1.35 per cent) took away 68 points. The 100 index is 22 per cent above its 52-week low of 37,736.73 reached on December 12, 2017 and 13 per cent below its 52-week high of 53,127.24 touched on May 25, 2017.
Technically speaking, the 100 Index has generated a low to moderate intensity reversal pattern as it closed on an indecisive note (Gravestone Doji). For a reversal to occur a weak day is needed to confirm the pattern. Our next target is 47,100 while immediate support lingers at 45,413.69 (intra week low) and 44,777 (20 EMA).