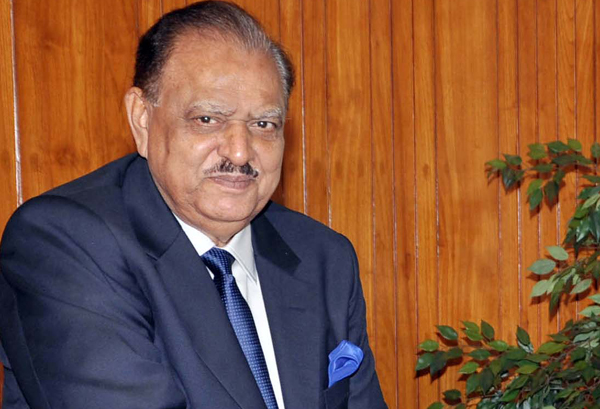 ISLAMABAD: President Mamnoon Hussain is set to attend a water conference in Tajikistan and is leaving on Tuesday (today) for engaging in water diplomacy as Pakistan faces acute water shortage.
The purpose of the visit is to move the focus towards sustainable development and cohesive management of water resources to attain social, economic, environmental goals, reported Express Tribune.
President of Tajikistan Emomali Rahmon had extended an invitation to Mr Hussain for attending the high-level international conference called "International Decade for Action-Water for Sustainable Development 2018-2028" which is being held on June 20th in Dushanbe.
A senior government official stated this will be Mr Hussain's first trip to Tajikistan and will hold talks with his Tajik counterpart regarding bilateral cooperation in trade and energy.
Also, a discussion will be held regarding boosting regional connectivity in the wake of China-Pakistan Economic Corridor, said the official.
Tajikistan government in conjunction with the United Nations is holding this conference and it is mulling to conduct the meeting bi-annually to enable execution of the water-for-sustainable-development programme.
The trip of President Mamnoon Hussain is intended on meeting Pakistan's vision of strengthening ties with regional as well as neighbouring countries and boost regional connectivity.
Around 750 million people are said not to have access to clean water internationally while 2.5 billion don't have access to basic sanitation and around 1.3 billion don't have access to electricity.
On a yearly basis, water disasters are said to be responsible for $60 billion in economic losses where drought and desertification endanger the livelihood of over 1.2 billion across the globe.
As per projections of experts, the world's population would rise to 9 billion by 2050 contributing to increased water demand.
Due to climate change, it is expected over 50 percent of the world's population will face water scarcity.
The aim of this conference is to enable attempts at meeting international commitments for water and water-linked problems.