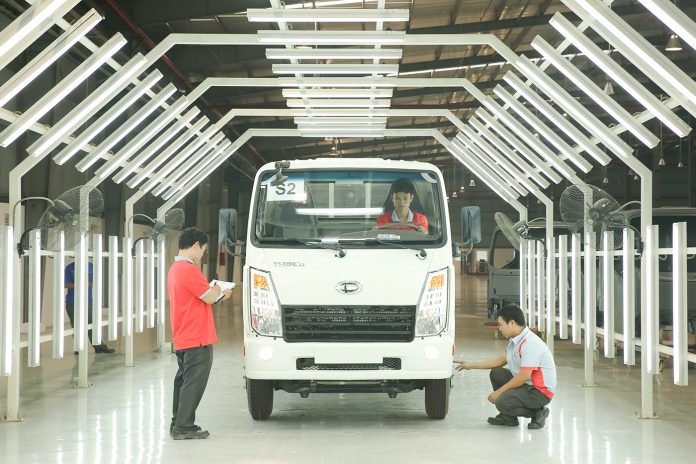 In an era of globalisation, where a company is from, and what country its brand name should be associated with is increasingly becoming a matter of interpretation.
In April 2016, to much fanfare, the formerly dormant Dewan Farooque Motor Company signed a joint venture agreement with Daehan Motors, a company it claimed was a South Korean automobile manufacturer, that would bring in the supposedly Korean company's capital and technical expertise to bear in helping Dewan restart production of its popular Shehzore brand of light trucks. The new joint venture company would have an alliterative name: the Daehan-Dewan Motor Company (DDMC).
There is just one problem. Daehan has no manufacturing units in South Korea, nor is its corporate headquarters located there. So how are both Daehan and Dewan claiming that the former is a South Korean company? It appears that Daehan uses a Korean name to leverage the credibility of the geographic brand of South Korea in the automobile manufacturing industry.
Daehan is the biggest importer of automobile accessories in Vietnam and other Asian countries including Cambodia – with its head office based in Vietnam's largest city, Ho Chi Minh City, according to Bloomberg and Reuters, since 2015. The company manufactures a mini-truck for the Vietnamese and Laotian markets.
A part of Kolao holdings – a conglomerate engaged in the import, manufacture, and sale of automobiles and motorcycles in Laos and Myanmar as well – Daehan Motors are assemblers of mini-trucks in Vietnam and Laos and the biggest importer of Chinese and South Korean auto parts and other accessories.
At the launch ceremony of the Daehan-Shehzore in Karachi in February, Kolao Group Chairman Oh Sei Young said the word Kolao was derived from the countries of its origin: 'Lao' from Laos, where it has a large manufacturing base, and 'Ko' from Korea where it has prospered. Interior Minister Ahsan Iqbal was the chief guest during the launch and unveiling of Daehan-Shehzore.        
Despite being much smaller and poorer than its neighbours in Thailand and Vietnam, Laos has leveraged its geography in creating a market for its motorcycles and mini trucks in those countries.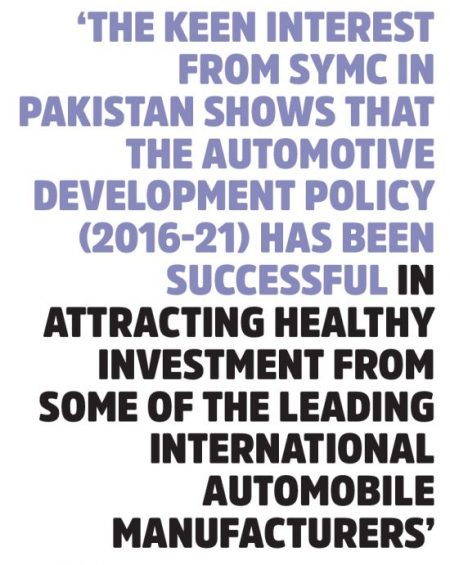 Having ended its previous joint venture with the unambiguously South Korean automotive giant Hyundai in 2008, Yousuf Dewan Companies, the prominent Pakistani industrial conglomerate that is the parent of Dewan Farooque Motors, entered into a joint venture with the Kolao Group in April 2016 to revamp its Shehzore truck in Pakistan.
In the Pakistani auto industry, Korean brands generally have a good reputation, and considered only a notch below the dominant Japanese brands in performance and durability. The Korean brands Hyundai and KIA are now making a comeback in the aftermath of the launch of the Nawaz administration's Automotive Development Policy (2016-21).
DDMC believes that nationwide infrastructure development linked to the China-Pakistan Economic Corridor (CPEC) is set to send economic activity in Pakistan to new highs, as a consequence seeing immense increase in demand for commercial vehicles.
Kashif Hafeez, the spokesperson for Daehan-Dewan Motor Co said, "Kolao group is a publicly listed company in South Korea, while Daehan is its subsidiary. It recently launched its automotive manufacturing in Laos, Vietnam, Myanmar and Pakistan." Daehan is a brand name, just like Shehzore or other vehicles, and it is also listed in Korean Stock Exchange, he added. He further claimed that Kolao group also owns Hyosung Motorcycles, which does have manufacturing facilities in Korea. Daehan vehicles are being produced from the parts from South Korea, China and Italy. This is a normal practice around the world, said Hafeez.
After signing with the Daehan Motors, Dewan Farooq Motors Limited (DFML) started production of Daehan-Shehzore truck in Sujawal, and starting booking orders for the light commercial vehicle. According to the company's officials, it can assemble around 50,000 units annually at its plants.
The new vehicle continues the legacy of DFML's immensely popular and trusted Shehzore brand meeting the rising demand of durable commercial vehicles in Pakistan, The Shehzore features a 2.6-litre reliable fuel-efficient diesel engine, dual rear-wheel pick-up, 10-feet cargo deck length, 1+2 seating capacity, and newly added convenience and safety features.

The new segment:
Daehan Motor Company deals in new Completely Knocked Down (CKD) automobiles, motorcycles, wholesale, AS and others. The new automobile segment includes engagement in the dealer business by distributing imported passenger cars and commercial vehicles.
The Kolao Group's CKD segment sells and manufactures CKD and used cars under the name of Kolao, after assembling and processing automobiles imported from China and South Korea. The motorcycle segment designs its own model and selling products under the name of Kolao after making orders, processing and assembling of major parts.
The company's wholesale segment sells accessories and other supplies designed for automobiles and motorcycles. The AS segment provides after-sales and repair service for automobiles and motorcycles. Others segment sells and buys used local automobiles in Laos and provides rental services.
Shehzore is a brand owned by Dewan Farooque Motors Ltd (DFML) and nobody including Hyundai can challenge it. The company has its own manufacturing plant in Sujawal (Sindh) and now it made agreement with Daehan Motors to provide a supply chain for Daehan-Shehzore truck.
Daehan Dewan Motors has started booking for its popular Daehan-Shehzore all over Pakistan. The famous light commercial vehicle was again revealed by the company last month and now finally customers can book the vehicles for purchase.

In order to book the vehicle, the customers can visit 3S Daehan dealerships anywhere in Pakistan – including major cities Islamabad, Rawalpindi, Chakwal, Mirpur AJK, Sargodha, Faisalabad, Lahore, Multan, Hyderabad, and Quetta.
Connecting with the original:
To advertise their product, DDMC has used known newspapers in Pakistan to describe the features of Shehzore and its booking procedure. Other than this radio ad and TV commercial has also been created specifically to advertise their product.  The tagline of the company in the print and TV ad is 'Shehzore, the Legacy Continues'.
The Shehzore pickup truck was earlier being assembled under Hyundai's brand in Pakistan until 2004. It had proven to be popular due to its sturdy and reliable build.
Daehan-Dewan Motors, in a bid to re-enter the vehicle business, resurrected the 2018 version of the Shehzore truck under their own brand-name. Its design was much similar to the current Hyundai Porter (also known as H-100), which was marketed in Pakistan as Shehzore before 2004.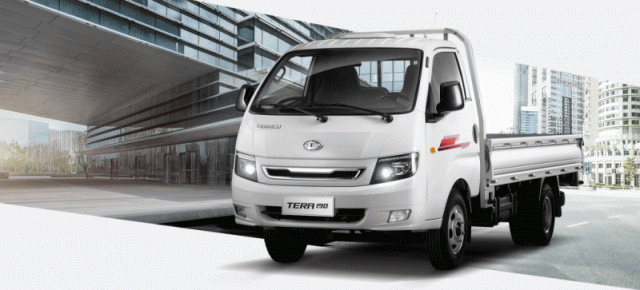 A few days ago, an unknown official of Hyundai Nishat's Facebook post [later deleted] publicly denounced Daehan's Shehzore as a fake brand, claiming Hyundai to be the only one producing H-100 with Nishat group.
The classic Shehzore made its mark in the commercial vehicles segment and is well-reputed among buyers in Pakistan. Daehan made the sticker design look almost identical to the older Shehzore, with a similar color theme and font to indicate its connection to the original one initially sold by Hyundai, industry sources said.
According to reports, Daehan's Shehzore actually does use Hyundai-made engines – the same ones which will be used in Hyundai's H-100 which Hyundai Nishat is expected to launch in Pakistan soon.
Daehan Motor will help Dewan Motor to manufacture this vehicle in Pakistan again through the imports of accessories and other parts of the vehicles.
"Since the product design is a replica of our Hyundai H-100, and the body was made in China without having any license agreement with Hyundai Motor South Korea, it is, by all means, a counterfeit product of Hyundai," the industry source said.
Both vehicles have a somewhat similar design, he added. However, there are some visibly noticeable differences between the two trucks as well.
Kolao Holdings reported consolidated earnings results for the third quarter and nine months ending September 30, 2017. For the quarter, the company reported revenue of $71,115,457 compared to $81,606,307 a year ago.
Foothold in Pakistan:
Within weeks of launching Daehan Shehzore, the senior management of SsangYong Motor Company (SYMC), a well-known premier SUV manufacturer from South Korea, visited Pakistan to deliberate and finalise plans with the top management of Daehan Dewan Motor Company (DDMC) for introducing SsangYong's premier sports utility vehicles (SUVs) early next year. The SsangYong team also visited Dewan Farooque Motors Limited (DFML) auto assembly plant located at Sujawal Sindh, an industry source claimed.
The keen interest from SYMC in Pakistan shows that the Automotive Development Policy (2016-21) has been successful in attracting healthy investment from some of the leading international automobile manufacturers. Moreover, having DDMC (DFML) as business partner that has recently been awarded with the brownfield status from the government will enable SYMC to establish its foothold in Pakistan.

SYMC is the fourth largest South Korean based premier automobile manufacturer. Since its inception in 1954, SYMC has developed itself as a premier manufacturer in Korea's automotive industry, and is well-respected for its advanced styling and outstanding performance. Having a full line of SUVs and 4×4 double cabin pickups comprising Rexton, Korando, Rexton Sports, Tivoli and XLV, the company is considered an emerging contender in this segment. Moving into the passenger segment, to begin with, DDMC plans to introduce the Tivoli and XLV SUVs that will be assembled at its Sujawal plant.