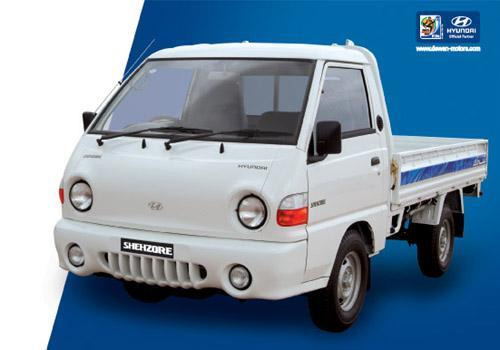 LAHORE: Yousuf Dewan Companies has re-launched its new Shehzore with the new name – Daehan Shehzore with increased capacity in collaboration with South Korean company Kolao Group and apparently predictions are positive for the light commercial vehicle.
"This new Shehzore has more loading capacity as its deck (10 feet) is one foot longer than the previous Shehzore and its smaller rear wheels are designed to give it more load carrying capacity," said Daehan Dewan Motor Company CEO Mohamad Saleem Baig at the sidelines of the unveiling ceremony of the six-wheel vehicle held here on Sunday night at the iconic Mohatta Palace.
With trade activities expected to exponentially increase with the advent of China-Pakistan Economic Corridor (CPEC) related establishment of infrastructure and also its up-gradation and business activities in the country, Shehzore seems to make its mark considering its previous track record in consideration.
According to Minister of Interior, Planning, Development and Reforms Ahsan Iqbal, who was the chief guest during the ceremony, CPEC is all set to put Pakistan at the centre stage with three billion people encompassing it.
According to Dewan's dealer in Multan Anwar Shahzad, the old Shehzore was selling at the same price at the moment when they were sold brand new seven years back at Rs1.3 to Rs1.4 million. Dewan has previously sold over 50,000 units before halting its production some seven years back.
Shahzad said that there was a great demand for Shehzore and people have already started contacting him despite the fact that the company has not even announced it officially.
"It is the best vehicle for taking poultry and vegetable goods. There's no competitor of Shehzore. It would be easily accepted by the market again. It is the first choice for drivers because its drive is comfortable and those who drive to take goods to distant market don't get fatigued," he said.
However, according to a merchant Javed Ali, who was also present at the unveiling ceremony, the lower body of the vehicle was too low for areas like Jodia Bazar, the heart of Karachi's trade business, where there are huge speed breakers.
"The stated 1.5-tonne load of this Shehzore is too low. We put more than 2 tonnes on Suzuki pickups, after some modifications. It will not be cost effective for us," said Ali, who mostly trades in rice.
However, according to Dewan Daehan CEO, the truck was tested in Pakistan before its launch, running 40,000 kilometres covering length and breadth of the country and there were no complaints.
He added that the low under-belly was designed to endure high load and the reason behind small rear wheels is to enable it to carry a high load.
He added that the axle of the previous one tonne 2600CC Shehzore was made to withhold 1.5 tonnes while this truck, also 2600CC, can hold 2.5 tonnes. He further said that the design of the new truck was more aerodynamic as compared to the previous one.
The collaboration between Yousuf Dewan Companies and Kolao Group came after Dewan Farooque Motors Limited (DFML) received Brownfield status. DFML received the status as a consequence of the government's Automotive Policy (ADP 2016-21). According to Ahsan Iqbal, the policy has already attracted $800 million.
Other players in the automotive industry, Kia, Hyundai and Renault are at different stages of starting their operations in the country.
The DFML automobile assembly plant halted operations in 2010 after its manufacturing partner pulled out of Pakistan. The joint venture – Daehan Dewan Motor Company is also set to launch more light commercial vehicles and SUVs.