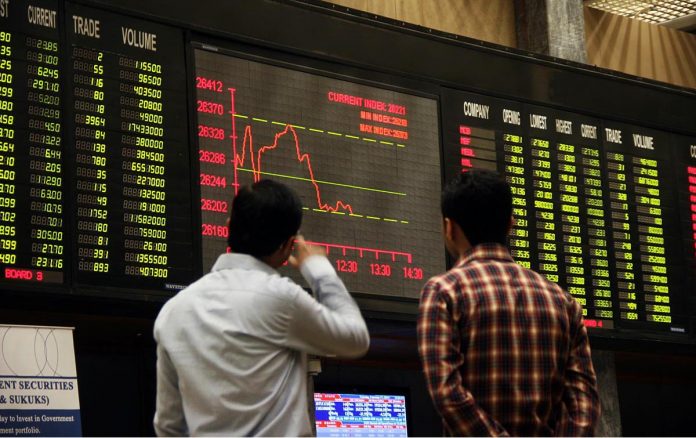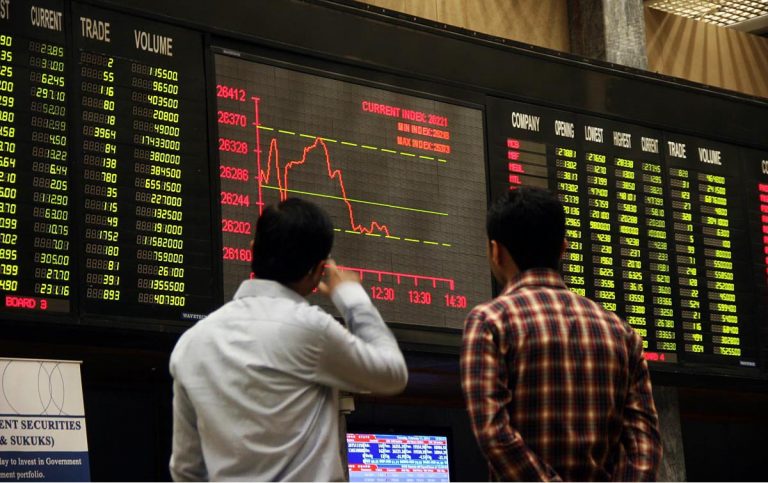 LAHORE: Investors at the Pakistan Stock exchange (PSX) saw the indices continue to bleed for yet another session. Bears were in full control of the market on Tuesday. Investors' excitement remained low in absence of positive triggers and market volumes remained thin.
The KSE 100 depreciated by 0.41 per cent and touched an intraday low of 41,513.95. The index finally settled lower by 169.63 points at 41,564.42. The KMI 30 plummeted by 327.58 points at 70,301.40. The KSE All share index was down by 97.03 points at 30,329.70. The advancers to decliner ratio stood at 128 to 162.
Foreign investors continued their selling run opening the month as net sellers. The previous month of June was the 5th consecutive month where they settled with net outflows. The net sale amount has piled up to $247.13 million with commercial banks taking the worst hit.
The market volumes appreciated from last session's 84.51 million and were recorded at 104.08 million. Fauji Foods Limited (FFL +2.30 per cent) managed to reach the top of the volume leaders chart with 7.36 million shares exchanged. Unity Foods Limited (UNITY -2.80 per cent) maintained its second position on the list with 7.18 million shares traded. Siddiqsons Tin Plate Limited (STPL +2.27 per cent) was next on the list with a volume of 4.16 million.
The chemical sector lost 2.49 per cent from its cumulative market capitalisation. Colgate – Palmolive (Pakistan) Limited (COLG) and I.C.I Pakistan Limited (ICI) depreciated by 4.99 per cent and 1.76 per cent respectively. Lotte Chemical Pakistan Limited (LOTCHEM) was down by 1.10 per cent while Engro Polymer and Chemicals Limited (EPCL 3.10 per cent) managed to end the day in green contrary to the negative trend of the market.
Moreover, HBL Growth Fund (HGFA) has started trading after being renamed from PICIC Growth Fund   (PGF). In the first of its kind IPO, At Tahur Limited is offering its shares to general public at a price of Rs21.00 on July 3-4 2018 after successful completion of book building.
Technically speaking, the KSE 100 index is trading in correction territory (-11.48 per cent) and can revisit levels last seen in October 2017 (sub 40,000). Ongoing market momentum can continue to face stiff resistance at 10EMA (41,969) and 20EMA (42,361).