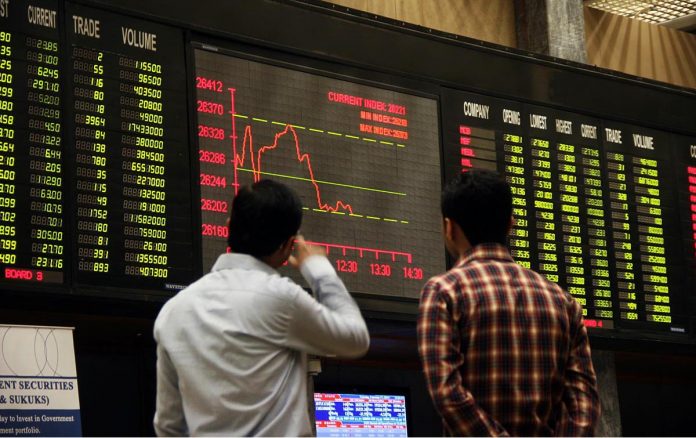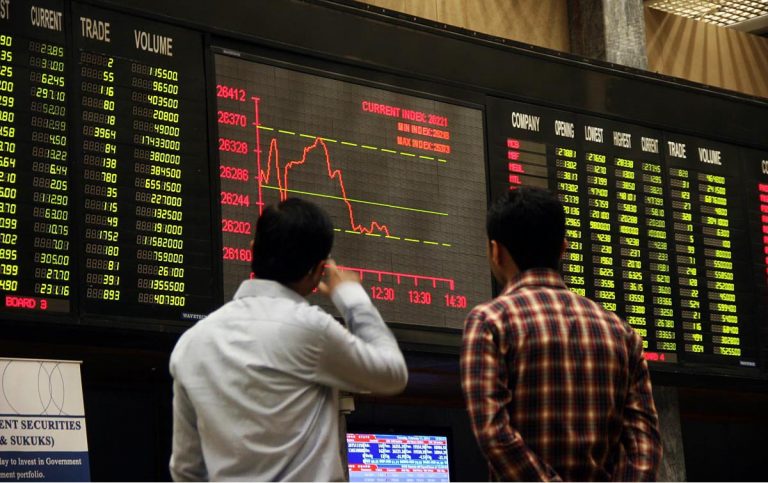 LAHORE: Stocks at the Pakistan Stock Exchange (PSX) bleed from the start of the trading sessions which later turned out to be the toughest day for the scripts at the bourse. There was no recovery anytime during the day as the accountability court is scheduled to declare the verdict on reference against the former prime minister Nawaz Sharif and his family members. With General Elections just around the corner, the development adding fuel to the fire and investor losses deepened.
The KSE 100 dropped to intraday low of 40,274.72 moving a little closer to its 52-week low of 37,736.73. It finally settled at 40,345.68 after losing 1,218.74 points. The KMI 30 index depreciated by 3.42 per cent and ended at 67,896.10. While the KSE All share index lost 829.45 points and settled at 29,500.25. Only 20 scripts managed to stand their grounds on the day as 282 declined.
The market volume increased by around 13 per cent day on day and was recorded at 117.60 million. Pak Elektron Limited (PAEL -4.99 per cent) was in the lead with 10.31 shares traded. The Bank of Punjab (BOP -5.63 per cent) followed with a volume of 6.95 million and TRG Pakistan Limited (TRG -4.97 per cent) were next. The script had 4.53 million shares exchanged.
The cement sector took a major hit on its market capitalization which was down 4.04 per cent. D.G Khan Cement Limited (DGKC -5.00 per cent) was floored, Lucky Cement Limited (LUCK) lost 4.54 per cent. Fauji Cement Company Limited (FCCL -4.96 per cent) and Maple Leaf Cement Factory Limited (MLCF -4.98 per cent) also ended the day in the red.
Oil and gas exploration sector lost 3.61 per cent from its cumulative market capitalization. Market leaders, Oil and Gas Development Company Limited (OGDC) and Mari Petroleum Company Limited (MARI) declined by 4.58 per cent and 3.48 per cent respectively.