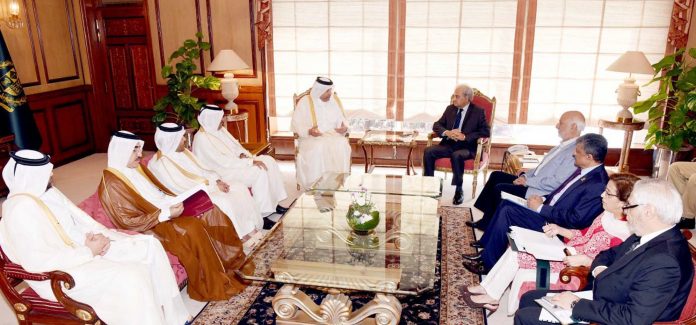 ISLAMABAD: As Pakistan's balance of trade with Qatar has been highly in favour for the Arab country after the historic LNG deal, Pakistan is trying to increase exports to Qatar to reduce the trade deficit. Officials from both countries discussed possibilities of increasing bilateral trade during the Pakistan Qatar Business Conference held here on Thursday.
Qatar's Minister of Economy and Commerce, Sheikh Ahmed Bin Jassim Bin Mohammed Al Thani and Pakistan's Minister for Commerce and Textile Mian Misbahur Rehman co-chaired the conference. A high-powered business delegation representing food, agriculture, livestock, aviation, maritime and shipping sector including thirty five businessmen and fifteen officials from the State of Qatar,  Saqr Bin Mubarak Al-Mansouri, Ambassador of Qatar and diplomats, attended the conference along with over 150 Pakistani businessmen and officials from Ministry of Commerce, Trade Development Authority of Pakistan, Pakistan Horticulture Development and Export Company, and the Board of Investment.
Mian Misbahur Rehman emphasised that the Government of Pakistan desires that the long and historic relationship between Pakistan and Qatar should be translated into enhanced trade and evolved into a sustainable partnership. He pointed out that Pakistan's exports to Qatar have shown an increase of 75 per cent in FY 2017-18 but in value terms, it is only an increase of $37 million. Due to the import of LNG, trade deficit of Pakistan with Qatar has increased to $1.6 billion. He invited Qatar to invest in Agriculture, food processing and the petrochemical industry in Pakistan. As Qatar is preparing to host the FIFA World Cup 2022, substantial scope exists for procurement of goods and services from Pakistan. 
Sheikh Ahmed Bin Jassim Bin Mohammed Al Thani elaborated that Qatar desires to have a close economic partnership with Pakistan and the two countries could cooperate and have joint ventures in food processing, petro chemicals and other sectors. He announced that Qatar has prioritised six countries to have an economic partnership and Pakistan is one of them. Therefore, he is visiting Pakistan along with the high powered business delegation to explore opportunities in various sectors. It was also announced that Qatar Airways will increase the number of flights to Pakistan.
The conference was followed by high level official meeting and business to business meetings between Qatari and Pakistani businessmen in all food sectors including fruits and vegetables, rice, seafood, sugar, wheat, poultry and meat and processed food.
Pakistan's private sector is keen to assist the Qatar's private sector companies for mutual cooperation and promoting bilateral industrial, trade and investment opportunities between Pakistan and Qatar. Prominent Pakistani companies such as Engro, Fauji Meat, Fauji Cereals, Marhaba, Mitchels, K&N, Barkat Rice, Al Mahmood, Mateela, Sabroso, Vital tea etc. displayed their products which added interest of Qatari companies and business to business meetings were considered very useful. Qatari Minister and delegation indicated high level of satisfaction and appreciated the level of interaction arranged with the Pakistani companies by the Ministry of Commerce.
Qatar's Minister of Commerce calls on PM
Meanwhile, Sheikh Ahmed Bin Jassim Bin Mohammed Al Thani called on the Prime Minister of Pakistan Justice (Retd) Nasir-ul-Mulk on 5 July. He indicated a strong interest in promoting trade, investment and economic partnership with Pakistan, the minister was on a short visit to Pakistan with senior officials and a business delegation comprising CEOs of various companies' representing food, agriculture, livestock, aviation, maritime and shipping sector
Prime Minister highlighted the importance of increasing trade and economic cooperation between the two countries. Rice export to Qatar, work visas for skilled, and semi-skilled labour force and investment in petrochemical and food processing came under discussion as  priority areas. 
 The delegation indicated a keen interest in enhancing cooperation, it was agreed that business-to-business contact will be increased amongst private companies of the two countries. Qatar will explore opportunities for increasing trade, investment and economic cooperation on the basis of specific projects. Qatari minister invited a delegation of Pakistani businessmen to take this high level of cooperation at the second stage, this positive momentum was appreciated by the Prime Minister. Other areas for trade, investment and economic cooperation included food processing, petro chemical and investment in special economic zones of the Gwadar Port.