It is a paradox that does not, at least initially, make much sense. Over the past decade, the total number of magazines published in Pakistan has fallen off a cliff, but the total amount of advertising revenue flowing towards Pakistan's magazines has skyrocketed, outpacing overall print revenue. How does that work?
The answer appears to be a shift in focus, and a specialization on the part of magazines towards the kind of content that works best in that format, which in the Pakistani industry's case, happens to be fashion.
The industry as a whole is in dire straits. The total number of magazines has fallen from 1,383 magazines published in 2007 down to just 232 by 2015, the latest year for which complete figures are available from the Pakistan Bureau of Statistics. Meanwhile, advertising revenue for the industry appears to have grown substantially. While credible numbers are hard to come by, estimates compiled by Aurora, the advertising-focused magazine owned by Dawn, and Gallup Pakistan suggest that the industry grew its total print advertising revenue from Rs381 million in 2010 to Rs1,980 million in 2016, which comes to an average increase of 31.6% per year, much faster than the 11.7% per year that the print industry as a whole grew during that same period.
Industry dynamics
In Pakistan's print media industry there are two main categories of magazines – standalones and those that go with a regularly published newspaper. Newsline would be an example of the first category and Sunday magazine would be an example of being accompanied with a daily newspaper – in this case Daily Times. Similar categories exist in Urdu language publications. However, the general trend of the industry shows that standalone magazines do not fare as well as the ones circulated along with a daily or regularly published newspaper. The success of these magazines is not only derived from the number of their readers but also from the advertisers' confidence in a particular newspaper. Before delving into the details of the possible reasons behind this, let's consider the general benefits and shortcomings of both these formats.
For starters, while newspapers allow for a much wider audience for advertisers, magazines allow for a specific audience to be targeted directly. The readership of magazines is usually more interested and loyal because of there are specific topics that each magazine focuses on, such as Profit, which focuses on business stories, and Mobile World, which confines itself to automobiles. That allows for targeted advertisements, especially if the advertised products are related to the topics being covered by the magazine.
Magazines usually have a glossier finish and generally attract a higher quality of writers than regular newspapers. There is also a greater desire among both people and companies to be the subject of magazine articles rather than those in daily newspapers. Companies, for instance, are more likely to display in their offices a magazine with their company or CEO featured on the cover, instead of a newspaper copy with a story about their organization. And, in general, readers are also more likely to hold on to a magazine copy longer than a newspaper, which allows for longer exposure to the content and advertisements as well.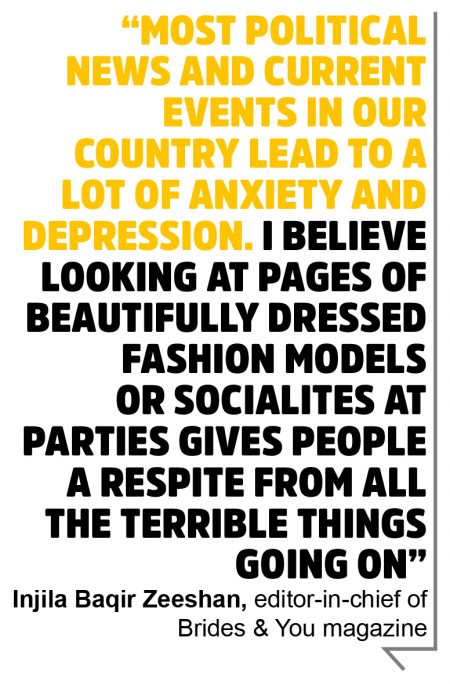 There are also some disadvantages for the magazines when it comes to advertisers, the biggest of which is the higher cost. In general, magazine ads tend to cost higher than print newspaper ads. Also, because of the primary strength of a magazine as to targeting a particular audience, magazines often also limit the reach for general advertisements. Most publications also require a time lag before an ad can be published so magazines are also not the best option for advertisers looking for urgent advertisements.
On the other hand, newspapers offer lower rates and can appear in print much faster than magazines, by virtue of the frequency of the publishing of the two formats – newspapers are mostly published daily while magazines are usually weekly, fortnightly or monthly.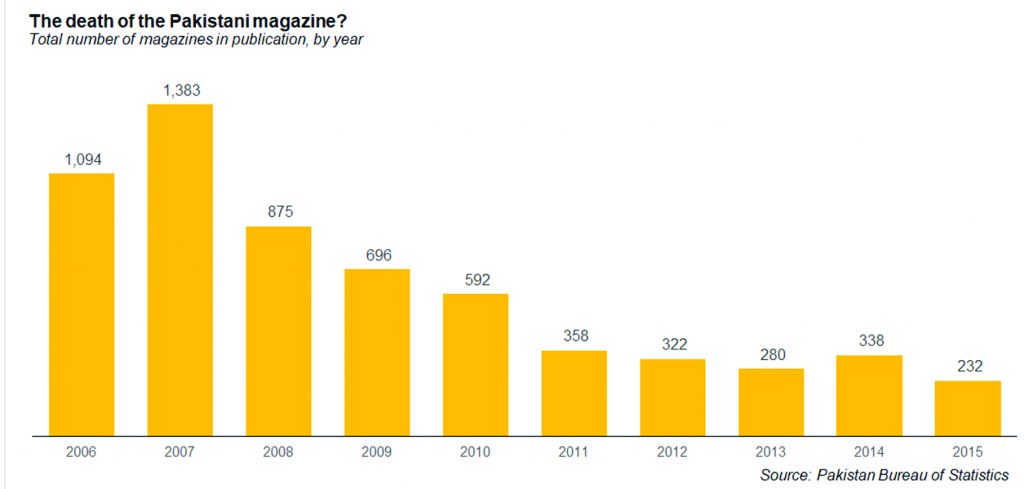 From a publisher's perspective, the choice is clear: the pros and cons of each of these formats appear to favour magazines.
However, there is another side to the story: the differences between standalone magazines and those that are published with a newspaper. While the latter category also comes with all drawbacks of any particular magazine, traditionally in Pakistan the ones accompanied with a newspaper have been doing better in terms of circulation and revenue. Then there is also the difference between broadsheet and stapled magazine, amongst which the latter is also known to do better.
The rise of Sunday magazine
Instep magazine by The News newspaper (owned by the Jang Group) used to be the magazine for entertainment and lifestyle news. "Instep was the go-to magazine especially for barber shops, where the customers chose their hairstyles and looks based on the models featured in the magazine," said a former employee of the group. However, with the advent of Sunday magazine, which is published with Daily Times newspaper (owned by Media Times Ltd.) all other fashion and lifestyle magazines moved down the pecking order. The 150 to 200-page magazine has taken over the lifestyle magazines industry in Pakistan.
Instep was just one of the many magazines who apparently lost their luster, but for Instep to stay content with its eroding importance is cause for surprise because the Jang Group is known to be an aggressive competitor in both print and electronic media.
One of the potential reasons for Instep to have lost its appeal – particularly in the world of entertainment industry – might be its broadsheet format. However, the company disagrees that its readership has declined, though it might have changed in its composition.
Jang Media Group Managing Director Sarmad Ali said, "It is not that we have lost our audience or advertisers. The difference maybe in the number of advertisements but the truth is that our few ads bring us as much money as many ads in other publications like Sunday, because our clients are bigger companies. A regular ad in fashion magazines costs around Rs 50,000 while we get around Rs 150,000 to Rs 160,000 per advertisement."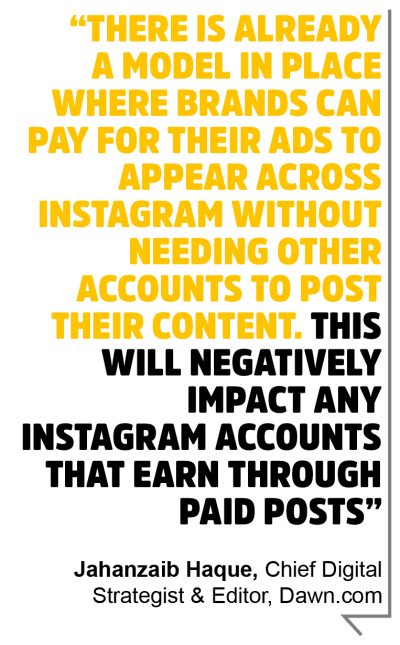 His comment is verified by Sunday magazine's advertisement rates that range from Rs 20,000 in the last pages to Rs 30,000 in the starting pages, and Rs 75,000 for the stick-on page on the cover, as shared by a former marketing employee of the magazine.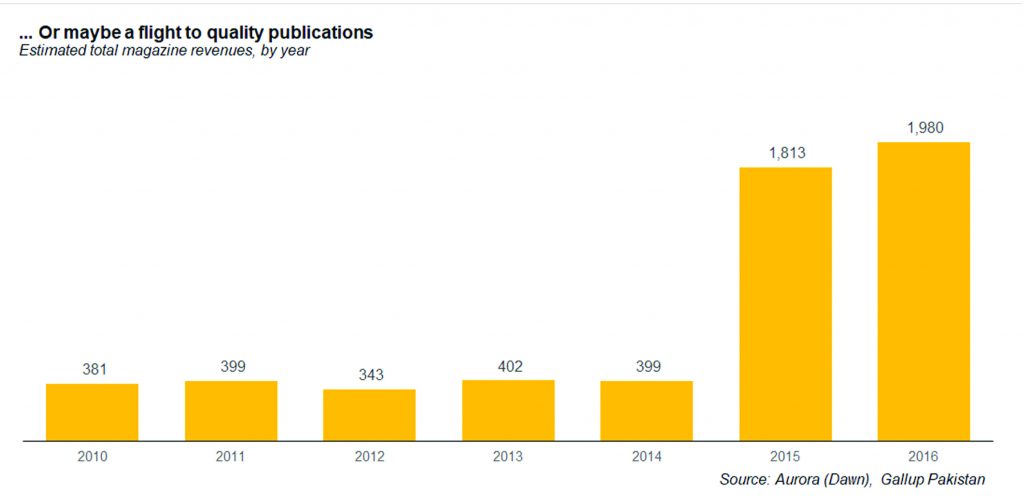 For Paperazzi magazine, the advertising rates start from Rs 40,000 for an ordinary page and go up till Rs350,000 for the cover. As opposed to this, Profit – a non-lifestyle, business focused magazine – offers advertisement rates varying from Rs 50,000 for a double spread advertisement to Rs 200,000 for a gatefold ad.
The popularity of fashion magazines
Ali, however, admitted that Instep lost focus, or never tried to focus, on the lifestyle category in particular. "Our magazine features stories on political, social and lifestyle news. I don't know why we haven't tried capturing this big industry of fashion magazines." He added that while lifestyle magazines focus primarily on images and photoshoots, Instep's strength remains but with our current publication we have dedicated resources to different beats and we are doing pretty well."
A possible answer for Jang's indifference to fashion industry might come from Dawn.com's Chief Digital Strategist & Editor Jahanzaib Haque. Speaking to Profit he said, "There is surprisingly little traction for articles related to fashion online – it is one of our weak categories on Images.dawn.com, especially when compared to food or TV/film." Images is the broadsheet magazine that accompanies Dawn newspaper on a weekly basis.
Injila Baqir Zeeshan, editor-in-chief of Brides & You magazine, is of the opinion that fashion and lifestyle magazines are more popular in Pakistan. "They are a lifestyle and a social pages diary. They give the people everything they want to know about so many things. Also, they are beautiful, exciting, fun and highly entertaining."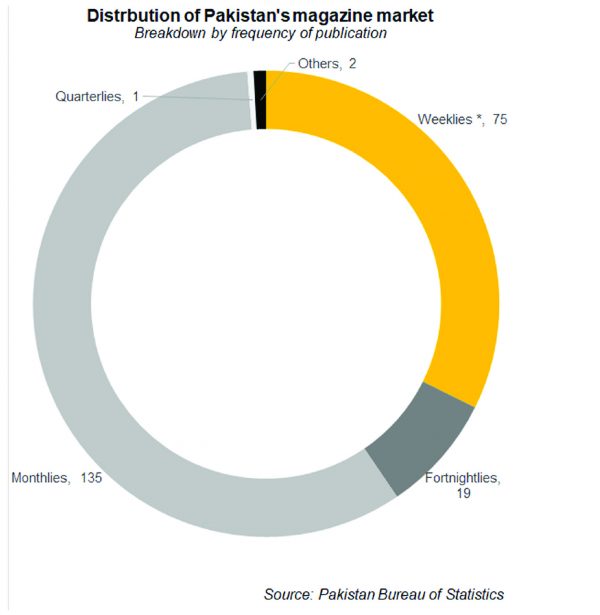 She also had an elaborate answer to how the fashion magazines have been able to gain lots of advertisers in a short span of time, most of which also advertise products related to the fashion or lifestyle industry. She said, "With the rise and progress we have seen in the fashion industry and the mushrooming of fashion designers, one factor is that fashion magazines become their platform to reach out to the world. Through the magazines' pages they show their work to potential clients and boost their business."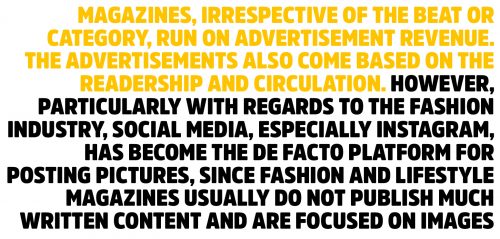 Injila also disagrees with the notion that standalone magazines fare less well than the newspaper-joined magazines. "A common perception is that the magazines distributed with the newspaper have a much larger print run, which may or may not be true. But the life of a standalone monthly or quarterly magazine is much longer than a newspaper magazine which attracts lots of advertisers as it becomes cost effective for them."
Tired of politics?
About fashion and lifestyle's popularity over other types of content, she said, "Most political news and current events in our country lead to a lot of anxiety and depression. I believe looking at pages of beautifully dressed fashion models or socialites at parties gives people a respite from all the terrible things going on." She is not the only one with these opinions.
A regular reader of such lifestyle magazines, Ayesha Shakeel, said: "There are all types of magazines on my office table, but whenever I get free time I pick up a fashion magazine. For one, I don't have to use my mind while looking at pictures instead of trying to read a political or technical article. And second because they are always aesthetically pleasing."
However, her colleague sitting right beside her, Maryam Shahzad, interrupted and said that she would pick a technology magazine, over a fashion magazine and also over any newspaper because the content in magazines is always more in depth and in detail instead of smaller stories or purely news items in a newspaper."
None of the six people present said they would go for a political newspaper. While this is not a sample size of the readers in general, it does hint at the rising dislike towards politics and inclination towards entertainment – which is captured by the dozens of magazines hitting the Pakistan's market.
However, there is one more challenge slowly creeping up this
industry: social media.
The social media challenge
Magazines, irrespective of the beat or category, run on advertisement revenue. The advertisements also come based on the readership and circulation. However, particularly with regards to the fashion industry, social media, especially Instagram, has become the de facto platform for posting pictures, since fashion and lifestyle magazines usually do not publish much written content and are focused on images.
The online free of cost option for fashion and lifestyle platforms had already become a challenge for hard copy-published magazines. Another reason is that until very recently, while Facebook and Twitter etc. require advertisers to pay the platforms to publish or sponsor their advertisements, Instagram allowed people to run several different accounts, including some that are run primarily for advertisement purposes where the account owners were making money directly from advertisers instead of through the app.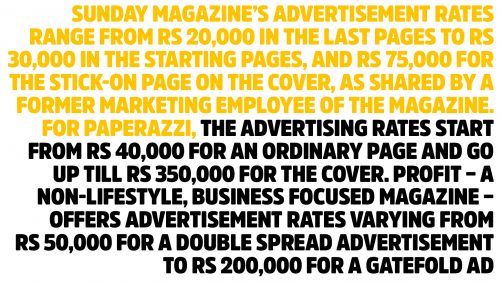 Now, the Instagram app has applied a condition on its users to disclose if a post is the result of a marketing move. Haque spoke on the matter and said, "There is already a model in place where brands can pay for their ads to appear across Instagram without needing other accounts to post their content. This will negatively impact any Instagram accounts that earn through paid posts."
Regarding the difference in advertisers that go towards print magazines or Instagram advertising, Injila was of the opinion: "Serious advertisers including the corporate sector with large campaigns primarily focus on print and Instagram and other digital mediums are used as an extension of the campaigns. For Instagram, a lot of the advertisers are small businesses or home businesses and their focus is on having a digital/social media reach and presence. The trend is changing fast though and some of our major corporate clients have moved on to fully digital campaigns recently."
While it may be true for advertisers' preferences, the question still remains as to how enforceable it is by the app to control the posts that are paid for. Haque said: "There are a number of ways in which Instagram will deal with the problem. Proactively, they already have a fast-growing, lucrative, targeted and measurable way to advertise directly on their platform. Passively, audiences – and more critically, competitors – have the option to report posts that may be paid, causing a fair amount of trouble for the
account."
The endgame
After all is said and done, it appears that while fashion and lifestyle magazine category is here to stay for publications and magazines, the specific beat magazines have also carved a name and place for themselves. While it may seem that thick and heavy fashion magazines are getting all the advertisements from the industry, the fact remains that competition and the respective size of advertisers for such magazines mean that fashion and lifestyle magazines run on a large number of small advertisers, while category magazines run on a small number of big advertisers.
Social media has also proven to be an aide to these magazines so far since designers, jewelers, makeup artists and everyone related to the fashion industry is now on the lookout for the opportunity to be featured on some fashion magazine's social media accounts. Similarly, companies who want their organizations mentioned in business magazines, automobile dealers and showrooms are looking towards technological magazines and so on.
From the perspective of advertisers, the choice is then not in terms of money but rather in terms of the target audience. While many newspapers are not nearly as captivating as magazines, they are useful for reaching a broad geographic market. They also have a short exposure span as most readers throw them away after one read. Magazines offer glossier and attractive platforms and allow for a longer time of exposure of advertisements, along with offering any particular product to a specific category of readers, hence customers.