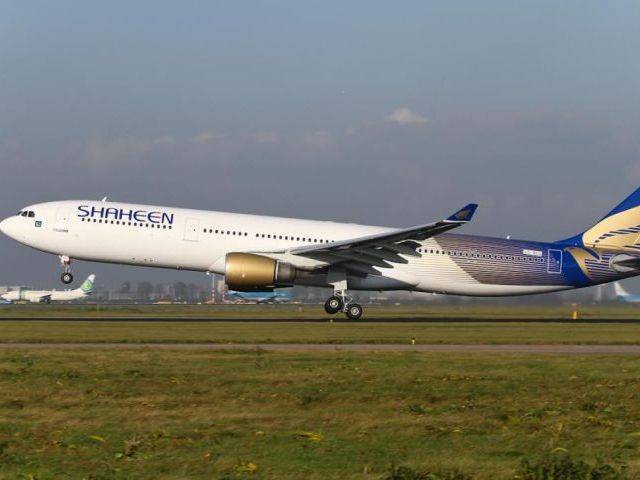 KARACHI: Shaheen Air International (SAI) has refuted statements made by the Civil Aviation Authority (CAA) in a letter sent by them to the Federal Investigation Authority (FIA) on August 24.
Commenting on the statements made by CAA on the owners of the airline fleeing the country, SAI Director Marketing Zohaib Hassan said "Kashif Sehbai and Ehsan Sehbai are going nowhere. Both the brothers are respected citizens who are providing quality services in the country and working religiously for the betterment of the aviation sector in the country".
Remarking on the tax fraud claims made the CAA, Zohaib Hassan said "Dues of CAA are regulatory dues and are payable as per routine against services such as parking, landing, route navigation, air navigation and other services. Non-payment of these dues cannot be defined as "fraud" in any sense. It is a default on payment at best and there is nothing criminal about it. If non-payment of civil aviation dues or dues to any regulator was a "fraud", then all of country's other airline managements should be criminally liable as they are the largest defaulter by far, some approximately more than Rs65 billion accumulated over years, as opposed to SAI's 3 months of non-payment and in the past Shaheen Air, under the leadership of Sehbai brothers, has paid tax of billions of rupees to the national exchequer".
Further commenting on the situation Zohaib Hassan said "Initially, when the airline was purchased by Khalid Sehbai from previous owners, the Shaheen Air owed millions in CAA dues. Under the ownership of Khalid Sehbai, CAA dues incurred and outstandings of the previous employers of the airline were paid off in a period of months and years. No suggestion ever arose of any criminality with these dues. Quite simply, default of the CAA dues does not constitute any criminal offence".
He further added "This is another case of selective, discriminatory and malicious prosecution of Shaheen Air by CAA. Proof lies in the fact that Shaheen itself has paid tax with delays in the past but no such action had ever been even suggested by the CAA as to reference to FIA. Further, many existing and past airlines have defaulted and a similar course of action is not pursued with respect to them".