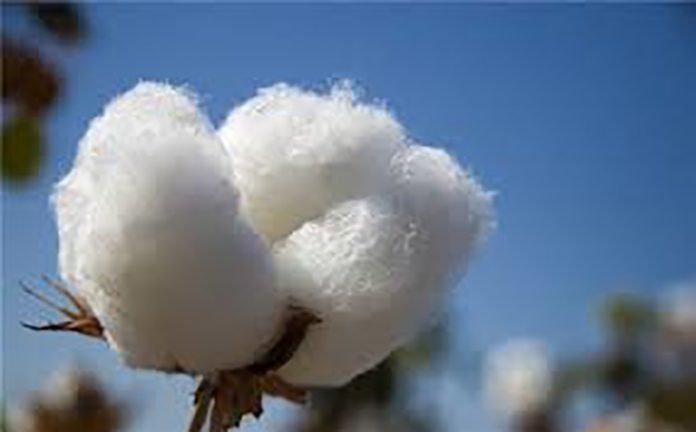 KARACHI: Brisk activity was witnessed on the cotton market on Tuesday as buyers continued to replenish their stocks at a higher level.
At the outset of the session prices remained pegged at overnight level but towards closing stages increased selling pushed rates lower to Rs8,000-8,100 per maund, reports Dawn.
In sympathy phutti (seed cotton) prices also came under pressure and were quoted between Rs3,500 to Rs3,700 per 40 kg for both Sindh and Punjab varieties. Phutti from Balochistan still remained higher at around Rs3,700-3,800 per 40 kg.
According to market re­­ports, a leading cotton ex­­­porter lifted 15,000 to 20,000 bales during the last two days.
The local cotton yarn market remained under pressure owing to slow off-take from the value-added textile sector. A decline in textile exports during last month showed the sector was not performing well.
Meanwhile, the Pakistan Central Cotton Committee (PCCC) has reported that cotton cultivation in Sindh during current season witnessed a decrease of 31.1 percent as compared to corresponding period last season. The PCCC cited the shortage of irrigation water and only 68pc sowing against a target of 0.62 million hectares as the main reasons behind short crop.
In Punjab, cotton cultivation was registered at 2.290m hectares, comprising almost 99.3pc of the target. This season's cultivation recorded an increase of 11.5pc as compared to 2.053m hectares registered in the previous season.
Overall, cotton cultivation area for the 2018-19 season is over 2.7m hectares, showing an increase of about 2pc as compared 2.6m hectares recorded in the corresponding period of last season. The official target for cotton cultivation was fixed at 2.95m hectares for 2018-19.
Internationally, chairman Indian Cotton Associ­ation said that despite the revised lower production estimates, lint exports from India would not be affected.
Meanwhile, world-leading cotton markets generally moved higher with both New York and Indian cotton recording fresh gains while the Chinese market remained firm.
The Karachi Cotton Association spot rates were firm at overnight level.
Trading on ready counter was brisk where following deals were reported to have transpired: 2,000 bales, station Tando Adam, at Rs8,075/ 8,125; 2,000 bales, Sanghar, at Rs8,050/8,100; 1,600 bales, Shahdadpur, at Rs8,075/8,125; 1,200 bales, Mirpurkhas, at Rs8,050/ 8,100; 1,000 bales, Kotri, at Rs8,050/8,100; 1,000 bales, Hala, at Rs8,075/8,100; 1,400 bales, Nawabshah, at Rs8,075/8,125; 600 bales, Chichawatni, at Rs8,250/ 8,300; 600 bales, Khanewal, at Rs8,250/8,300, 400 bales, Pir Mehal, at Rs8,250/8,300; 400 bales, Haroonabad, at Rs8,200; and 400 bales, Vehari, at Rs8,200/8,250.