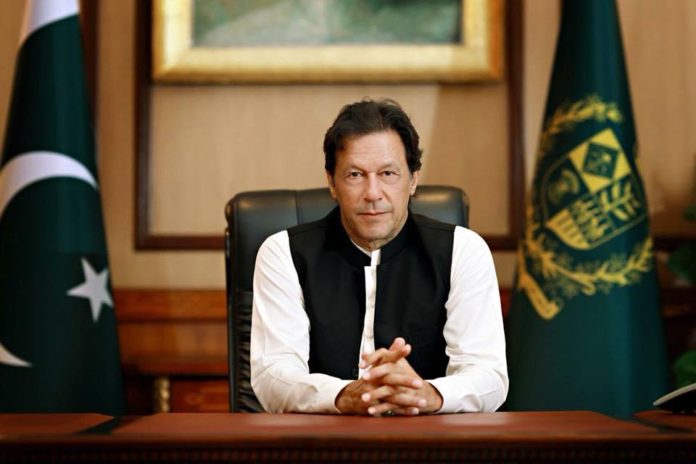 Khan says past govts not only overburdened the country with excessive debts but also spoiled the institutions
ISLAMABAD: The prime minister said on Friday that the volume of corruption of the previous governments can be gauged by the fact that the amounts worth billions of rupees were being discovered from the bank accounts of handcart pullers, vendors, and even those who had died.
In a meeting with a delegation of business community headed by United Business Group Chairman and SAARC Chamber of Commerce Senior Vice President Iftikhar Ali Malik at the PM Office, Prime Minister Imran Khan said that the nation was bearing the brunt of the misdeeds and wrong policies of the previous rulers, who had plundered the country and treated it "even worse than any enemy".
The delegation of the businessmen handed over a cheque to the prime minister worth Rs91.9 million for the Supreme Court of Pakistan and Prime Minister Fund for Diamer Bhasha and Mohmand Dams.
Among those who presented the cheque included the representatives and office bearers of Federation of Pakistan Chambers of Commerce and Industry, Rawalpindi, Sarhad, Islamabad, Faisalabad, Sialkot and Lahore chambers of commerce and industries, Sialkot International Airport, Orient Electronics, Korangi Association, Guard Group, Deen Group and Sitara Group.
The business delegation assured the prime minister of their support for New Pakistan, besides steering the country out of the tough economic conditions.
The prime minister told the businessmen that the country was going through difficult economic situation as the previous governments not only overburdened the country with excessive debts but also spoiled the institutions.
He said currently, the institutions like Steel Mills, Pakistan International Airlines and Pakistan Railways were facing losses worth billions of rupees.
The prime minister said the country had no dearth of resources but the plunder by the previous governments was unprecedented.
He said no doubt, the country faced a tough situation; however, he was confident of the capabilities of the Pakistani nation which would rid the country of the prevailing crisis.
The prime minister said some of the sectors in Pakistan had the capability to bring in the revenue of billions of dollars. The economic issues could be tackled if the government succeeds to curb money laundering and ensure the transaction of remittances through legal means, he added.
He said the government was resolved to take along the business community besides extending all out cooperation to them.