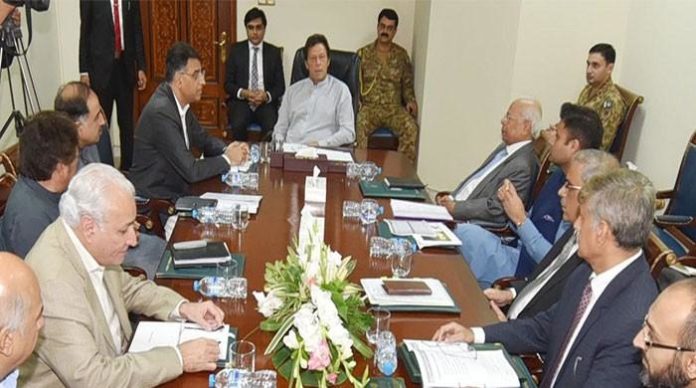 ISLAMABAD: Prime Minister Imran Khan on Monday chaired a follow-up meeting regarding the facilitation of overseas Pakistanis, particularly for incentivising home remittances through legal channels.
In order to further facilitate overseas Pakistanis, the prime minister allowed the State Bank of Pakistan (SBP) and its authorised dealers (banks) to implement business-to-customer (B2C) and customer-to-business (C2B) transactions through foreign correspondent entities under their existing home remittance agency arrangements.
For B2C transactions, freelance and information system services are allowed up to $1,500 per month for an individual. Transaction services other than computer and information services are also allowed to transact up to $1,500 for an individual per month. A pensioner can now receive up to Rs250,000 per month.
For C2B transactions, direct payments from overseas Pakistanis abroad can be received to pay utility bills, education fees of the Higher Education Commission's accredited institutions, superstores, insurance companies, credit card payments etc. Remittances received by reputed real estate builders/developers and housing societies from overseas Pakistani individuals on account of purchase of property such as residential and commercial houses, plots, flats and building etc. are also allowed except remittances for equity/participation in an enterprise.
Moreover, the prime minister accorded an approval for incentive payment by the government on mobile wallet use to the tune of Rs2 on each transaction of $1 remittance as airtime, which was previously Rs1.
Exchange companies and authorized dealers i.e. banks who bring in 15 per cent more remittances than the previous financial year will also have the incentive of Rs1 against each $1 incremental remittance transaction. These incentives will have a significant impact towards increasing remittances.
The prime minister also approved the initiation of a survey of overseas Pakistani workers, particularly in the Middle Eastern countries, to get their feedback on further facilitating and incentivizing the home remittance processes.
"Overseas Pakistanis are our greatest assets and the government will facilitate them in every respect," the PM said during the meeting, directing the concerned ministries to work out further incentives for Pakistanis abroad so as to attract remittances through legal channels.
The meeting was attended by Finance Minister Asad Umar, Adviser to PM on Institutional Reforms and Austerity Dr Ishrat Hussain, Special Assistant to PM on Overseas Pakistanis and Human Resource Development Syed Zulfiqar Bukhari, Special Assistant to PM on Media Iftikhar Durrani, State Bank of Pakistan Governor Tariq Bajwa, Federal Board of Revenue (FBR) chairman, NADRA chairman and other senior officers.