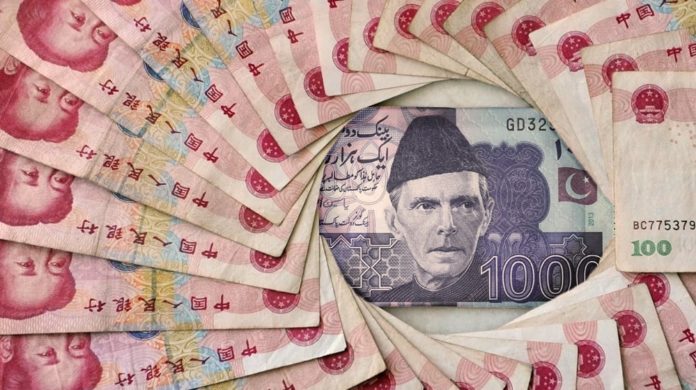 Chinese economist says Pakistan's agricultural capacity should be utilised to stimulate growth
Former DG ISI affirms Pakistan is capable of withstanding all forces against CPEC
ISLAMABAD: A leading Chinese scholar on Tuesday called for strengthening the Renminbi (official currency of China), which would subsequently improve the value of the Pakistani Rupee.
Addressing the participants of a roundtable dialogue organised by the Pakistan-China Institute (PCI) entitled, "CPEC: The Way Forward", Dr Chen Wenling said China and Pakistan must not get influenced by the pressures imposed by the external forces and continue to strengthen our bilateral relations.
Dr Chen Wenling is the Chief Economist of China Center for International Economic Exchanges (CCIEE), affiliated with the State Council in Beijing, which is directly under Premier Li Keqiang.
Dr Chen Wenling said, "China took a lot of time and invested a lot of hard work in reaching where it is today. China lifted 700 million people out of poverty and raised life expectancy to 85 years from 40 years."
She said that China wants to see Pakistan progressing on the similar pattern and for this purpose, China will always support Pakistan.
She further said that Pakistan's agricultural capacity should be utilised to stimulate growth and that she would want to see rapid development under CPEC along the route from Kashgar to Gwadar.
Appreciating Dr Chen Wenling's views, Pakistan-China Institute and Senate Foreign Affairs Committee Chairman Senator Mushahid Hussain Sayed said that during President Xi Jinping's visit to Pakistan in 2015, 52 agreements were signed between the two countries to expedite work on CPEC, and thus Pakistan had already rejected any external pressure as it is a resilient country that has resisted such pressures in the past. He was thankful to China for its unflinching support and commitment towards Pakistan.
Former Inter-Service Intelligence director general Lt Gen (r) Asad Durrani also reassured Dr Chen Wenling that Pakistan is capable of withstanding all forces against CPEC. He said, "Pakistan has resisted external pressure in the past and will be doing so in the future as well…The trust between Pakistan and China will help sustain CPEC and Pak-China relations."
Pakistan LNG Chairman Dr Manzoor Ahmed, who previously served as the Ambassador of Pakistan to World Trade Organisation, contributed to the valuable discussion by saying, "Pakistan needs to improve international trade as no country can progress if it remains a closed economy. We, as a nation, will never grow if we do not promote competition."
He stated that CPEC is a great opportunity for Pakistan but the initiation of internal reforms is of utmost importance to keep up with the pace of CPEC.
The roundtable was also enriched by the views of notable personalities including CPEC Centre of Excellence Executive Director Dr Shahid Rashid, CPEC Director Siraj Ahmed Khan, Institute of Strategic Studies' China-Pakistan Study Centre Director Dr Talat Shabbir and Chinese Embassy Deputy Chief of Mission Zhao Lijian.