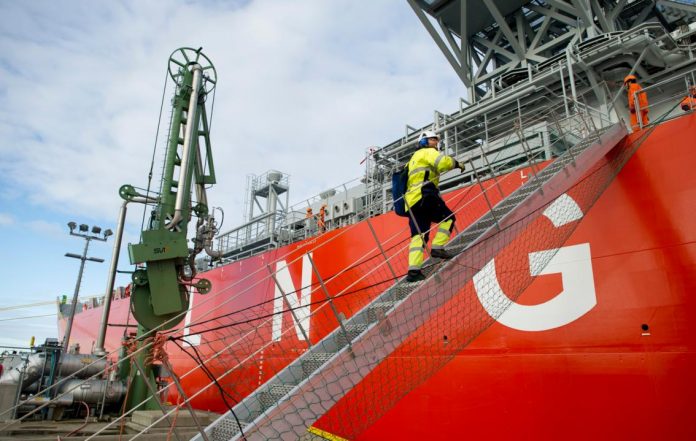 SINGAPORE: Asian spot prices for liquefied natural gas (LNG) continued their downward spiral this week, falling to a four-month low as demand from top buyers Japan and China failed to materialize amid ample inventory.
Spot prices for January delivery in North Asia were estimated at about $9.80 per million British thermal units (mmBtu), down 20 cents from the previous week, while spot prices for cargoes delivered in February were estimated at about $9.70 to 9.80 per mmBtu, according to trade sources.
The market structure has flipped into a backwardated one, where prices for cargoes loading in the current month are higher than those loading in the forward months, making storage of the super-chilled fuel uneconomical.
Several of the tankers storing LNG off Singapore and Malaysia waters recently appear to be on the move, likely prompted by the change in market structure, traders said.
Demand from China, the world's second-largest LNG importer, appears to be tepid with top supplier China National Offshore Oil Corp (CNOOC) offering to sell cargoes for January, traders added.
"The three oil majors' storage tanks are very full and so far, north China is not cold," a China-based LNG trader said referring to natural gas storage tanks of CNOOC, Sinopec and CNPC.
Industrial gas demand in North China is showing signs of a sharp slowdown as small manufacturers shut their doors or buy less gas, unable to cope with a drop-off in export orders and costs related to Beijing's pollution control and reform measures, Reuters reported earlier this month.
Natural gas inventory levels in Japan and South Korea are still high, trade sources said.
TENDERS AND DEALS
Indian Oil Corp likely bought two LNG cargoes on a delivered ex-ship basis into Gujarat between Jan. 7 and Jan. 14, and from Jan. 21 to Jan. 28 from trader Glencore at close to $9 per mmBtu, traders said, though the deal could not immediately be confirmed.
Gail India is proposing to swap three LNG cargoes across the first quarter of next year, trade sources said. Gail is offering a cargo a month from Cove Point for loading in the first quarter of next year in exchange for corresponding deliveries to India, one of the traders said.
Abu Dhabi National Oil Co (ADNOC), Angola LNG and Nigeria LNG offered cargoes this week, adding to the glut.