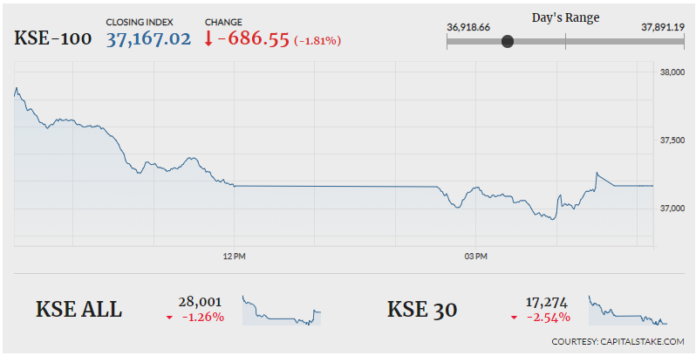 LAHORE: If one thing was prominent on trade screens on Friday it was the colour Red. Bears tightened their grip further, as a result, stocks continued to bleed. Indices dripped from word go while volumes surged. On economic front according to latest data released by State Bank of Pakistan (SBP) on Thursday, foreign exchange reserves held by central bank declined by 7.34 per cent WoW basis. The reserves once again have fallen below $8 billion mark and now stand at $7.46 billion.
Moreover, as per reports, the Federal Cabinet has approved the issuance of Pakistan's first renminbi-denominated bonds to raise loans from Chinese capital markets on Thursday. Furthermore, the finance minister in a meeting with the delegation of Towel Manufacturers Association (TMA) at his office promised to release 33 per cent of the total refund claims of the textile sector which have reached Rs38 billion under the head of Drawback of Local Taxes and Levies (DLTL).
The benchmark KSE 100 index went lower and lower dropping below the 37,000-point threshold during the day reaching its intraday low of 36,918.66. It finally settled lower by 686.55 points or -1.81 per cent at 37,167.02 points. The KMI 30 index lost -2.69 per cent (or 1,695.59 points) during the session closing at 61,443.48. While the KSE All Share index depreciated by 357.12 points ending at 28,001.30. Out of total scripts traded 101 advanced, 189 declined and 12 remained unchanged.
Overall trading volumes improved from 103.73 million in the previous session to 133.40 million. The Bank of Punjab (BOP -2.52 per cent), Lotte Chemical Pakistan Limited (LOTCHEM -4.11 per cent) and K-Electric Limited (KEL -0.50 per cent) most traded stocks of the day. The scripts had 14.26 million shares, 13.24 million shares and 12.41 million shares exchanged respectively.
The National Electric Power Regulatory Authority (NEPRA) approved a reduction in the tariff of Rs0.31 per unit on account of fuel cost adjustment for November 2018. Following the news, the power generation and distribution sector lost 0.67 per cent from its cumulative market capitalization. Hub Power Company Limited (HUBC) was down by 2.36 per cent, Kot Addu Power Company Limited (KAPCO) by -1.02 per cent and Engro Powergen Qadirpur Limited (EPQL) by a 0.66 per cent.
Jauharabad Sugar Mills Limited (JSML +3.12 per cent) announced its financial performance for FY18. The company also declared a final cash dividend of Rs1.00 per share along with its financials. Sales declined by 15 per cent YoY whereas, earnings per share depreciated from Rs2.76 in the same period last year (SPLY) to Rs0.22 in the current year.