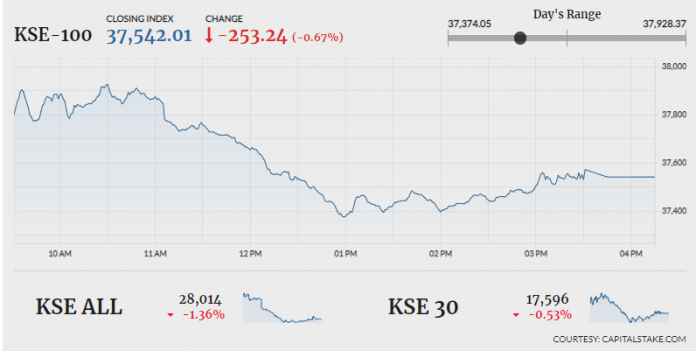 KARACHI: The investors of Pakistan Stock Exchange (PSX) witnessed another dull trading session on Thursday, as bears managed to maintain their dominance.
Indices kept on sliding ever since the opening bell rang, while investor confidence continued to remain low. The lack of clarity on the probable upcoming mini-budget further contributed to weak sentiments.
According to the latest data released by Pakistan Bureau of Statistics (PBS) on Wednesday, the rate of inflation has slowed down for the second consecutive month in December 2018 and was recorded at 6.2pc. The fall in inflation was mainly due to a decline in the prices of perishable goods. Moreover, a drop in petroleum product prices also aided in the slowdown of inflation.
The KSE 100 index touched its intraday high of 37,928.37 (up by 133.2 points) in the early hours of trading. It then moved in the opposite direction, reaching its day's low of 37,374.05 (down by 421.20 points), before settling at 37,542.01 after losing 253.24 points. The KMI 30 index depreciated by 547.34 points and closed at 62,315.06 points, whereas the KSE All Share index was down by 385.70 points and ended at 28,013.64 points.
The overall trading volumes decreased from 133.65 in the previous session to 67.96 million, with 46.10 million recorded in KSE 100 index scripts. TRG Pakistan Limited (TRG -5.00pc) topped the volume chart with 10.93 million shares exchanging hands, followed by Pak Elektron Limited (PAEL -2.94pc) with 4.97 million shares and Descon Oxychem Limited (DOL -0.98pc) with 3.87 million shares.
The tobacco sector (-3.74pc), food and personal care products sector (-3.14pc), close-end mutual fund sector (-3.01pc), vanaspati and allied industries sector (-2.75pc) all remained on the losing side, while woolen sector (+4.80pc), miscellaneous sector (+1.86pc) and synthetic and rayon (+1.42pc) ended the session positive.
Following the news of a decline in global oil prices, the oil and gas exploration sector lost 2.22pc from its cumulative market capitalization. The Oil and Gas Development Company Limited (OGDC) was down by 3.35pc, while Pak Petroleum Limited (PPL) and Pakistan Oilfields Limited (POL) were down by 2.70pc and 0.01pc respectively. Mari Petroleum Company Limited (MARI +1.42pc), on the other hand, closed with decent gains.