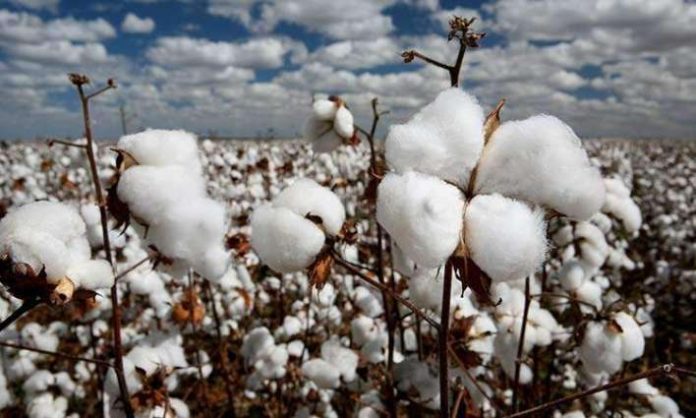 Cotton commissioner says scarcity of certified seed, decreased profitability, and issues of plant population were among the reasons behind low production
ISLAMABAD: The Senate's Standing Committee on National Food Security and Research on Wednesday expressed grave concern over the year-by-year gradual shrinking of land under cotton cultivation across the country, terming it as "potential damage to the country's economy".
Chairing the meeting, Senator Syed Muzafar Hussain Shah said the government should take immediate measures to save the country from such losses, highlighting the importance of specifying some zones for the cotton cultivation over which farming of no other crop would be permissible.
The chairman of the committee also underlined the need to encourage the production of long-staple cotton crop, which is having considerable export value and could earn foreign exchange for the country.
He asked the Ministry of National Food Security and Research to come up with its own view and also take feedback from the provinces on how to enhance crop cultivation in Pakistan.
The ministry was asked to hold a brainstorming session with the stakeholders and progressive farmers on how to enhance overall crop production and what steps should be taken to encourage cultivation of long-staple cotton.
Meanwhile, briefing the committee, Cotton Commissioner Dr Khalid Abdullah said that scarcity of certified seed, decreased profitability; and issues of plant population were among the main reasons behind the decrease in cotton production.
He suggested that cotton production should also be initiated in Khyber Pakhtunkhwa and Balochistan so that its overall yield could be enhanced, adding that priority to cotton districts and reduction in electricity tariff for agriculture tube-wells would also be helpful in the promotion of cotton production.
The commissioner gave break-ups of cotton production during different fiscal years, which, he said, had declined from 13.595 million bales in 2011-12 to 11.980 million bales in 2017-18.
The chairman asked the Pakistan Agricultural Research Council (PARC) to organize wheat seminars with proper management and invite 50 growers from each district to participate in the wheat seminar.
PARC was asked to brief the committee in next meeting about the speakers who would deliver speeches in the seminars and about the topics of their presentations.
Meanwhile, the Zarai-e-Taraqaiti Bank Limited (ZTBL) president informed the committee that it had disbursed loans of around Rs3145.387 million since October 2018. He informed the committee that the bank had over 90pc recovery rate on fresh loans.
On the occasion, the chairman said the matter of increasing the paid capital of ZTBL would be taken up with the finance ministry.
PARC informed the committee about the appointments over 692 vacant posts in the council. The committee was further informed that 98.3pc of wheat sowing target has been achieved so far.