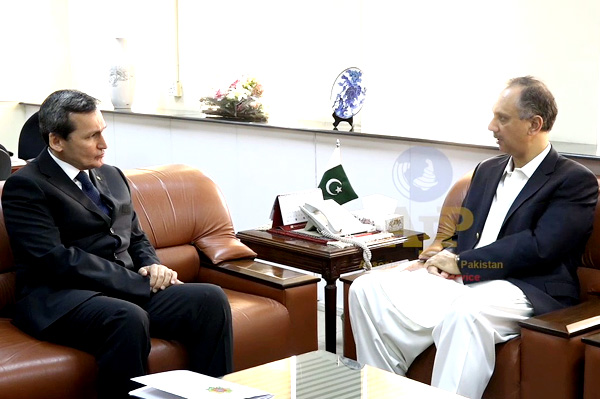 'Govt envisions opening new vistas of regional electricity trade, besides offering exponential investment opportunities to entrepreneurs'
ISLAMABAD: Pakistan and Turkmenistan will establish a joint working group (JWG) to discuss and finalise negotiations on an electricity transmission line from Turkmenistan to Pakistan via Afghanistan.
The decision to establish a JWG was taken on Tuesday in a delegation-level meeting between the two countries.
The Pakistan side was headed by Energy (Power Division) Minister Omar Ayub Khan while the Turkmenistan team was jointly led by Foreign Minister Rashid Meredov and Energy Minister Döwran Rejepow.
During the meeting, Omar Ayub Khan highlighted the potential of trade and development with the interconnection of the two regions.
He said that Pakistan's location offers the shortest and most feasible route via its deep-sea ports to the Central Asian States.
The minister stressed that peace and stability in Afghanistan would not only be in the interest of Pakistan but would also help uplift South and Central Asia.
Highlighting the policies that the present government in Pakistan is undertaking in the energy sector, Omar Ayub Khan said that an open and competitive electricity market is being envisaged to offer exponential investment opportunities to entrepreneurs and also to open vistas for regional electricity trade.
He said that grid inter-connectivity among the Central Asian States and South Asian countries would also attract other countries, especially along the China Pakistan Economic Corridor route.
Turkmenistan Foreign Minister Rashid Meredov thanked the Pakistani side for extending a warm welcome to the delegation. He agreed with the Pakistani minister on the importance of existing deep-rooted relations between the two countries and expressed his desire to further boost the relations to new heights.
He also agreed that both countries must take solid steps to utilise their resources for the development of their people.
Turkmenistan's energy minister on the occasion explained that his country has huge reservoirs of natural gas and hence its utilisation in making affordable electricity is also very feasible.
He said that Turkmenistan has already established huge power generation facilities and has surplus electricity available at affordable and competitive rates that can be exported to Pakistan via a transmission line.
'Shortest trade route' 
Meanwhile, President Dr Arif Alvi met Turkmenistan Foreign Minister Rashid Meredov Ovezgeldiyevich on Tuesday at the President House.
The president said that Pakistan could offer Turkmenistan the shortest route to the open sea through Gwadar seaport and its national road and railway networks.
He noted that both countries enjoy close cooperation on bilateral and multilateral fora including the Organisation of Islamic Cooperation, United Nations and Economic Cooperation Organisation.
President Alvi and Foreign Minister of Turkmenistan agreed on the early implementation of Turkmenistan-Afghanistan-Pakistan-India (TAPI) Gas Pipeline project.
Alvi said that Pakistan was planning to hold the groundbreaking ceremony of TAPI Gas Pipeline Project on its soil on a mutually agreed date.
He also welcomed Turkmenistan's offer to export 1,000MW electricity to Pakistan and signing of the Intergovernmental Agreement between Pakistan, Afghanistan and Turkmenistan.
The president pointed out that the existing trade volume was incommensurate with the potential and cordial ties between the two countries, and underlined that there was a need to further enhance bilateral trade and economic relations.
He highlighted that joint ventures in various sectors like agriculture, construction, petrochemicals and information technology need to be explored.
The president further emphasised the need for early finalisation of a memorandum of understanding between Gwadar and Turkmenbashi on Sister Port Relationship.