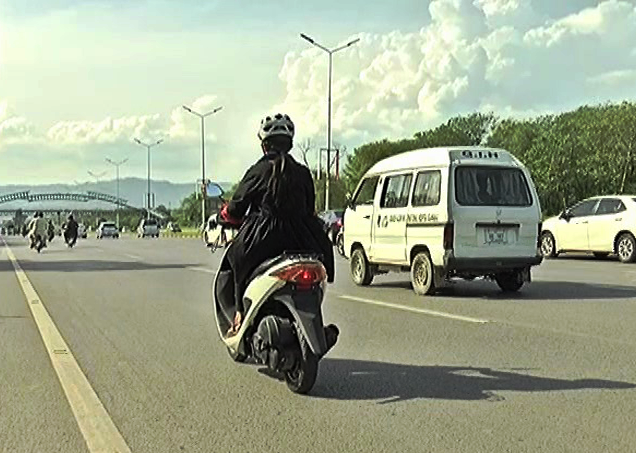 On a warm, mid-March afternoon in Karachi, after Friday prayers, I slipped in between narrow spaces outside the mosque on my motorcycle to get onto the main road – Sharah-e-Quaideen which leads to Jinnah's Mausoleum, if one is travelling on the road from the Shahra-e-Faisal side.
Just when I reached the road, I saw a University of Karachi bus, full of female students – sitting and standing – the latter collectively looked like as if it was not a university bus but a matchbox full of match-sticks.
For a moment, I felt blessed but the next thought was of shame. Why do I have the luxury and autonomy of being able to ride my own motorcycle, while these women are forced to use a bus as the only means of acceptable transportation?
Motorcycles are a male-dominated form of transportation all over the world. According to the Motorcycle Industry Council in the United States, nearly one in five motorcycle owners is now female, compared with one in 10 less than a decade ago. The data suggests that women could soon make up one quarter of owners, which would be a major shift in motorcycling demographics in the US.
In Pakistan, the ownership pattern is so skewed that nobody even bothers to keep track of just how many women own or ride motorcycles. Industry sources estimate the number to be so small as to be negligible. Of the estimated 15 million motorcycles in active use in Pakistan today, only a handful are primarily used by women.

This represents a major socioeconomic challenge in an environment where most of the population still cannot afford to buy cars (a mode of transportation where it is considered somewhat more acceptable for women to drive on their own), and with a complete lack of public transportation in most cities.
Why women do not ride motorcycles (so far)
"Transport is a major issue for female students here at Karachi University," said Nooreen Mujahid, an associate professor of economics at the University of Karachi, in an interview with Profit. Mujahid believes that owning a vehicle can save a lot of time for students and it is mostly female students who struggle to find a convenient, socially acceptable mode of transport.
"They have to wait for long hours for a university bus to return home and also have to come early to the university campus because they won't be having any transport available if they want to reach on time for a class," she added.
She further said that there are handful of female students who use cars to come to the university. "It's most probably because the rest can't afford cars." Professor Mujahid estimates that only about 40% of female students at the University of Karachi would be able to afford a scooter, even if it was priced as low as Rs70,000.
According to Madiha Hassan, founder of Pankh – a motorcycle training facilitation center for women in Karachi which has taught over 500 women how to ride bikes – women worldwide prefer scooters because they are lighter and more comfortable to ride.                            
"However, it will take much time [for scooters to become common] even if they could choose this mode of transport because of our social and cultural issues," Mujahid said. But she added she has recently seen a few women who ride scooters to the main campus of the University of Karachi.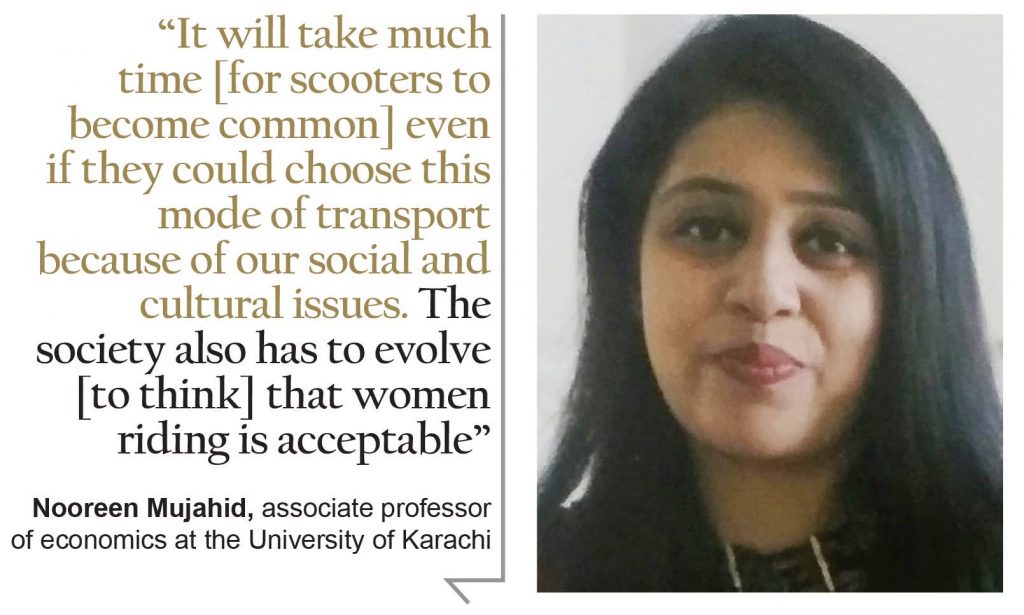 For that relatively small number of women using scooters to turn into something bigger, however, would require several factors to move in the same direction. For instance, Mujahid said that many women are a bit fearful of even driving cars let alone motorcycles or scooters, so there should be training opportunities for them before they ride on busy roads, since two-wheelers are prone to accidents.
"The society also has to evolve [to think] that women riding is acceptable," she said. She thinks only a small part of the even the 40% of female students who can afford scooters would adopt riding a motorcycle as their mode of transport due to social taboos.
Breaking social taboos
However, Zahid Farooq, joint director at the Urban Resource Center (URC), a Karachi-based think tank, says this taboo will soon break. He said that women have been struggling for quality transport and riding motorcycles would be helpful. He is confident of this because women on motorcycles is something that Pakistani society has seen before.
"There used to be a lot of women that would ride their cycles to universities and colleges before 1977. I believe in two years or in five years, this taboo of women riding motorcycles will break," he said. He also cited the example of some female lawyers who commute on motorcycles and could be seen near the City Court house in Karachi.
He said that women have to wait for hours for their husbands or other male members of the family to come to pick them up from universities or from their workplaces. Children are dependent on their fathers and housewives have to wait for their husbands to bring groceries home. These issues can be resolved by improving the mobility of women.
"I have seen women in India, Sri Lanka and even Indonesia, which is an Islamic country, riding scooters. So why could not our women have that 'luxury' too out of necessity?"

Farooq says that while there is also an urgent need for improving the condition of public transport for women yet facilitating the use of motorcycles for women would also be helpful in alleviating the problem.
There is no data available to ascertain the percentage of motorcycles bought by female customers. However, the industry estimates are that the women using bikes are infinitesimally less than 1% of the total riders of two-wheelers.
The women leading the charge
Marina Syed, a Karachi-based motorcycle trainer, is on a mission to empower women. She has started training women to ride two-wheelers. "I have a car too, but I prefer using motorcycle as it is economical and, in Karachi's traffic, it is very time saving. For instance, in a car, if I have to leave one hour prior to be on time, on a motorcycle, it would take me some odd 15 minutes. Moreover, parking a car is also becoming a great issue too," she said.
An undergraduate business student at Iqra University, Marina faced immense resistance from family and friends before she took the great leap forward – buying a scooter from her own savings without telling her family in 2017. At the moment, she has traditional 70CC bike, but she encourages her students to opt for scooters as they are lighter in weight and in case of an accident, the rider is likely to be less severely injured.  
"People won't let you do anything. They would ask you 'what will people say?' Intimidate you that you might break your hand or leg. But I decided that I have to ride a motorcycle and I did. Now I want to empower others like me. I want to make them self-dependent. Women should not be dependent that their brothers, fathers or husbands to drop her to her university or office," she said.
Marina has started training recently and has so far had some 13 students. "Girls generally do it but [older] women get afraid quickly. When they roll the accelerator and the motorcycle produces sound, they get frightened and some have didn't try motorcycles even after successfully balancing themselves on bicycles."
All of Marina students are solidly middle-class, and she feels that it was this income segment which needs to be empowered. Women from richer families generally do not face the same kind of transport problems.
"There is one student, who comes with her mother to get trained to ride motorcycles after changing two buses and traveling for over an hour. Her mother had asked me to train her daughter directly on a motorcycle instead of the prerequisite bicycle since it is difficult for them to travel often. It was painful, but I have to follow [standard operating procedures] SOPs so I had to turn down her request."
The cultural baggage
Feryal Ali Gauhar, an actress and activist, says that the notion of gender segregation is very strong in a society such as Pakistan. Women are rendered almost invisible due to cultural restrictions, and their mobility is curtailed due to such cultural values.

Gauhar added that promoting customized scooters may encourage the use of two-wheeler transport by women. Bicycles used to be designed without a bar across the seat to the handle to make it easier for women to mount. "But that was according to Victorian values. There may be no need to modify motorbikes now. However, it may be considered a good idea for traditional societies," she added.
Scooters, in short, may be the gateway that allows more traditional societies to accept the idea of women on two-wheeler transportation of their own.
"I don't think there should be an issue for women to use smaller bikes with less horsepower if they are comfortable handling such a machine. Scooters are already in use by a few women in Lahore. In Delhi and Mumbai there are many more women who use two-wheelers."
She said that social taboos need to change, and are changing, to be more inclusive and just.
Sakina Ashfaq Hussain, a teacher by profession, is very fond of her scooter and loves this mode of transport. "Being a working woman and also a housewife and mother of four children, it is most beneficial tool for me helping me in my daily routine tasks."
"I use it to drop and pick my kids from school and go to work or go for shopping. It's actually making me feel that I am independent and don't have to bother about public transportation or be beholden to my husband for anything for drop off or pick-up," she said.
The biggest benefit Sakina derives from her scooter is she doesn't have to bother about parking, and "it's beautiful, economical and bearable tool for daily life expenses."
"Using public transport gives you a headache so I decided to go for personal transport. I decided to go for something convenient and went to Akbar market searched for a motorcycle, which I can ride in my rida (burqa). I bought a 70cc scooter."
Sakina's husband supported her in her decision to opt for motorcycle. She was later called 'pilot' in the neighborhood as she can ride her bike with all four of her kids mounted.
Like many others, Sakina was also discouraged by the neighborhood, but she said was encouraged too. While she was riding in the vicinity of the Quaid's mausoleum, one person gifted her his helmet in appreciation for her social courage.
Madiha Hassan of Punkh said that one of the main reasons women in Pakistan do not use motorcycle as their regular mode of transport was the mindset of our society. "As a society we are very sexist. Motorcycles are dangerous for women but they are completely fine for men. If a male is riding a bike, no one looks at him even once, but if a female is riding it, everyone will leave whatever they are doing and stare at her as if she is doing something extraordinary. We, as a whole nation, need to be more acceptable towards women in public life."
Madiha thinks the best way to combat those taboos is to organize small training camps in lower middle-income neighbourhoods. Once they come out of their houses, even just for training, women would gain confidence and that will eventually lead them to choose motorcycles as their mode of transport.
"We can also have a great impact of it digitally, by involving men who support this idea. When people will see the other gender applauding this cause, it will make things ordinary and will also change the mindset of a lot of people."
"I can definitely say that the trend is changing, even though it is changing very slowly, but it is, which is still a big thing. You used to not be able to point to a single lady riding a bike, but now you can see some of them. This trend will increase with the passage of time."
The market for motorcycles
Of the nearly 2.3 million motorcycles sold in Pakistan last year, almost none were bought by women for their own personal use, and a trip to a motorcycle dealership in Karachi tells you exactly why.
The manager of the dealership said that in the three years he has been working there, he has never seen a woman buy a motorcycle for herself, though he could think of a couple of examples of women claiming they were buying the bikes for male relatives.
Another employee at the dealership was clearly extremely hesitant about the idea of letting a women buy a motorcycle on an installment plan, commonly availed by their male customers. He made excuses for his reluctance, saying they might not have licences, which would get him in trouble with the police and insurance companies. However, the dealership evidently has no problem selling motorcycles to men without a valid drivers' licence.
According to Muhammad Sabir Sheikh, chairman of the Association of Motorcycle Assemblers (APMA), a respectable scooter costs Rs 110,000, sold by United Motors. Super Power, another company, also sells scooters in Pakistan priced at around Rs70,000 but according to market sources, it is not considered a good vehicle. Sheikh added that the cost of documentation (licences and registration) is roughly Rs5,000.   

"Scooters are expensive because they are imported in CBU form (Completely Built Units) and therefore there's a 50% custom duty on them. I think the government should reduce the duty to 25% and allow only CKD's import (Completely Knocked Down) if it wants to give an option of two-wheeler to women," Sheikh said.
He said that bikes most commonly used by men cost as low as Rs45,000 while a comparable substitute for women is much more expensive.
United Motors Marketing Head Salamullah confessed that there is a huge cost difference for a man to get on two wheels as compared to a woman. However, he said the only reason for the big price difference is lack of volume production for scooters.
"The Nawaz government was planning with us – after we won a tender – to replace the Prime Minister's laptop scheme [for students] with one providing scooters to all kinds of women: students, lawyers, working women or anyone who needed a bike. A total 10,000 units were planned for Lahore only while a total of 50,000 units for Punjab and may be later for the whole country. But the government then went into crisis post Panama [Papers] and the plan was shelved with the government change."
"That tender was supposed to give us impetus to embark on scale production and therefore for the price to come down. That was unfortunate." Salamullah added that there was no collaboration for a similar project with the present government, which is struggling to tame the rising dollar.
Salamaullah said that United Motors previously launched an 80cc scooter along with a 100cc scooter but the small engine scooter generated little demand and therefore United Motors was forced to quit the model. Now the company is assembling only 100cc scooters.
Salamullah claimed that United Motors was the only company that has been selling scooters exclusively designed keeping in view the needs of women – clutchless, tubeless tyres and auto-start bikes.

According to Salam, bikes or scooters with an engine size below 70cc are not considered bikes and cannot be registered. They are not supposed to hit roads. That regulatory hurdles makes it difficult to consider a smaller two-wheeler for Pakistani manufacturers and assemblers. That does not, however, mean that there is no demand for such motorcycles.
Waqas Malik, who claims to be the biggest importer used Japanese scooters in Pakistan, says last year he sold some 300 units in different parts of Pakistan. All his units have a 49cc engine with a maximum speed of 60 kilometers per hour and are smuggled in containers via the Chaman and Torkham borders.
He sells them at under Rs 50,000. Since these are under 50cc, these vehicles as per Pakistani law can't be registered. Legally, they are like bicycles that don't require registration or customs papers, etc. Not even a driving license. He says almost 80% of his end customers are women from all over the country. He knows of women in smaller towns like Chiniot, Jhang, etc working as medical representatives and students using those scooters.
Why scooters have not taken off yet
India has already had gearless scooters making their presence felt four decades ago in the 1980s, according to an article in The Hindu Business Line. At that point in time, it was not considered macho to be seen riding on this product, which was then part of the Kinetic Honda brand.
Yet, it was the first big mobility alternative for women in cities even while the smaller moped was an earlier entrant. It was only when Honda came in on its own with the Activa did the gearless scooter revolution take off in earnest.
What was also interesting in the process was that while women welcomed it with open arms, men did not feel too squeamish about being seen on a scooter too. The realities of traffic and comfort of riding more than made up for any perception issues. The Activa empowered women in cities along with the TVS Scooter and it was only a matter of time before other companies joined the scooter bandwagon.

Pakistan had a thriving scooter market a few decades ago, but it died out. Vespa, the Italian brand of scooters manufactured by the company Piaggio, used to manufacture scooters in Pakistan but stopped due to sales decline about 20 years ago. It continued production for over four decades with its plant in Azad Kashmir but, according to Sabir Sheikh, it was a vehicle for roads with low traffic. It was popular for decades in the country. But the increase in traffic was the main reason for sales decline as it is a difficult vehicle to ride in traffic. Moreover, Vespa was designed more for men than for women. It was heavy and difficult to ride.
The electric scooter?
Meanwhile, Sabir Sheikh said that now the world is moving towards electric vehicles and the government should facilitate that transition, in part because Pakistan's auto parts vendors can make everything except engines and electric cars do not require them.
In Pakistan's auto industry, it is the three Japanese auto giants – Toyota, Honda, and Suzuki – that call the shots when it comes to the country's auto industry policy, and according to Sheikh they will not let fossil fuel-engine vehicles turn obsolete, which runs the risk of leaving Pakistan behind the rest of the world.
"China is doing a lot of work on electric cars. Germany will be making fossil fuel vehicles completely obsolete by 2022. The (majority of) Europe will be doing it by 2025. So electric vehicles are the future of the auto industry," he said.
He further said that government can promote electric scooters along with all kinds of vehicles. Electric vehicles can be made completely in Pakistan if there's a will.      
Adeel Gohar, a partner at Jawad Corporation, which sells Sunra electric bikes in Pakistan, said that governments around the world are encouraging electric vehicles while Pakistan has been putting huge barriers.
Jawad Corporation has been selling electric bikes that can reach a speed of 65 kilometers an hour and can run up to 60 kilometers after charging for six hours. The bike costs consumers a hefty Rs128,000 but nearly half of that price is government duties.
"We are charged with 48% duties for the vehicle. If government removes the duty for our eco-friendly vehicles, we can sell it below Rs70,000. Moreover, Sunra has promised us that it will install a plant here in Pakistan if sales reach 5,000 units," he said.
The price factor can help increase sales to the threshold where the company's foreign partner is enticed to start production in Pakistan. Adeel declined to share the total number of units sold so far but said that it was nowhere near to 5,000 units – not even 10% – yet the response is so far encouraging for the company and they want to stay in the run.
"Our buyers are happy. There is no cost of fuel or oil. Charging cost is also negligible," he said.
The environmental impact
The company has so far sold three containers full of electric eco-friendly bikes that has so far collectively been driven over 100,000 kilometres, sparing the duty of '100 trees'. One tree, on average, can absorb the carbon dioxide emissions produced by a petrol bike driven for 1,000 kms.
According to a report on electric vehicles, published by the United Nations, the carbon emission reduced by riding on an electric motorcycle instead of a gasoline motorcycle for one year equals the cleansing effect of approximately 10-12 trees.
Marketing to women
Jawad Corporation will soon be importing electric scooters too soon and hopes that it becomes popular among women. However, Adeel was unable to give its price yet as it would be assessed after the consignment reaches and cost is assessed.

To encourage women riding motorcycles, some of industry players have done various campaigns including inviting international biker women for a motorcycle trip from Lahore to Khunjrab Pass. The industry is continuously working on such campaigns to encourage female riders to take up motorcycle riding.
A leading bike-maker has partnered with of Government of Punjab's 'Women on Wheels' initiative. It has not only provided custom made motorcycles for women but has also trained women for motorcycle riding through certified trainers.
However, according to what Profit has learnt from industry sources, there are no plans to launch scooters at the moment as the demand is too low to entice motorcycle makers to attempt it.   
"Plans to make any particular product in the country are driven by demand. As soon as there is sizeable demand for such motorcycles, the industry will produce and market them. A few bike manufacturers have already test marketed scooters on a subsidized price to make the product affordable for female riders but the results have not been encouraging," an industry official said on condition of anonymity.
"The industry has no reason to develop an affinity or hostility towards any particular segment of the market or society. It is purely business. The industry is doing its best to develop motorcycle riders in the female segment of the society but it's more about changing the culture which is not an easy task. The process is slow but one can feel the progress being made."
And while middle class women certainly have a great tale of misery to tell regarding Pakistan's mode of transport available to them, working class women have stories of even greater miseries to share.   
URC's Farooq pointed out that working class women have to wait for hours just to get back to the RCD Highway, out of the city from the heart of Karachi. "At about 2:00 pm every day, you can notice a lot of women at Shaheed-e-Millat Road waiting for transportation. Unfortunately, there is no proper transport available for them despite their large numbers. They can only hope to get a lift to get back home and sometimes wait for many hours to get it."