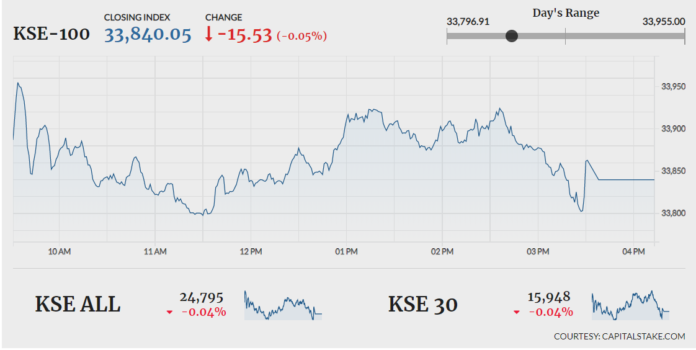 KARACHI: Amidst volatile trading and thin market participation, the Pakistan Stock Exchange (PSX) closed Wednesday's session flat. Foreign investors closed the previous session as net buyers with a net inflow of $1.68.
As per the State Bank of Pakistan's data, overseas Pakistanis remitted $1.65 billion in the month of June 2019 as compared to $2.32 billion in the preceding month, a decline of $665.22 million. However, when compared to June 2018, the remittances increased by $22.87 million.
The KSE-100 Index touched its intraday high of 33,955.00 soon after the commencement of the session. It then oscillated in both directions, reaching its day's low of 33,796.91. The index finally closed lower by 15.53 points at 33,840.05. The KMI-30 Index declined by 16.42 points to end at 53,713.88, while the KSE All Share Index settled at 24,795.22 after losing 10.67 points.
The overall market volumes remained low and were recorded at 40.61 million (down by 32pc on a daily basis). Dost Steels Limited (DSL +16.01pc), Quice Food Industries Limited (QUICE +8.57pc) and Maple Leaf Cement Factory Limited (MLCF +0.73pc) remained the volume leaders. The scripts had traded 3.50 million shares, 2.53 million shares and 2.48 million shares respectively.
In a notification sent to the exchange, Engro Corporation Limited (ENGRO +0.59pc) announced that it's sub-subsidiary, Engro Powergen Thar Limited (EPTL), has declared commercial operations date of its 660MW coal-fired power generation project with effect from 10th July 2019.
Furthermore, Sindh Engro Coal Mining Company Limited – Engro Energy Limited's associated company – has also declared its commercial operations date on 10th July 2019, and it shall start the supply of Thar coal to EPTL for its project.
The automobile assembling sector lost -1.01pc from its cumulative market capitalization. Sazgar Engineering Works Limited (SAZEW -4.84pc), Honda Atlas Cars (Pakistan) Limited (HCAR -3.26pc) and Ghandhara Industries Limited (GHNI -3.39pc) all closed in the red.