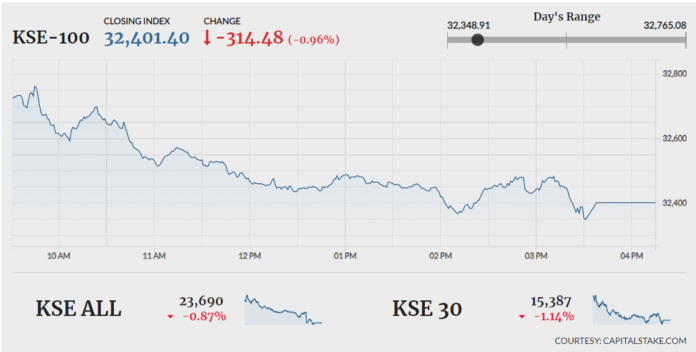 KARACHI: After posting gains for two consecutive sessions, the Pakistan Stock Exchange (PSX) once again went under the control of bears, as the indices traded in both directions before settling in the red zone.
Foreign investors remained as net buyers in the previous session with a net inflow of $1.37 million.
Adding 49.20 points, the KSE-100 Index touched its intraday high of 32,765.08 during the initial hours. It then drove in the opposite direction to reach its intraday low of 32,348.91 (losing 366.97 points). It finally closed lower by 314.48 points at 32,401.40. The KMI-30 Index declined by 645.53 points to settle at 50,958.21, while the KSE All Share Index depreciated by 206.77 points, ending at 23,689.71. The advancers to decliners ratio stood at 92 to 227.
The overall volumes declined from 97.12 million to 84.38 million. Unity Foods Limited (UNITY +1.99pc) topped the volume chart with 8.98 million shares exchanging hands, followed by Maple Leaf Cement Factory Limited (MLCF -1.69pc) and DG Khan Cement Company Limited (DGKC +3.31pc) with 7.94 million shares and 4.71 million shares swapping hands respectively.
The top three sectors that dragged the index down included the oil and gas exploration sector (-69.62 points), fertilizer sector (-63.72 points) and banking sector (-51.58 points).
Meanwhile, the companies that contributed negativity to the KSE-100 Index included Engro Corporation Limited (ENGRO -40.68 points), Hub Power Company Limited (HUBC -34.84 points) and Habib Bank Limited (HBL -33.07 points).
On the market front, Habib Bank Limited (HBL -1.71pc) declared its financial results for the second quarter of FY19. The company also announced an interim cash dividend of Rs1.25 per share. Revenue increased by 55pc YoY, while earnings per share deteriorated from Rs2.46 in the same period last year to Rs1.11 in the current period.
Pakistan Suzuki Motors Company Limited (PSMC -3.82pc) also announced its financial performance for the second quarter of FY19. The company's sales increased by a minor 0.52pc YoY, while earnings per share declined from Rs4.78 in 2QFY18 to Rs-6.62 in 2QFY19.
Moreover, Sui Northern Gas Pipeline Limited (SNGP -1.81pc) released its financial results for the second and third quarters of FY19. The company's earnings per share improved from Rs3.06 in 2QFY18 to Rs4.92 in 2QFY19. On the other hand, its EPS decreased from Rs3.34 in 3QFY18 to Rs3.32 in 3QFY19.