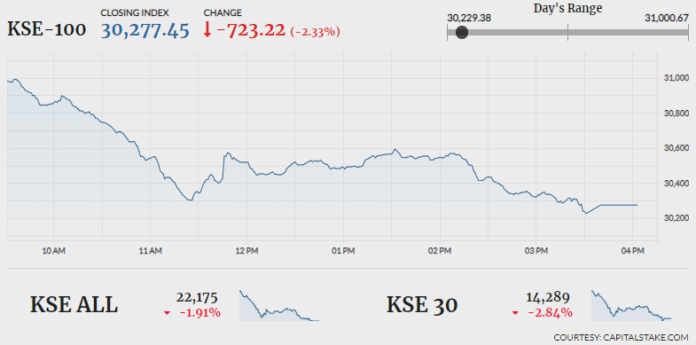 KARACHI: The Pakistan Stock Exchange (PSX) bled for yet another session, as the indices again recorded a fresh 52-week low on Wednesday, causing the 100 index to slip closer to the 30,000 mark.
The KSE-100 Index followed the downward trajectory as soon as the session started, slipping to levels not seen since early 2016. The index lost 771.29 points or 2.55pc to mark an intraday low of 30,229.38, before settling lower by 723.22 points or 2.39pc at 30,277.45. Only 11 scripts managed to end with gains, while 77 declined and 12 remained unchanged.
The commercial bank sector pulled the index down by 200.44 points, followed by the oil and gas exploration sector, which took away 176.40 points from the index.
The Oil & Gas Development Company Limited (OGDC -70.29 points) and United Bank Limited (UBL -55.04 points) remained the top two companies that contributed negatively to the index.
Among other indices, the KSE All Share dropped 431.08 points. The oil and gas exploration sector (-140.69 points) and commercial bank sector (-92.34 points) remained the culprits here too.
The KSE-30 Index lost 417.98 points while the KMI-30 Index ended 1,345.18 points in the red.
On the market front, United Bank Limited (UBL -3.91pc) declared a net profit for the second quarter of 2019 at Rs5.38 billion, up 48.31pc from 2QFY18. Earnings per share stood at Rs4.39 in addition to a cash dividend of Rs2.50.
MCB Bank Limited (MCB -0.82pc) announced a profit of Rs5.60 billion and an EPS of Rs4.72, up 12.11pc compared to the same period last year. Following its trend, a cash dividend of Rs4 per share was also declared.
The profit of Cherat Cement Company Limited (CHCC -1.06pc) fell 17.32pc on a year-on-year basis in FY19. Net profit clocked in at Rs1.76 billion while sales stood at Rs15.86 billion. A cash dividend Rs1.00 per share and a bonus of 10pc was also announced.