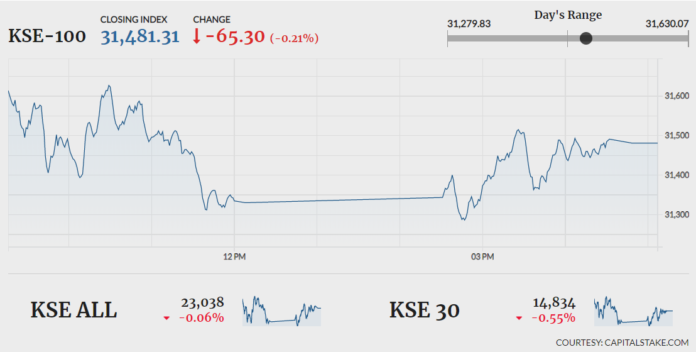 KARACHI: Unable to carry forward the winning momentum, the Pakistan Stock Exchange (PSX) ended the last session of the week in the red zone.
Investor participation remained low on Friday as the investors adopted a cautious approach ahead of the monetary policy announcement, which is due on Monday.
Foreign investors offloaded stocks worth $1.39 million on Thursday.
On the economic front, the country's liquid foreign exchange reserves, as on Sept 6th, stood at $15,752 million, up by 0.85pc, when compared to $15,620 million recorded on 30th August.
Meanwhile, according to media reports, a delegation of the International Monetary Fund (IMF), headed by regional director Jihad Azur, would visit Pakistan in the next few days.
Moreover, as per the latest figures released by the Pakistan Automotive Manufacturers Association (PAMA), the country's auto sales sunk by 41pc YoY in August 2019, from 17,662 units in August 2018 to 10,496 units. On a month-on-month basis, sales slipped by 16pc, from 12,482 units in July 2019 to 10,496 units in August 2019.
Declining by 266.78 points, the KSE-100 Index recorded an intraday low of 31,279.83. The index settled lower by 65.30 points at 31,481.31. The KMI-30 Index gained 254.51 points to close at 49,716.77, whereas the KSE All Share Index fell short by 12.83 points, ending at 23,038.00.
The overall volumes declined from 185.84 million in the preceding session to 103.04 million. Maple Leaf Cement Factory Limited (MLCF -1.30pc) topped the volume chart with 7.52 million shares exchanging hands, followed by Unity Foods Limited (UNITY +1.83pc) and Oil and Gas Development Company Limited (OGDC +0.39pc). The scripts had traded 7.13 million shares and 6.82 million shares traded respectively.
The KSE-100 Index was let down by the banking sector (-116.15 points), automobile assembling sector (-23.21 points) and power generation and distribution sector (-22.89 points).
Among the companies, Habib Bank Limited (HBL -68.87pc), Hub Power Company Limited (HUBC -34.68pc) and MCB Bank Limited (MCB -33.99pc) dented the index the most.