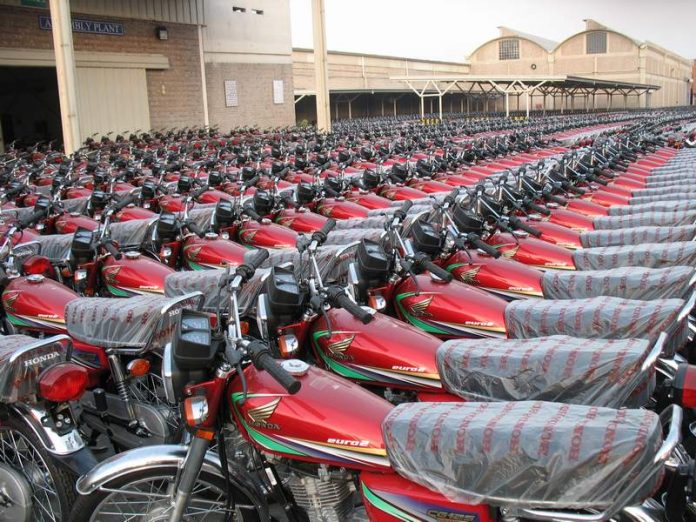 KARACHI: The country's total bike production fell by 13 percent to 2.459 million units in FY19 from 2.825mn units in FY18, showed Pakistan Bureau of Statistics (PBS) data.
Amid claims of achieving 94 percent localisation in 70cc segment and over 50 percent in higher engine power, the assemblers had given multiple price shocks to the consumers in the last one and half years blaming high cost of imported parts and raw material on falling rupee value against the dollar to Rs158 from Rs123 in August 2018 and Rs110 in January 2018.
Data of Pakistan Automotive Manufacturers Association reveals sales recovery by some assemblers in August from July, but the volumes during July-August 2018 were still far healthier than the same months of this year.
Former chairman Association of Pakistan Motorcycle Assemblers (APMA) Mohammad Sabir Sheikh said rising food prices have hit low income buyers' sentiments who cannot afford bikes on ready cash, according to the report.
He said bikes selling out through instalment has also slowed down in the last six months as many buyers face problems in paying monthly instalment of Rs3,000-5,000 per month on 70cc-125cc bikes out of their monthly salary of Rs25,000-35,000 per month.
Honda CD 70cc and CG 125cc now cost Rs74,900 and Rs124,500 as compared to Rs69,500 and Rs114,500 earlier this year. Suzuki GD110S, GD 150, GD150SE and GR150 now sell at Rs166,000, Rs175,000, Rs191,000 and Rs259,000 as compared to Rs155,000, Rs162,000, Rs180,000 and Rs243,000 earlier this year.