AkzoNobel Pakistan is stuck in a rut and may be looking to a combination of restructuring and acquisitions as a way to move into high-growth gear.
The past few years have been challenging for the company, to say the least. Yes, the business is profitable, and still owns brands that command enormous respect in the market for paints, but there is no question that the company has failed to meet the expectations that management set for itself and investors when they first announced the spinoff of ICI Pakistan's industrial chemicals business in 2012.
AkzoNobel Pakistan's revenue has risen by a paltry average of 2.8% per year between 2012 and the second quarter of 2019, the latest for which financial statements are available. Inflation during that time has averaged 6.0% per year, meaning that, in real terms, the company has shrunk its revenues. And that is before we even begin to calculate the decline in revenue that has taken place once one measures revenue in euros, the reporting currency of its Netherlands-based parent company.
Needless to say, such results have not gone unnoticed by AkzoNobel global management. Sources tell Profit that the local workforce has shrunk somewhat at AkzoNobel Pakistan as employees have either been laid off or have left themselves amidst a restructuring exercise that has seen each local business unit become part of global business units rather than one cohesive national entity.
According to one former AkzoNobel employee who wished to remain anonymous to speak candidly, AkzoNobel's verticals will now be led by their global headquarters typically located in other countries. For instance, metal coating will be led by the team based in the United Arab Emirates (UAE), while the decorative paints business will be led from the Netherlands.
In an interview with Profit, AkzoNobel Pakistan CEO Saad Mahmood Rashid acknowledged that the restructuring was underway, and that the company has set itself ambitious targets that have resulted both in the creation of new roles as well as the elimination of 'inefficiencies'.
"In order to ensure that we become the preferred provider in Pakistan's paints and coatings market, the company is setting transformation targets and investing in people, processes and technologies to steer it forward," said the CEO. "This has resulted in a few changes including creation of multiple new roles, that would help rebuild a more stable and effective framework to eliminate inefficiencies, in turn driving us forward."

According to one source familiar with the matter, the restructuring exercise has led to the CEO of the local business entity – the publicly listed AkzoNobel Pakistan Ltd – with a significantly reduced role at the company. Saad Rashid did not deny those reports in his interview with Profit.
"There are certain verticals and they do report to me but how to go about their specialized vertical comes from their superior from the same vertical or department, who is more knowledgeable in that particular field," he said. "It's a matrix organization."
The context for the restructuring appears to have been the failed bid by the largest paints and coatings company in the world, the US-based PPG Industries, in early 2017. PPG is the largest paints company in the world and AkzoNobel the second-largest. While the merger failed, it nonetheless had a lasting impact on AkzoNobel.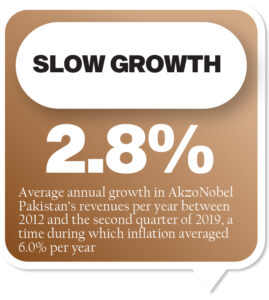 At a time when PPG made its first bid of €83 per share, AkzoNobel's shares were trading at approximately €60 a share on the Amsterdam-based Euronext stock exchange. PPG subsequently raised its bid twice, first to €88.72 and then to €96.75 per share. AkzoNobel's board rejected the bid on two grounds: the price was too low, and the merger of the largest and second largest paint companies in the world would likely attract significant antitrust regulatory scrutiny that would significantly complicate the benefits of any merger.
Having rejected the bid, however, AkzoNobel's board was in a bind: they had to prove to their shareholders that they had the ability to create the same value for the company that PPG was offering through its acquisition offer. 
"The reason PPG made such an offer was that it assessed that it could drive costs down by bringing in efficiencies and driving up the share value. AkzoNobel, after extensive consideration, concluded its own strategy, which was presented on April 19, 2017 and offered a superior route to growth and long-term value creation. This was in the best interests of everyone" Saad said.
"That strategy set out a clear road map for everyone. The creation of two focused, high-performing Paints and Coatings and Specialty Chemicals businesses, enabled accelerated growth and enhanced profitability. This significantly increased financial guidance for Paints and Coatings and Specialty Chemicals; the clear separation of Specialty Chemicals within 12 months with the vast majority of net proceeds to be returned to shareholders; increased shareholder returns, including a 50% higher dividend for 2017 and €1 billion special cash dividend payable in November and lastly the creation of significant value for shareholders in the short, medium and long term, whilst also securing the interest of other stakeholders.  
"The extensive review and the meeting with PPG confirmed to Akzo Nobel that its own strategy was better, and did not contain the risks and uncertainties inherent in PPG's proposal. This strategy will build on the existing growth momentum within Akzo Nobel and create a step change in value creation for shareholders and all other stakeholders. 
"AkzoNobel continues to focus on our strategy of accelerating sustainable growth and profitability through the creation of two focused, high-performing businesses and remains committed to its 2020 financial guidance (15% ROS and >25% ROI)." Saad said.  
The ICI spin-off
AkzoNobel's history in Pakistan starts with its January 2008 global acquisition of the UK-based Imperial Chemical Industries, better known by its acronym, ICI, the legendary industrial giant that was, for decades, the largest manufacturing company in the United Kingdom.
ICI's history in Pakistan starts even before Partition, in 1944, when it started the production of soda ash, a precursor to several industrial chemicals, in Khewra, in district Jhelum. Following independence and Partition, ICI incorporated its Pakistan assets under Khewra Soda Ash Company Ltd, set up in 1952. The company was renamed ICI Pakistan in 1966. At least one ICI subsidiary has been listed on the Karachi Stock Exchange since July 1957.
ICI has always grown in Pakistan through a combination of organic growth as well as acquisitions. For instance, in 1965, they acquired the Lahore-based Fuller Paints, which was later renamed Paintex. The company also created Pakistan PTA Ltd in 1998, which was then spun off into a separate entity in 2000.
In 2008, the global parent ICI was bought out by Dutch paints and chemicals giant AkzoNobel, following which ICI Pakistan became part of AkzoNobel worldwide. In 2010, the company made a decision to focus on the paints business, AkzoNobel's global specialty, and spin off the chemicals business.
The spin-off, labelled a "demerger", was completed in May 2012, creating two separate companies: AkzoNobel Pakistan and ICI Pakistan, though at the time, both were owned by the global AkzoNobel. The process to find a buyer for ICI Pakistan began in June 2012, and ended with the Yunus Brothers Group – the industrial conglomerate that owns Lucky Cement, Yunus Textiles among others – won the bid to buy out the industrial chemicals business that was the new ICI Pakistan.
Coincidentally, ICI was the result of the 1926 merger of four companies, one of which was Nobel Explosives, which has its origins under Alfred Nobel, the Swedish explosives manufacturer. Another of Nobel's subsidiaries became one of the component companies of AkzoNobel.

"ICI, ICI Roundel and Dulux are trademarks owned by Akzo Nobel and we still use them in Pakistan, hence retaining the brand equity that has been built over the past decades," said Rashid. "It has happened globally that when AkzoNobel acquires some brands, it then keeps the paints business and sell the rest of the businesses to local players, like it did with ICI which it sold to Yunus Brothers."
Buying its way to growth
As stated earlier, AkzoNobel Pakistan's revenue has risen by a paltry average of 2.8% per year between 2012 and the second quarter of 2019. Inflation during that time has averaged 6.0% per year. And profits have not exactly kept pace, growth at an average of 1.8% per year.
When asked about the company's performance, Saad Rashid had a somewhat optimistic spin on the matter. "Since the demerger in 2012, Akzo Nobel Pakistan has seen its sales value grow by 22% while its operating income has grown by 111%," he said, an accurate, if somewhat incomplete way of describing the company's financial performance during that period.
"The higher change in the operating income as compared to sales revenue was due to the fact when businesses get focused, efficiency increases. Moreover, there were few one-off costs that also later translated into higher operating income," Rashid explained. 

Unlike business houses in Pakistan, which want their hands in every industry and prides in being called 'conglomerates' and lacks specialization, AkzoNobel is one of the companies that look to remain specialized in the paints business, he said. Recent financials seem to suggest that the strategy to achieve higher levels of efficiency might be working at a time of a general economic slowdown. Despite stagnant revenues in the first half of 2019, profitability has increased by close to 10%.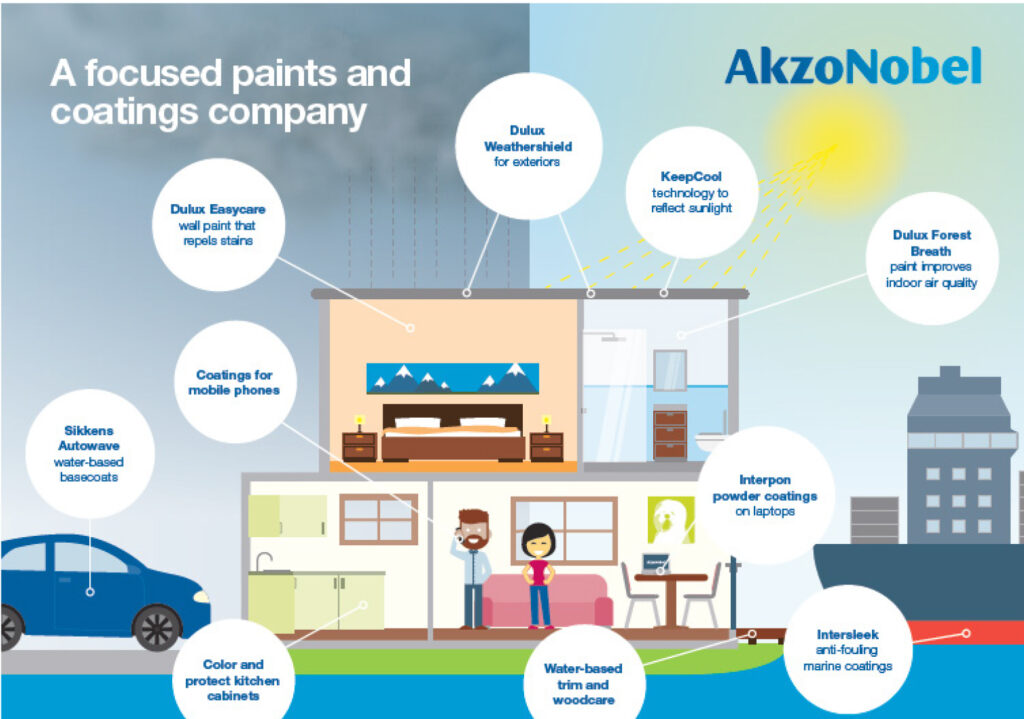 Asked to explain why AkzoNobel's business has struggled in the past, Saad Rashid deflected and blamed macroeconomic factors, even though the period in question included one of the longest booms in construction activity in the country's history. 

"Pakistan is a developing economy where economic upheavals and downturns can have a major impact on the overall business performance. Since its inception in 2012, AkzoNobel Pakistan has grown in terms of value and profitability," he said.
"We intend to focus on medium and long-term deliverables. We believe that as long as the direction is correct, short-term challenges – for instance devaluation and raw material cost escalation – do not significantly impact the business."
Saad further said that AkzoNobel's global parent sees Pakistan as a growing market and believe it to be attractive from a long-term perspective.
The reason for this outlook of Pakistan market because of the country's population and expectation of growth. The industry is not saturated and paint usage is currently significantly under global levels. As Pakistan's paint consumption levels converge with regional and global averages, that will create an opportunity for paint manufacturers to thrive.
"When the demand for paint increases, we are well-positioned to grab opportunities as we have the highest market share by value," said Rashid. He added that AkzoNobel has invested Rs600 million during the period 2016-18.
It is unclear if that assertion is accurate, however. According to industry sources that Profit spoke to, AkzoNobel Pakistan has been losing its market share to other players, especially to Brighto Paints during the last decade. But Saad Rashid does not quite agree on that. 
"It depends if you are talking about volume or value because you will get different results of market share. Being a premium brand company, obviously our value market share will always be higher than our volume market share, simply because of where we play," he said.
"In reality the market is quite competitive, with lots of players who are not very different from each other in terms of size. In a market with huge potential, our aim is to solidify our position and ensure a clear number one position in the next 5 to 10 years," he added.
Sources familiar with industry trends who spoke to Profit said that AkzoNobel's market share is highest in the southern half of the country and significantly lower in the northern half. These sources added that AkzoNobel was in talks to acquire a local player that would allow the company to gain a greater market share in the northern part of the country. 
Saad Rashid disagreed with the notion that the company does not have a substantial market share in Punjab and Khyber-Pakhtunkhwa. "Akzo Nobel prides itself on being a strong national player with substantial presence in all geographical areas of Pakistan. Other major players have limited geographical reach and drive their strength from a specific geography," said Saad.
However, he did hint that talk of an acquisition were likely not out of place. "AkzoNobel globally has always believed in both organic growth as well as through acquisitions. In 2018 alone, we acquired Fabryo in Romania, Xylazel in Spain and Colourland in Malaysia. The regional leadership at AkzoNobel considers Pakistan as a growth market. We continue to focus on organic growth here, while looking for bolt on acquisitions which would complement our portfolio and help us deliver on our strategy," he added.
Paint industry development phase
The Pakistani paint market, meanwhile, appears to be one that lags behind its peers in terms of sophistication and efficiency of the selling process.
"There are two types of paints. One is readymix and the other is POST (point-of-sale tinting) paints. Readymix is the paint which is readily available at paint shops. If there are 60 colors a company is offering and in three size containers (1kg, 4kg and 16kg), then its dealer has to keep at least 180 pieces at any given time to have the complete range. Then there has to be enough quantity to serve a big customer or multiple customers in a short period. Let's assume, in order to have complete stock and quantity, a dealer may have to keep 10 containers of each paint. The dealer will have to keep a total of 1,800 containers: ten for each of the three sizes of each of the 60 colors," explained Rashid.
"The POST paints are colors which can be made on demand from four basic colors at a dealer's shop. What happens is that paint manufacturers install small machines at paint shops with four base paints. Whatever color of the paint a customer demands, it could be made right away. In this way, a dealer can work at a smaller place with less stock and the industry becomes efficient."
Saad said sales in the Indian paint industry consist of 70% POST paints and 30% readymix. But Pakistan is yet to evolve and the ratio here is 5% POST and 95% readymix.
'Survival of the fittest'
Meanwhile, Saad believes the paint industry will have a certain expected transformation due to the economic slowdown and it will move towards consolidation. As a result, certain large companies will become bigger.
"The economy has slowed down in the last couple of years and the same has had an impact on the paint industry. The Paints industry has over 600 manufacturers and most large retailers also have their shop-owned brands. Due to the prevailing economic situation and growing size of certain large players, the industry will move towards consolidation in the coming years," he said. 
"We will see large players in the paints industry become larger by taking away share from smaller players and shop-owned brands. In medium to long term, the industry is expected to grow as Pakistan's overall economy picks up traction," he predicts. 
"However, it has never been easy to predict accurately when the industry would evolve and how would it happen. There was a time when Macro came here and everyone was talking that retail business will evolve and only big supermarkets would operate. But it didn't happen right away and it took time. And it didn't happen the way people were assuming. New players like Imtiaz and Al-Fateh brought that change," he explained.