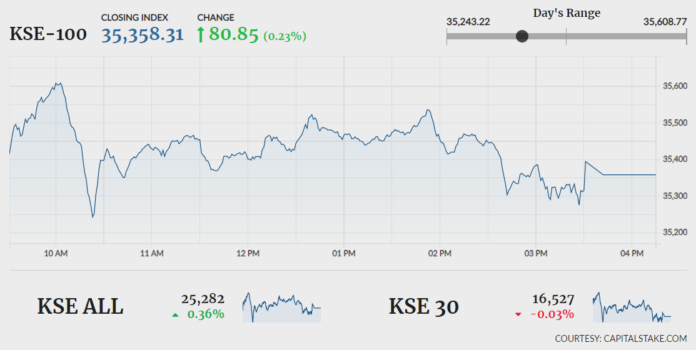 KARACHI: The Pakistan Stock Exchange (PSX) managed to close a volatile session on Tuesday in the green zone. The indices, which opened on a positive note, soon fell in the grip of bears but managed to recover losses in the late hours.
Foreign investors remained net sellers once again on Monday with a net sale of $3.27 million.
On the economic front, total foreign investments in Pakistan increased by 137pc in the first quarter of the financial year 2019-20. Economic Affairs Minister Hammad Azhar, while briefing the media on the country's economic position, said that the current account deficit has declined by 64pc in the first quarter of the ongoing financial year, whereas the same was down 32pc last year. He said that Pakistan has witnessed a positive foreign portfolio investment of $350 million in the quarter, adding that the stock market rose by 6,500 points during the said period.
Gaining 331.31 points, the KSE-100 Index marked its intraday high at 35,608.77. The index then took a plunge and recorded its intraday low at 35,243.22 after losing 34.24 points. It closed slightly positive at 35,358.31 (+80.85 points). The KMI-30 Index appreciated by 252.62 points to settle at 57,812.74, while the KSE All Share Index closed higher by 90.19 points at 25,281.96.
Sectors that dragged the benchmark KSE-100 Index lower included power generation and distribution (-34.29 points), banking (-23.86 points) and engineering (-5.05 points). On the other hand, fertiliser (+27.50 points), automobile assembling (+21.29 points) and chemical (+19.73 points) sectors helped the index close in the green.
The overall trading volumes improved significantly from the previous session and were recorded at 308.48 million. Worldcall Telecom (WTL +23.33pc), Maple Leaf Cement Factory Limited (MLCF +5.18pc) and Lotte Chemical Pakistan Limited (LOTCHEM +1.03pc) remained the top traded stocks of the day. The scripts had exchanged 81.71 million, 15.28 million and 12.72 million shares, respectively.
The refinery sector gained +4.13pc in its cumulative market capitalization, ending the day as top gainer. Pakistan Refinery Limited (PRL +5.41pc), National Refinery Limited (NRL +5.00pc), Attock Refinery Limited (ATRL +4.99pc) and Byco Petroleum Pakistan Limited (BYCO +3.47pc) all closed in the green.