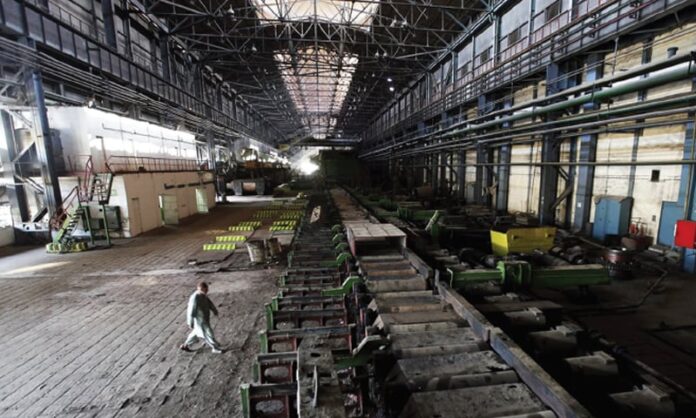 ISLAMABAD: As anomalies in the existing tariff regime are badly affecting the steel industry, the Engineering Development Board (EDB) and the National Tariff Commission (NTC) have started holding consultations with industry stakeholders to chalk out ways to rationalise tariff structure.
According to a letter sent to different associations in the steel industry on January 23, the EDB, under its programme "Competitiveness/Efficiency Improvement & Export Enhancement Exercise 2020-21" had informed the stakeholders that the top EDB officials would visit industrial units and offices of various associations to get input from the industry regarding the existing tariff structure and to generate meaningful proposals in each tax category.
"EDB has initiated the said exercise in order to enhance the competitiveness of the local engineering/manufacturing industry by reducing the cost of doing business through tariff rationalization. The board is also starting a consultation process with the industry to discuss a number of issues, including matters concerning customs duties, sales tax, regulatory duties, newly generated anomalies, customs procedures (SROs), challenges in exports and any other proposal/grievance of the industry," the EDB stated.
The said letter was sent to Pakistan Steel Re-Rolling Mills Association, Pakistan Steel Melters Association, Pakistan Steel Pipeline Industry Association, All Pakistan High Carbon Steel Wires Manufacturers Association, Pakistan Flat Rolled Products Manufacturers Association, Pakistan Association of Large Steel Producers, Engineering Components & Machinery Manufacturing Association and All Pakistan PVC & Plastic Pipe Manufacturers Association.
According to industry sources, a number of tariff-related issues were created after the government's decision to abolish Sales Tax Special Procedures Rules for steel and some other sectors in the budget of 2019-2020.
In a letter sent to the Federal Board of Revenue (FBR), the Ministry of Industries (MoI&P) and the Ministry of Commerce (MoC), the Pakistan Association of Large Steel Producers (PALSP) had informed that the steel industry was suffering severe financial crises due to inordinate delay in agreeing to a fair valuation formula for steel meltable scrap. 
It said the Import Trade Price (ITP) of raw material (shredded scrap) was fixed by Customs at a much higher rate (25-35pc) compared to the prevalent scrap prices in the international market. "The net effect of the above practice is that the whole steel industry is paying 17pc GST extra sales tax at import stage on enhanced import value which is equivalent to Rs11,000 per tonne. Further, paying 10pc cash GST along with tax return is causing huge stuck up of extra taxes with FBR and thus causing liquidity crunch within the steel industry."
PALSP had proposed to set variable rates of ITP as per prices set by international publications on a daily basis as the same are accepted by customs authorities worldwide for the trading of steel meltable scrap.
Through another letter the MoIP, FBR and NTC, the steel industry had also identified anomalies in customs duty, additional customs duty and regulatory duty on import of billets and re-rollable material.
As per the letter, "Re-rollable material, which is also an intermediary good, is attracting 7pc duties & taxes at the time of import, whereas billets are subject to 28pc duties and taxes. Therefore, it is suggested that regulatory duty, customs duty or additional custom duty be increased on re-rollable material by 21pc."
According to the industry, this anomaly has resulted in an increase in imports of re-rollable material, resulting in a decrease in imports of scrap. "Increase in tariff by 21pc on re-rollable material will equalize the disequilibrium between both the materials and will also help in increasing the revenue for the government."
Meanwhile, NTC, through its letter sent to steel industry's associations on January 13, 2020, under the subject of "Removal of Tariff Anomaly for the Domestic Industry manufacturing Steel Billets/Steel Bars and Road" had also sought details about tariff anomalies to make required changes in the existing tariff structure.
The NTC had sought information about the production of steel billets and bars during the last three years, cost to make & sell of billets and re-bars for the year 2019-20, data of imported raw materials/inputs required for manufacturing finished product and quarterly accounts of steel melters.