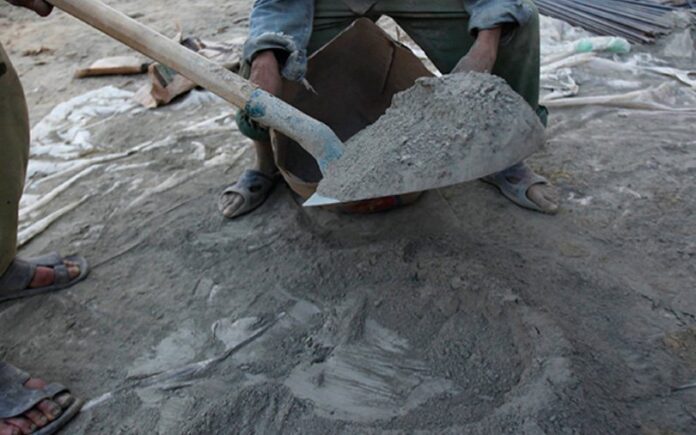 LAHORE: Pakistan's cement sector has posted a cumulative loss of Rs500 million in the second quarter of FY20.
Shankar Talreja, a senior analyst at Topline Securities, said that the decline in the sector's profitability is (i) on the back of lower retention prices (down by 5pc YoY) as gross margins plunged by 17.5ppts YoY to 8.3pc and (ii) due to increase in finance cost by 86pc YoY.
However, the sector reduced its losses by more than 75pc QoQ as retention prices stabilized and cost pressure somewhat eased off (primarily due to rupee appreciation), resulting in an improvement in gross margins by 200bps QoQ.
"Our working is based on financial result analysis of 15 listed cement manufacturers (out of a total of 18) which represents 99.7pc of total cement companies' market capitalization. Other companies are in losses/not actively traded."
Talreja said that despite 10pc YoY increase in overall cement volumes during 2QFY20 (1HFY20: 6.5pc YoY), net sales of the sector declined by 10pc YoY (1HFY20: -10pc YoY) due to lower retention prices amidst stiff competition in the industry over the cement prices in the backdrop of excess supply.
He further stated that local volumes witnessed a growth of 6pc YoY during 2QFY20 (1HFY20: 3.5pc YoY), while increasing by 24pc QoQ.
He stated that export volumes also improved significantly as they grew by 33pc YoY in 2QFY20 (1HFY20: 23pc YoY), while rising by 17pc QoQ.
Talreja noted that despite a reduction in coal prices by almost 32pc YoY to $68/tonne during 1HFY20, the gross margins of the sector declined to 7.5pc (2QFY20: 8.3pc) vs. 25pc in 1HFY19 (2QFY19: 26pc) due to lower cement prices and higher Rs/$.
He stated that the finance cost of the sector increased by a whopping 86pc YoY due to increase in borrowings by 80pc YoY to Rs189bn as of Dec 2019.
The senior analyst stated that the start of commercial operations by Lucky Cement Limited (LUCK), Attock Cement Pakistan Ltd (ACPL), Power Cement Limited (POWER), Charat Cement Company Limited (CHCC), Maple Leaf Cement Factory (MLCF) and others during the last 12 months also resulted in expensing the expansion in the finance cost vs. earlier capitalization of the same during the construction phase.
He added that increase in outbound freight cost due to implementation of axle load also resulted in higher selling and distribution expenses by 26pc YoY in the 2QFY0 (vs. volumetric growth of 6.5pc).
"Given the significant decline in oil prices and an expected decline in inflation, the case of an interest rate cut is getting more stronger," Talreja said.
He stated that the cement sector is amongst the high leverage sectors due to recent wave of expansion which resulted in an increase in production capacity by over 50pc to 70mn tons.
Among familiar names, CHCC and PIOC are the high-levered stocks followed by MLCF, DGKC, BWCL and ACPL, Talreja said.