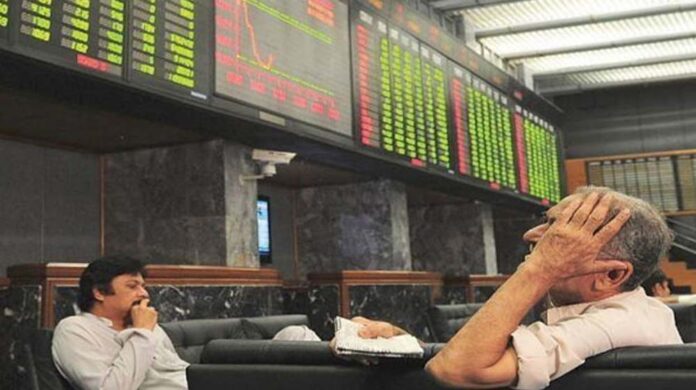 KARACHI: Bears took control of the Pakistan Stock Exchange (PSX) on Thursday, with the benchmark KSE-100 Index shedding over 250 points amid range-bound movement.
According to market analysts, investors succumbed to selling pressure on Thursday amid reports that the number of coronavirus cases is rising across the country and that the possibility of another lockdown is on the cards. Moreover, the upcoming budget also increased fears of economic uncertainty.
The benchmark KSE-100 Index remained in the negative zone throughout the session, recording its intraday low at 34,090.13 after losing 311.29 points. It settled lower by 282.03 points at 34,119.39.
Among other indices, the KMI-30 Index dropped 589.77 points to end at 54,646.32, while the KSE All Share Index lost 207.56 points, closing at 24,469.55. Of the total traded shares, 91 advanced and 192 declined.
The overall market volumes increased from 129.95 million shares in the previous session to 143.59 million shares (+10pc). Average traded value, on the contrary, declined by 19pc, from $41.5 million to $33.9 million. TRG Pakistan Limited (TRG -2.93pc), Unity Foods Limited (UNITY -1.61pc) and Hascol Petroleum Limited (HASCOL -1.51pc) topped the volume chart, exchanging 11.32 million, 11.31 million and 8.11 million shares, respectively.
Sectors that drove the benchmark index south included banking (-91.10 points), oil & gas exploration (-79.45 points) and power generation & distribution (-33.04 points). Among the companies, Oil and Gas Development Company Limited (OGDC -35.99 points), MCB Bank Limited (MCB -33.99 points) and Hub Power Company Limited (HUBC -30.34 points) dented the index the most.
The oil & gas exploration sector lost 1.77pc from its cumulative market capitalization, with Oil and Gas Development Company (OGDC -2.23pc), Pak Petroleum Limited (PPL -1.99pc) and Pakistan Oilfields Limited (POL -1.67pc) closing in the red.