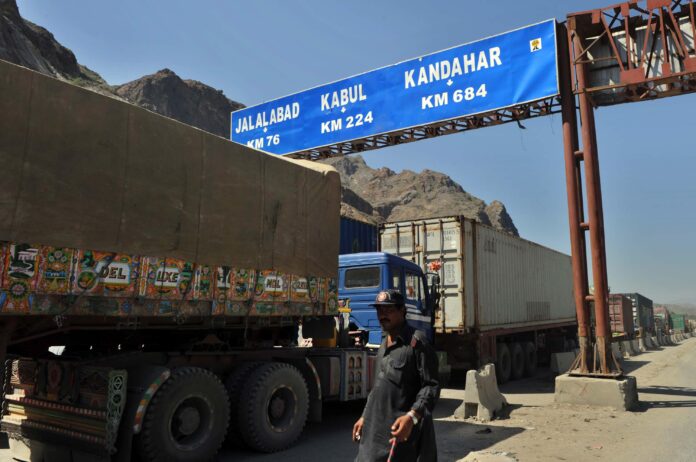 PESHAWAR: The business community of Khyber Pakhtunkhwa has urged the governments of Pakistan and Afghanistan to rationalise tariffs, revise duties and remove complicated regulations and policies in order to enhance the volume of mutual trade between the two neighbouring countries.
"The Afghan Pakistan Transit Trade Agreement (APTTA), which was signed back in 2011, should be reviewed and a fresh agreement should be signed so that the apprehensions and reservations of traders, exporters and importers could be addressed," said Sarhad Chamber of Commerce and Industry (SCCI) President Engr Maqsood Anwar Pervaiz while chairing a high-level meeting of traders on Tuesday.    
Among other dignitaries, the meeting was attended by Afghan Consul General in Peshawar Najeebullah Ahmadzai, SCCI Senior Vice President Shahid Hussain, Vice President Abdul Jalil Jan, former presidents Faiz Muhammad Faizi, Zahidullah Shinwari, former SVP Ziaul Haq Sarhadi, Ex-vice presidents Shuja Muhammad and Abidullah Yousafzai, Afghan Commercial Attaché Fawad Arash, member Hameed Fazil Khel and Afghan Consulate (Peshawar) first secretary Ghulam Habib.
In his address, Maqsood Pervaiz noted that Pakistan and Afghanistan were enjoying cordial relations owing to their common religion, culture and language, but the bilateral trade volume between the neighbouring countries was very low and needed to be enhanced through joint efforts from both sides.
"Islamabad and Kabul should set aside their differences and focus on the enhancement of mutual trade volume by ensuring the provision of facilities to businessmen on both sides of the border," the SCCI chief stated. 
He lamented that Pak-Afghan bilateral trade volume had declined from $2.5 billion to less than $1 billion due to complicated regulations, policies, high tariffs and duties, which should be altered at the earliest.
Speaking on the occasion, the Afghan diplomat said that his government was taking steps to resolve issues of Pakistan traders, importers and exporters and was willing to facilitate them at every level. He also voiced concerns over the declining mutual trade volume between the two countries.
"Afghanistan wants to promote trade, economic, cultural and religious ties with Pakistan," Ahmadzai remarked, stressing that both the countries need to chalk out a workable mechanism wherein issues of the business community could be resolved on a fast-track basis.