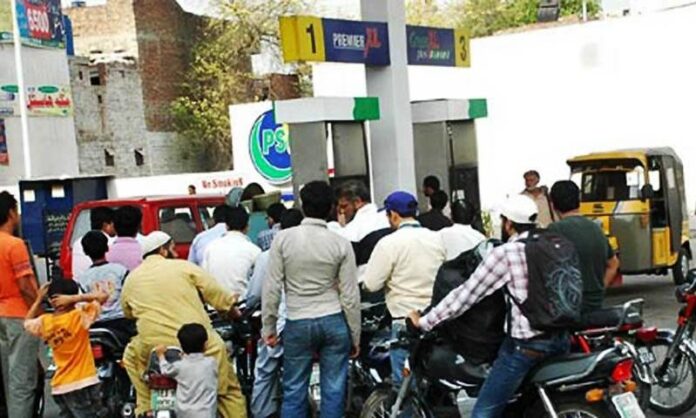 PESHAWAR: Petrol pump owners in Khyber Pakhtunkhwa (KP) have expressed concerns over the imposition of heavy fines, arrests of petrol pump workers and sealing of petrol pumps on the pretext of violating the ban on sale of petrol to bikers who don't wear helmets.
Owners of petrol pumps in Peshawar termed the ban imposed by the district authorities on sale of petrol to bikers without helmets as 'anti-business' adding that the ban should be lifted immediately.
They said that bikers physically harm petrol pump managers and other staff members on refusal to provide petrol. 
The office bearers of the petrol pumps association and filling station owners raised these reservations during a meeting with Sarhad Chamber of Commerce and Industry (SCCI) President Engineer Maqsood Anwar Pervaiz.
"It is the duty of traffic, excise department and other relevant government departments to enforce road safety rules instead of forcing petrol pumps owners and business community members to implement such rules," the SCCI president said.
SCCI chief claimed that the district administration has charged fines from Rs5,000 to Rs10,000 per pump on the pretext of violation of ban on sale of petrol to motorbike owners without helmet. 
He said that the fines are unjust as the business community has already been badly affected by the coronavirus lockdowns.
On the other hand, the SCCI president said that incidents of cash snatching on petrol pumps have also increased due to lack of adequate security, which puts a question mark on the performance of the concerned government departments.  
Maqsood Pervaiz urged the district administration to stop imposing heavy fines and arrests of petrol pump staff members adding that the business community will launch a protest in Peshawar if its demands are not met.
He said that the policy had been implemented by district authorities without taking the business community into confidence. He asked the government to devise business-friendly policies to resolve issues of the business community.
The SCCI president demanded the district administration to withdraw its notification regarding the ban on sale of petrol to bikers without helmets.