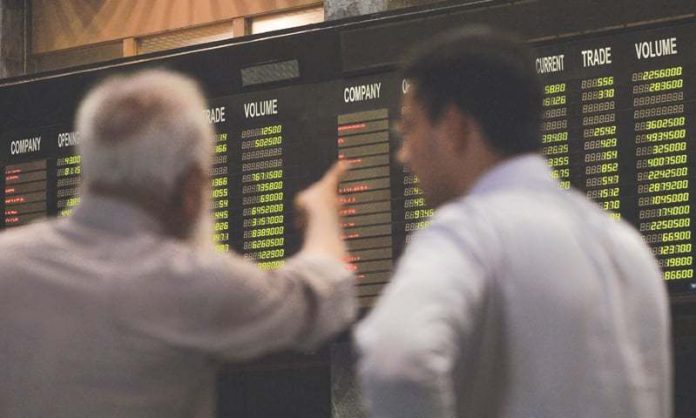 KARACHI: Bullish sentiments prevailed at the Pakistan Stock Exchange (PSX) on Tuesday, as the indices extended gains from the last session amid improved market participation. 
Global equity markets also displayed a positive trend, whereas crude oil prices headed north from the previous close; WTI crude price appreciating 0.35pc to $42.77 and Brent crude price by 0.72pc to $45.97.
"Banking stocks advanced today and were supported by a rebound in prices of exploration & production, oil marketing companies, refinery, chemicals and steel sectors," said a report issued by AHL Ltd. "Expectation of a rebound in the economy and the recent news regarding current account surplus helped index accumulate gains."
MARKET SUMMARY
The benchmark KSE-100 Index remained in the green zone throughout the day, touching its intraday high at 40,340.79 after gaining 538.19 points. It settled higher by 490.22 points at 40,292.82. 
Among other indices, the KMI-30 Index accumulated 726.89 points to end at 64,729.50, while the KSE All Share Index added 335.39 points, closing at 28,266.28.
The overall market volumes surged from 371.69 million shares in the previous session to 535.04 million shares (+43.95pc). Average traded value also increased by 36pc, from $88.7 million to $120.8 million. The volume chart was led by Hascol Petroleum Ltd (HASCOL +5.54pc), Unity Foods Ltd Right Shares (UNITYR2 -5.46pc) and TRG Pakistan Ltd (TRG +4.09pc). The scrips had exchanged 50.39 million, 37.71 million and 30.07 million shares, respectively.
Sectors that drove the index north included banking (93.17 points), oil & gas exploration (90.99 points) and power generation & distribution (56.48 points). Among the companies, Hub Power Company Ltd (HUBC 51.04 points), Habib Bank Ltd (HBL 34.18 points) and United Bank Ltd (UBL 27.67 points) remained the top contributors.
Adding 1.76pc to its cumulative market capitalization, the oil & gas exploration sector emerged as the session's top gainer, with Oil and Gas Development Company Ltd (OGDC 1.55pc), Mari Petroleum Company Ltd (MARI 3.16pc), Pakistan Oilfields Ltd (POL 1.91pc) and Pak Petroleum Ltd (PPL 1.15pc) posting decent gains.
On the financial side, Lucky Cement Ltd (LUCK -0.59pc) announced earnings per share of Rs10.34 for FY20, as compared to Rs32.44 in FY19; Waves Singer Pakistan Ltd (WAVES -0.56pc) posted an EPS of Rs0.12 for 2QFY20, as against Rs0.34 last year; while Colgate-Palmolive (Pakistan) Ltd (COLG +7.50pc) declared an EPS of Rs84.54 for FY20, as compared to Rs61.01 in FY19.
Meanwhile, according to a notification issued by Oil and Gas Development Company (OGDC +1.55pc), the Kohat Joint Venture, comprising OGDC, MARI and Saif Energy Ltd, has made a gas & condensate discovery from exploratory efforts at Togh Bala-1 in Kohat.