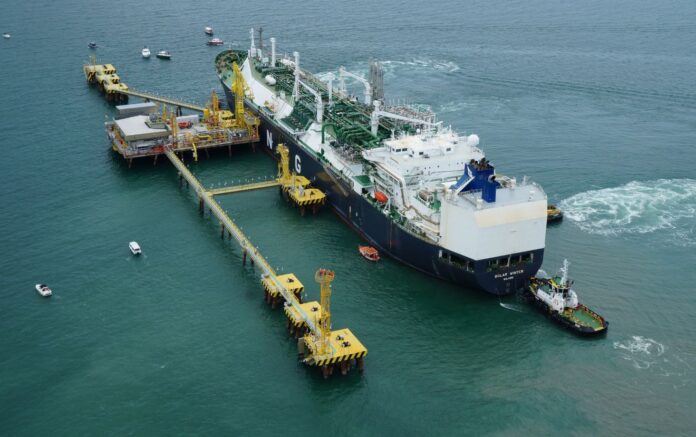 ISLAMABAD: In an apparent bid to avoid looming gas crisis in the upcoming winter season, the government has decided to allocate the unutilised capacity of a liquefied natural gas (LNG) terminal to private firms on a short-term basis.
According to sources, the federal government has decided to allocate the idle capacity of Pakistan Gas Port Consortium's LNG terminal to the private sector for a period of six month, starting 1st October 2020. On the advice of the government, Pakistan LNG Limited (PLL) has already invited interested parties to review the draft agreement and transaction framework for allocation of the unutilized capacity.
The last date for submission of the application for any specific month or for the entire period is 9th October, 2020. Similarly, PLL has asked private firms to submit their interest along with queries to PLL by 2nd October 2020 to participate in the consultative session.
After receiving letters of interest and queries, PLL may issue an invitation to the interested parties for a consultative session prior to the deadline for submission of the application.
Sources said that the PFPC's unutilized capacity would be made available only to those interested parties that fulfill the eligibility criteria at Oil and Gas Regulatory Authority (OGRA)-determined charges for the relevant month. In case the total requirement of the qualified parties exceeds the total available unutilized contracted capacity, individual capacity allocations will be adjusted proportionately.
Sources said that the federal government's decision to grant permission to private firms to import and sell LNG would end the five-year-long monopoly of state-owned companies in the sector.
They added that by allowing private firms to import and sell the LNG to all interest parties/consumers including compressed natural gas (CNG), commercial, K-Electric, and industrial units etc, the government will save around $1 billion worth foreign exchange.
Talking to this scribe, PGPC CEO Fasih Ahmed termed the government's decision "a step in the right direction". He said the utilization of terminals with participation of the private sector will reduce the overall cost of gas, adding that the private sector can more flexibly and speedily capitalize on spot rates to lower the basket price of RLNG.
He said that the PGPC has excess capacity of between 150-300mmscfd that will soon be operationalised.