KARACHI: After registering approximate gains of 5.94pc this fiscal year, the Pakistani Rupee now stands as Asia's third-best and Emerging Market's fifth-best performing currency.
On Monday, the PKR closed at Rs158.1691 in the interbank against the US Dollar, marginally losing value (-Rs0.01) after a two-week bullish streak.
As per Profit's analysis, Mexico's currency appreciated the most against the USD in the Emerging Market, whereas Korea led the appreciation in Asia.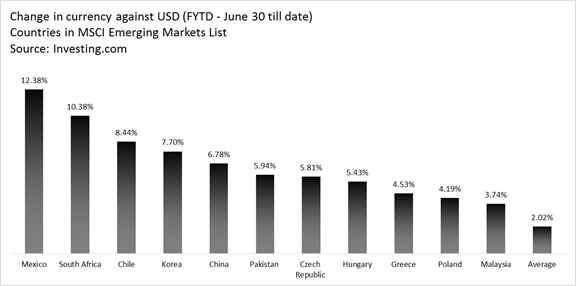 Why has the dollar been bullish?
As per Adnan Sheikh, AVP research at Pak Kuwait Investment Company, the primary reason behind the appreciation is the low demand for dollars. "The supply for dollars is higher considering how imports are lower."
"Remittance inflows have also been helping prop up the rupee," Sheikh explained. "Due to loan deferment, the SBP is no longer buying dollars."
Remittances witnessed a growth of 14pc YoY to $2.3 billion during Oct 2020.
Sheikh said that sentiments regarding the dollar need to be kept in mind. "People expect the dollar to go towards the Rs150 range and that is why they are selling dollars."
All these factors are pushing up the rupee in value against the dollar, especially keeping in mind the fact that the dollar is depreciating globally, he added.