The strategy by which a company will own and control its value or supply chain – be it suppliers, distributors, and points of sales – is called vertical integration. It is one of the seven critical business strategies behind trillion dollar companies such as Apple and Amazon, with the latter controlling product sourcing, product discovery, customer data, fulfillment, warehousing, and the end to end supply chain. This is the strategy to control quality, reduce costs, and create value. Notable examples include Shipping with Amazon and a string of patents around aerial warehouses, the robotization of distribution, and multi-level fulfillment centers.
In the advertising industry, vertical integration has been achieved as a result of capability development and acquisitions. The former is relatively resource intensive, offers the investor a better ground level understanding of the ecosystem, and can be transformative in culture building. The latter has been preferred in a quest to hasten change and speed to market. 
In an era when advertisers are increasingly used to the sophisticated and precise marketing analytics they can receive from digital platforms such as Google and Facebook, advertising agencies that want to continue to attract marketing budget allocations need to build up a suite of services that can offer comparable services. Recognising this, innovations, acquisitions, and consolidations are afoot. 
By mid-2018, Omnicom Group – the largest marketing agency in the world by market capitalisation – announced an agency data platform called Omni. Powering insights, creative, and media, Omni has been lauded as one of the best tools in the industry by Forrester, a global market research company. Financial reports cite the platform as being critical in helping the holding group win new business pitches with its ability to curate best-in-class campaigns based on injected data.
By mid-July 2019, the Publicis Groupe acquired data-tech platform Epsilon for $4 billion to put its money where its mouth is behind the industry spiel that data is the new oil. Within a year, Publicis Groupe chief executive Arthur Sadoun had lauded the decision, saying that Epsilon is having a halo effect across the organisation and the ability to offer personalisation at scale.
Around the same time, Accenture acquired creative agency powerhouse Droga5 to complement its existing skill sets in technology, consulting, data, and analytics. With creative agencies having the talent and culture that is the backbone of brand building, an acquisition covering the creators of big ideas was essential for the professional services firm.
Article continues after this advertisement
Speaking to Profit, seasoned advertising industry professionals in Pakistan lament at the lack of innovation, risk taking, and end to end value creation in the country. The status quo demands that creative agencies charge absurd retainers, media agencies operate on rebates or reseller deals, and digital agencies behave like glorified sales partners for Google and Facebook.
Meanwhile, mature markets are clear points of reference that while the above model works today, it will not last once half of advertiser budgets shift to digital, which is projected to happen in Pakistan by 2023 according to GroupM. As new tools emerge that automate creative and media services, advertising agencies can no longer afford to operate in a silo and will need to become full-service across ATL, BTL, and digital media. 
"People in [advertising] agencies no longer make as much money as they used to; clients pay less and commissions have reduced while higher frequency of work is expected," said Z2C Ltd advisor Michael Readman in an interview with Aurora. "This is not only for the Middle East region, it is happening at some scale all over."
The second business case to make or start the transition towards becoming a full-service agency is the need for integrated planning, where media agencies have a better understanding of what types of creative are effective and why – a factor contributing to the addition of creative teams at media agencies with little evidence of the vice versa. In the past decade, both JWT Pakistan and IAL Saatchi & Saatchi closed down their media management wings, while the reverse has not taken shape.
With media market leader GroupM Pakistan limited in its quest to dominate the market due to an annual Sarbanes-Oxley (SOX) audit, it is open season for the remaining family-owned or sole proprietorship or partnership-owned advertising agencies in Pakistan. And history has shown that the regulator is not bright enough to understand the inherent conflicts of interest, removing yet another barrier to expansion.
Elephant in the room
It is only a conflict of interest if there is evidence of the agency preferring its own media, distribution service, or platform over others. Since advertising journalism is fairly a new concept, no current or former members from the advertising and marketing ecosystem have provided Profit of proof regarding any wrongdoing. Any claims or testimony provided were sparse at best.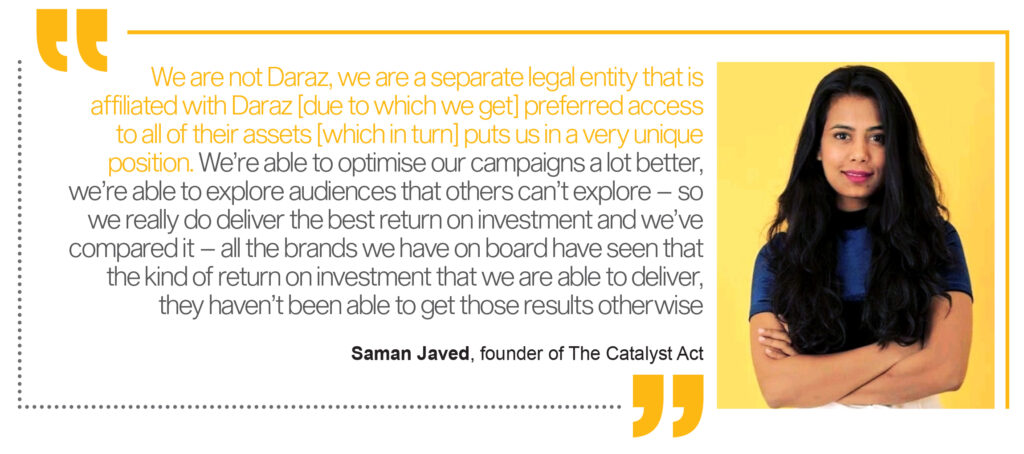 For this purpose, while we acknowledge these vertical investments could potentially create a conflict of interest, we have no evidence to support the notion that they are intrinsically a conflict of interest, hence this report will focus on the strategic importance of vertical and horizontal integration, and the value addition the strategy brings both the holding group and its clients.
Addressing this, media auditor Rizwan Merchant told Profit that advertising agencies are an extension of a marketing team, tasked with helping a campaign reach a target audience at the lowest possible cost.
"The core existence of these media agencies has been to discount from a 15% agency fee to 3% or less, if you call that a bait for indulging into non transparent practice, conflict of interests and justifying these integrations I leave it up to you," said Rizwan Merchant. "The agencies today are acting as media wholesalers or media Walmart on behalf of the media outlets where they push inventory that pays more to them."
He alleges that media agencies are exploiting the position they are in by justifying these integrations and owning the supply chain without providing financial transparency for such transactions.  
"If becoming a reseller is the option that the media agency would like to adopt then it should be done with full transparency where the media agency shares its plans to own the supply chain with the advertisers before opting for ownership," he said. "Further, the advertiser should have full transparency if its advertising money is being used for such purchase and it is not done on account of non payment to the media outlets. This will help gain the advertiser's trust."
The second elephant in the room is that industry bodies such as the Pakistan Advertisers Society (PAS) once attempted to unite the advertising industry by publishing a profitable rate card for creative and media services. Much like the cartel that the cement industry has created, however, there are simply too many competitors, and thus too much incentive to cheat on the collusion agreement. Too many agencies offered lower rates to win business away from their competitors.
The end result is that the collapse of the attempted advertising cartel has led to a price war on all fronts, with the ironic outcome that firms whose entire value proposition is around brand building for inelastic demand could not follow their own advice and undercut each other on price. Decades later, with digital media agencies cropping up, the once unchallenged creative and media agencies are struggling to remain competitive and relevant.
Congratulations. You played yourself.
The path to a full-service agency with vertical integration
In 2018, BullsEye Group acquired Symmetry Group for an undisclosed sum, helping the Omnicom Group affiliate advertising and activation agency finally add a digital services arm to its business. As part of the deal, BullsEye Group also acquired Symmetry Digital, Iris Digital, and Creative Jin to fast track its ambitions in offering services in digital transformation.
Credit where it is due, had it not been for this acquisition BullsEye Group and its below-the-line (industry jargon for advertising that includes most forms of social media and search engine advertising) and activation heavy scope of work would have hurt the business amid the coronavirus pandemic chipping away at experiential marketing activities and events, with the digital business picking up the slack.
In 2019, BrandLogic Group hired seasoned Unilever alumna Zarfishan Nausheen in a role akin to the chief operating officer. Within a year, she implemented a synchronised structure across three companies: BrandLogic, Qube, and Trademark, while adding new departments. Her hiring coincided with the inclusion of former Creative Chaos chief Ishan Farooq in a role akin to the chief digital officer. 
The hiring of two seasoned industry experts, one to align business units under one common goal and the other to find a value driven approach to activations and digital is representative of a capability strategy unlike the acquisition based approach of BullsEye Group.
In 2020, Daraz Pakistan began redirecting large and small advertisers towards The Catalyst Act to lead performance marketing around special holiday or seasonal sales events, with 11/11 being the most recent example. Speaking to Profit, a spokesperson from Daraz said that The Catalyst Act is a business unit that functions independently and serves advertisers as a digital marketing agency. 
"We offer all marketing services," said Saman Javed, founder of The Catalyst Act. "Be it performance marketing, search engine optimization, influencer marketing, creative production, storefront management, customer relationship management – everything that you need to run your online marketing channels."
Advertisers that spoke to Profit said The Catalyst Act was pitched to them as a cross between an ad server, a digital agency, a retargeting solution, and a data aggregation platform. The arrangement is akin to the relationship between GroupM and Lazada, whereby the former has access to marketing assets of the latter. When advertisers and agencies route their digital campaigns on Daraz through The Catalyst Act, they gain preferential pricing.
"We are in partnership with Daraz," said Javed. "We are not Daraz, we are a separate legal entity that is affiliated with Daraz [due to which we get] preferred access to all of their assets [which in turn] puts us in a very unique position. We're able to optimise our campaigns a lot better, we're able to explore audiences that others can't explore – so we really do deliver the best return on investment and we've compared it – all the brands we have on board have seen that the kind of return on investment that we are able to deliver, they haven't been able to get those results otherwise."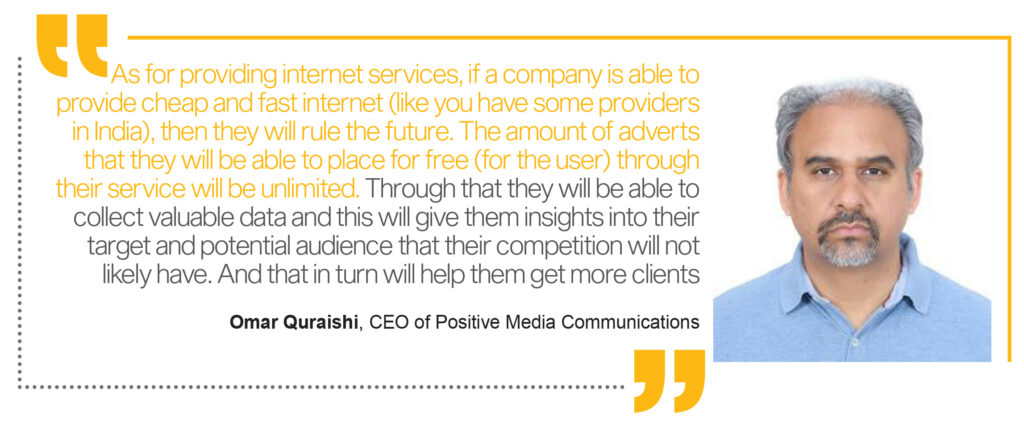 This is not dissimilar to the same benefits advertisers and agencies receive for partnering with Dial Zero for Facebook marketing campaigns. Cutting out media agencies to an extent and reaping in better margins for Daraz, as a business unit The Catalyst Act is positioned to support advertisers on the online marketplace ensure growth in sales through media optimization.
"We are a team of members that pretty much set up marketing at Daraz," said Javed. "We saw Daraz grow from a small start-up in Pakistan to the largest e-commerce online marketplace in all of South Asia."
In 2020, the Digital Engagement Network (DEN) grew its media footprint and reach by bringing in former Maxus managing director and current co-founder of IG Square as a business partner. With Khan giving GroupM a hard time in Lahore and DEN capable of operating without the involvement of a media agency, its early decisions in talent and leadership set it apart from competing influencer marketing platforms such as Walee and Amplifyd.
The path to ecosystem development with vertical integration
In 2004, husband and wife advertising industry living legends Taher Anwer Khan and Seema Taher Khan co-founded Airwaves Media (Pvt.) Ltd (AMPL) to produce and broadcast television, radio, and allied media content. A subsidiary of the Interflow Group of Companies, the company operates and markets satellite television and radio channels, launching RadioOne in 2004, TVOne in 2005, Waseb in 2007, and NewsOne in 2008. 
According to a rating report from Vis Credit Rating Company, the TV channels owned by AMPL occupy mid-tier positions in terms of ratings within their respective domains; hence, competitive threat is considered significant for the company. According to the Zenith advertising spend forecast database, 48% of advertising budgets were directed towards TV channels when AMPL was founded in 2004. As of 2020 the share of spend for TV channels is nearly half.
In 2010, Mvergence Media set out to become a multichannel network by creating what co-founder Adnan Butt refers to as the first independently owned studio and record label in Pakistan. With an online music reality show called Superstar, a virtual concert series called Music Latte', and music platform Walnut Sessions, Butt has spent a decade on mobile content.
Operating a digital agency and holding ownership over proprietary platforms in music, the model executed by Butt has led to syndication arrangements and partnerships with Universal Music Publishing Group, with Superstar serving 8.5 million minutes of content without a single airplay on TV channels.
In 2015, the Jang Media Group formed Interlink Multi Media to in-house the brand development and transformation of TheNews.com.pk and other digital media assets. Refusing to rely on a single media agency for the task, the Jang Media Group sought to lead the transformation itself and deseat all the traditional print and online publications. 
Similar to The Catalyst Act by Daraz, advertisers that engage with Interlink Multi Media can access premium content, assets, and pricing with the Jang Media Group. This includes digital marketing, development, and content creation services. Similar versions of this approach are Content Labs by the Haymarket Media Group and T Brand by The New York Times.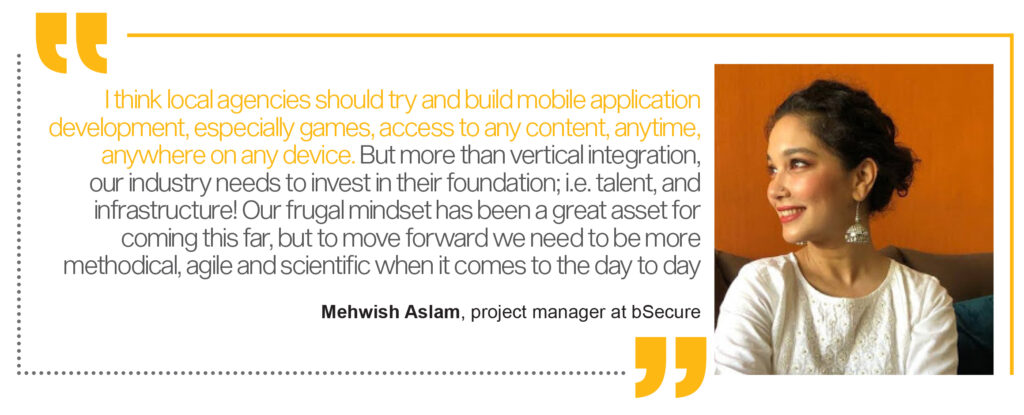 Since 2016, Blitz Advertising has helped Pakistan Super League (PSL) sell advertising opportunities for live TV and digital programming directly instead of doing so via sports channels. Courtesy to prior failures to launch, no TV channel was ready to offer a respectable price for media rights. According to people familiar with the matter, Blitz Advertising chief executive Ahsen Idris took an ebullient risk against the advice of the industry by buying the transmission time of sports channels while making all other arrangements. 
The risk paid off and Blitz Advertising was the creative and media agency for the Pakistan Cricket Board (PCB) and PSL for four consecutive seasons. For PSL 5 which took place in 2020, newly appointed PCB commercial director Babar Hamid appointed Shahzad Nawaz as an in-house creative consultant and tasked him with a campaign that was universally panned. These developments did not get in the way of attracting advertisers to drop campaigns and activations for inventory on live TV and digital programming, only for the pandemic to cancel the event altogether. A legal battle encouraged the full-service agency to explore alternatives.
In November of this year, Blitz Advertising replicated the model by initiating the inaugural edition of the Lanka Premier League Twenty20 franchise cricket tournament in Sri Lanka. According to Mediabank, advertisers taking up inventory on live TV and digital programming include Hamdard Laboratories, Jazz, Allied Bank, Foodpanda, Shaheen Cosmetics, and many more prominent clients of Blitz Advertising.
In 2019, MWM Studioz began to shift its focus away from the Pakistan market on business to business level and focused on foreign markets, primarily in North America. As for the Pakistan market, the conversion marketing agency recognised that its alumni went on to lead e-commerce departments at leading direct to consumer brands in the region. 
Sensing a business opportunity, founder Danish Ayub formed a training academy for teaching two groups of people: those that want to create their own agency and those advertisers that want to in-house digital media in their organizations.
In 2020, Bee Squared Pte Ltd ramped up its investments for Z2C Ltd. The media holding group, which is affectionately referred to as the lovechild of Accenture and BCG Digital Ventures, is in turn the parent company for Dial Zero, Brainchild Communications, Blitz Advertising, Starcrest Communications, PakMediaCom, and MHoldings. Founded by bellwether Raihan Merchant in 2016, the unparagoned business has recently invested in universal checkout solution bSecure, sports entertainment app bSports, and an over-the-top content platform bEntertainment.
With the promotion of Fatima Hyder as group chief strategy officer tasked with driving vertically integrated projects across e-commerce, sports, and data, coupled with a recent report from Pakistan Credit Rating Agency, and recent tenders from the Pakistan Electronic Media Regulatory Authority, Profit speculates that Z2C Ltd will aggregate these investments under a business meant to democratise access to TV advertising through programmatic technology.
If Z2C Ltd can procure high-definition set-top boxes and distribute a sizable number to households across the country, it can effectively and accurately measure which content is being consumed, which content is available on its set-top boxes, and allow advertisers of all sizes to upload a library of ads over satellite to the hard-disk of a HD set-top box. Respectively, it will be competing with MediaLogic with accurate media consumption data, every subscription video on-demand over-the-top streaming and rental service such as Netflix or Prime Video, and compete with every digital media platform in the country.
Given its investments in bSecure, bSports, and bEntertainment, these apps and functions would come pre-installed in the Z2C owned set-top boxes, akin to how apps come pre-installed in smartphones. Given Merchant's reputation in disdaining execrable and negative content produced in Pakistan, Profit speculates that the business may even become the gatekeeper on the types of content it allows and disallows. 
The appointment of Adam Dawood to lead bSecure would also suggest that these set-top boxes have an e-commerce element to them, perhaps allowing viewers to purchase products seen on screen in real time. This would certainly tap into the slice of life wherein viewers are at peak purchase consideration phase while watching a program featuring apparel or other products that catch their eye. Being able to close the loop instantly may tap into a blue ocean in e-commerce.
Industry perspectives
Speaking with Profit, seasoned industry experts shared that where possible, every agency in Pakistan needs to make the gradual shift towards being a full-service one. Once an agency has a dedicated team for each type of media, each type of creative, and every facet of digital, as well as a track record in delivering integrated and commercially successful campaigns, it should consider going vertical. This would mean owning distribution channels, the media itself, content creation, and talent management. Provided the key decision makers are not parsimonious.
"Globally most networks have explored the full spectrum of vertical integration options," said Mehwish Aslam, the project manager of bSecure. "WPP, Omnicom, and Publicis all have research agencies, creative, OOH, and activation, production and printing, media, public relations, business intelligence, monitoring, specialized training, tech and e-commerce, etc."

She said that in the local context, integration investments are dependent on the owner of the agency and how far in the future they can foresee the return on investment for any integration. This is why, she says, locally owned advertising agency owners have invested outside the advertising and media vertical, with some cases in call center services.
"I think local agencies should try and build mobile application development, especially games access to any content, anytime, anywhere on any device," she said. "But more than vertical integration, our local industry needs to invest in their foundation; i.e. talent, and infrastructure! Our frugal mindset has been a great asset for coming this far, but to move forward we need to be more methodical, agile and scientific when it comes to the day to day."
Omar Quraishi, CEO of Positive Media Communications, believes that if a media agency wants to tap into a white space in the market, it should consider buying out an internet distribution network or an OTT platform.
"With this will come greater access to data and they can use that data to tailor their services to serve the customers and audiences better," said Quraishi. "As for providing internet services, if a company is able to provide cheap and fast internet (like you have some providers in India), then they will rule the future. The amount of adverts that they will be able to place for free (for the user) through their service will be unlimited. Through that they will be able to collect valuable data and this will give them insights into their target and potential audience that their competition will not likely have. And that in turn will help them get more clients."
Considering recent investments made by Brandverse in Chikoo, Profit believes that the technology company is worth looking into for either a strategic partnership or participating in future investment rounds. Based on market reports, Profit believes that Brandverse is acquiring advertisers in the consumer goods and apparel space directly, with the low point of entry being its robotic photography and content curation services. While advertisers, like Khaadi, are no doubt listing the creative output on their own sites, Google alumnus co-founder Raza Matin recognizes that not all businesses are interested in creating their own stores.
With Chikoo as a whitelabel e-commerce platform, Profit believes that Brandverse will tap into a reverse auction model and further monetize its service by allowing logistics players such as Careem and Bykea to bid for a chance to deliver items as well, acting as a lead generator with its application programming interface. The entirety of the industry profit pool that Brandverse is after will speculatively include a Fintech angle and is the reason media agencies are recommended to keep a close eye on this venture as a potential partner in vertical integration.