One thing no one will disagree on is that 2020 was quite some year. And while the consensus would be because of how quickly and radically the world has changed, for some, 2020 will be the year that opportunities presented themselves and they reached out and grabbed them. One of the groups that have had cause to celebrate the last year are Pakistani startups, which according to various estimates, have raised between $65 million to $66 million in disclosed and undisclosed funding during the year 2020. 
The $65.7 million in disclosed funding number comes from the Islamabad-based invest 2 innovate (i2i) Ventures, a venture capital firm that invests in early-stage startups. Whereas according to Data Darbaar, an up and coming platform providing insights on startups, the total raised by startups in 2020 was as high as $66.24 million. The number is visibly higher than in 2019, when startups raised a total of $47.5 million, according to i2i Ventures. 
At least 41 disclosed deals were made in 2020 compared to 32 in 2019, whereas only three women-led startups raised funding that accounted for a meagre $1.8 million in 2020. While the number is low, it is telling of the fact that there are just very few startups that are founded by women in the first place. While among the different sectors startups operate in, transportation and mobility received the most amount of funding at $23.7 million. Notable rounds were raised by Bykea that raised $13 million in Series B and Airlift that scored a $10 million extended Series A round. 
A boom was seen in the grocery delivery and B2B ecommerce space that saw a smattering of new entrants in the space, almost immediately after the lockdowns started. The prominent ones that raised funds include GrocerApp, Taajir, Bazaar and Retailo. In total, B2B and B2C retail/grocery startups raised $17.6 million in 2020. This could of course mainly be attributed to the increase in people wanting and willing to use such services to minimize their exposure to the coronavirus. 

The financial technology sector follows next with $12.6 million in disclosed funding received by numerous startups during the year. This was followed by e-commerce that saw a hefty $9.3 million raised by startups.
Article continues after this advertisement
Digitisation and increase in investments
During the pandemic, a lot of sectors that were previously more difficult to digitise were suddenly galvanized into action. That happened in the grocery sector, as well as with a few entrants in the B2B space. This encouraged the investors to invest aggressively in the startups that were going to benefit from this shift and leverage the opportunity that opened with the pandemic.
The impact was sectoral and funds were mobilised towards companies in sectors that were considered "Covid proof'; companies that were likely to thrive from the pandemic instead of firefighting.  "The reason why a lot of investors were wanting to put money in Covid proof companies was because with all of us, the reality was that the pandemic was not going to last six weeks or for a couple of month," explains Kalsoom Lakhani, the co-founder and general partner at i2i Ventures.
"We knew that there was a constant shutdown that was going to be happening and there were companies that were going to be some companies that were going to be somewhat immune to that. So those were the trends and that is why we saw an uptick in the investments and investor activity go up by spring." 
While investments have been substantial in certain sectors, like in logistics and financial technology, the increase in investments was fueled by the pandemic, and once the pandemic subsides, chances are the change in adoption and behaviour is likely going to remain favourable. Even before the pandemic, key shifts were happening in various industries in terms of technology and the entire sectors were going through an overhaul where technology infrastructures were being erected by startups to erect entire technology-centric ecosystems in these sectors. The coronavirus has simply acted as a catalyst. 

In financial technology for instance, banks are opening their APIs and sharing payment rails with startups that kind of allows other companies to come in on top of that and build their startups. Such verticals were bound to see an increase happening. It just got fuelled during the pandemic. 
"I think logistics is something that is going to be growing regardless of there being a pandemic or not being a pandemic. Obviously the need for it is bigger during the pandemic itself, but the demand will not go away. What we are seeing in other industries around the world is that we are going to see the impact of the pandemic stay a lot longer in a lot of ways even when it is over," explains Kalsoom. 
"In other countries, the government often incentivises digitisation. In Pakistan, however, that hasn't been the case. What we are going to see is a snapback where consumers are going to be really comfortable to, for instance, buy their groceries online and get things delivered. But we do think that we as a society still are a society that is very tangible and like to touch things." 
Essentially, what this means is that there are going to be some things that revert back somewhat to how they were before the pandemic, while others will not. However, the government can always play a role to push for digitisation generally, as we have seen in India as well, where the fintech space has been actively promoted for all sectors. It is not about promoting a certain kind of fintech, but of promoting the general concept. And with the State Bank of Pakistan (SBP) pursuing aggressive policies to digitise financial services in the country, things are on the up for startups.

"Right now, the SBP is being much more amenable under Reza Baqir. We have been seeing a lot of opportunities in the fintech space so there is a shift that is happening that over the next two years will present exciting opportunities and we are going to see interesting fintech companies come up," says Kalsoom. 
According to i2i Ventures, more has happened for the startups scene in Pakistan in the last two years that it had in the five years before that combined. "What is interesting is that the numbers pertaining to fintech startups is not actually encompassing all the companies that actually did raise investment. The actual number of fintech companies remains undisclosed and the number is actually higher, she believes." 
As Angela Strange of American venture capital firm Andreessen Horowitz also says, every company is going to be a fintech company. That is also the case with Pakistan, where all companies are realising that financial services play a very strong role in the company that they are building.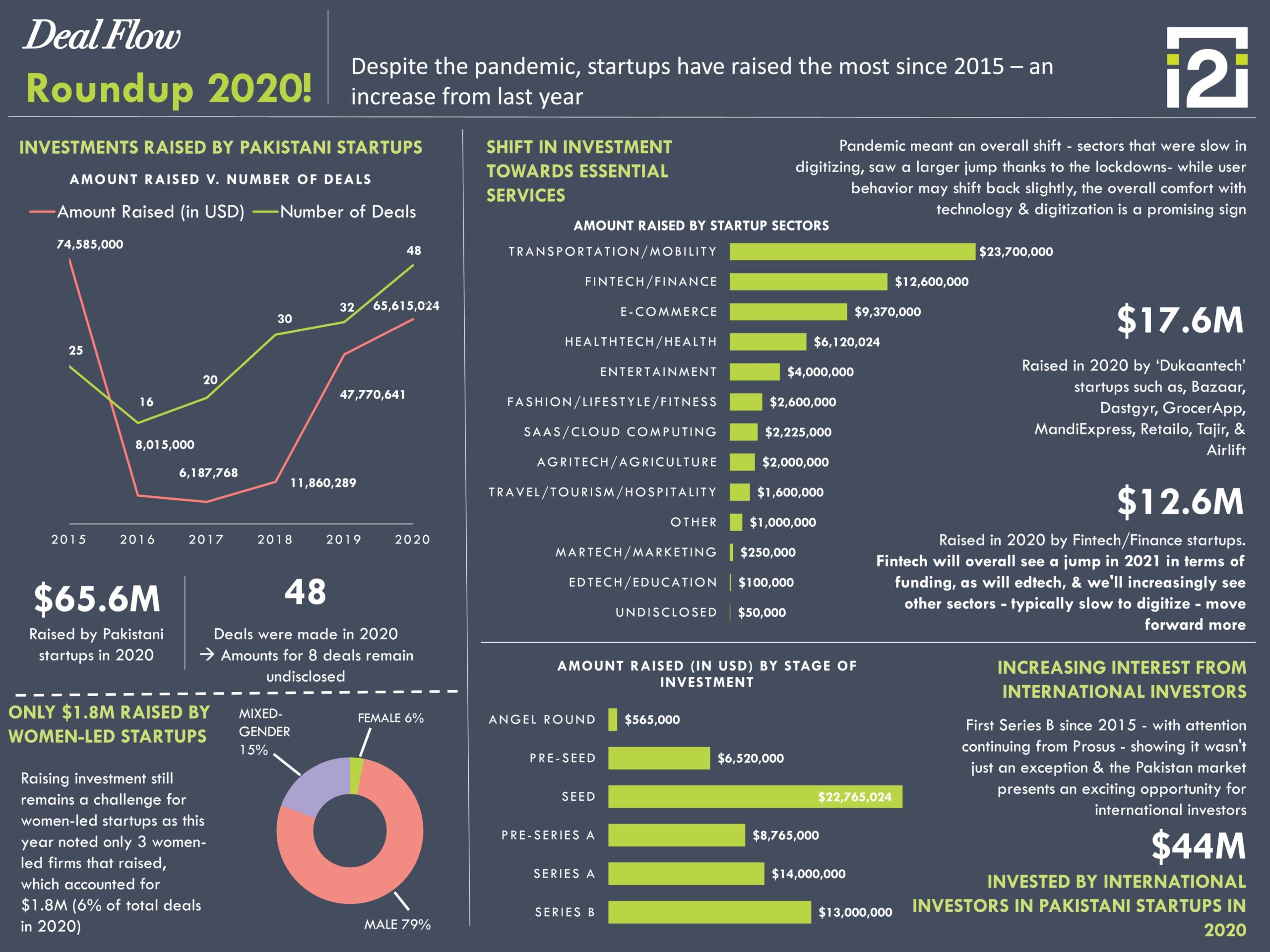 In Pakistan, the difficult thing in the past is that from savings to lending, cash is still king and so until we create incentives for people to use credit cards and go online, it is still going to be a bit of a challenge. However, people like Kalsoom are still hopeful, and as he optimistically notes, the fintech space is poised for take-off since people are getting much more comfortable with digital payments generally. 
Were there any sectors that were overlooked?
While Covid pushed many verticals towards a boom, others witnessed a bust in growth owing to the lockdowns and subsequent fall in demand. Such startups raised funds to survive. From an investors perspective, however, Kalsoom does not think that any sector was overlooked because of the pandemic. 
Roomy raised investment this year despite the fact that tourism, both domestic and international, suffered because of lockdowns. In fact, Roomy's round suggests that domestic travel is booming and that it leveraged and raised a large round of $1 million from Lakson VC. 
"The pandemic actually enabled investors to negotiate favourable deals and that is also why we see the surge in investments this year," says Natasha Uderani, chief operating officer at startup insights company Data Darbaar. "Many startups raised contingency funds with terms more favourable for the investors than the startups. So the investors that were cautious to invest during the pandemic did invest because of favourable terms and that includes sectors that witnessed a drop in growth."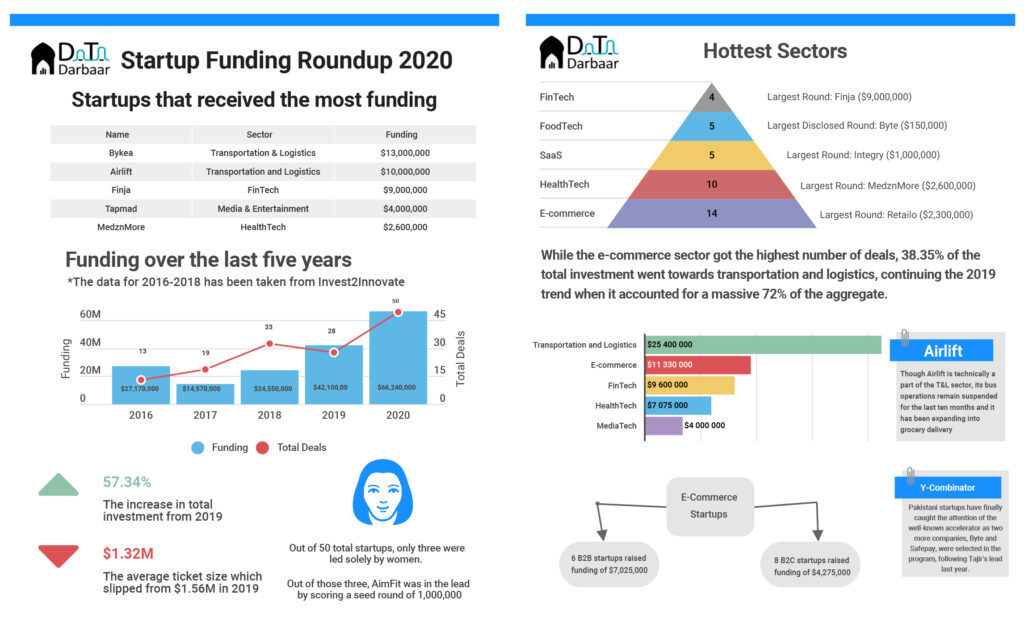 Different verticals also have expanded opportunities now. According to Kalsoon, 'Dukaan tech', that is basically not just B2B kiryana stores but also the digitisation of financial ledgers but all the SMEs in this space is an interesting thing investors will be looking at.  "We are going to see some really interesting players come up. Edtech startups are going to be coming up much more vigorously. People are getting much more comfortable with online learning and that is where innovation can come into play," he says.
Moreover, health tech adoption was also slow pre pandemic and though during the pandemic there has been an increase in demand for health tech, people are still in the wait-and-watch mode that whether or not the bump that a lot of telehealth companies and a lot of like doctor-booking companies have seen is going to stay. Consequently, people are currently cautious about health tech and whether things will improve in this space once the pandemic is over, explains Kalsoom. 
A meagre $1.8 million raised by female founded startups 
There are a few reasons why women led companies have not been able to raise substantial amounts in Pakistan. Kalsoom explains that one issue they learnt from 75% of the investors they surveyed was that there was no difference in the quality of female led companies, but quite simply there were not enough female-led companies to start with. The issue, therefore, is a funnel issue and not that of quality of startups or founders. 
Consequently, female-only startups that have females as founders, not co-founders, raised only $1.8 million between Aimfit, Conatural and Dot and Line, according to i2i Ventures.  That is only 3.11% of the total disclosed amounts raised by startups in Pakistan.  "This, however, mirrors the global trends of female founded companies which is also like 2 per cent."
Whereas the number of mixed gender startups that include both male and female co-founders is around $3 million in Pakistan. Kalsoom explains that a lot of women led companies are raising seed and pre seed and there hasn't really been a Series-A round raised yet by a female led company.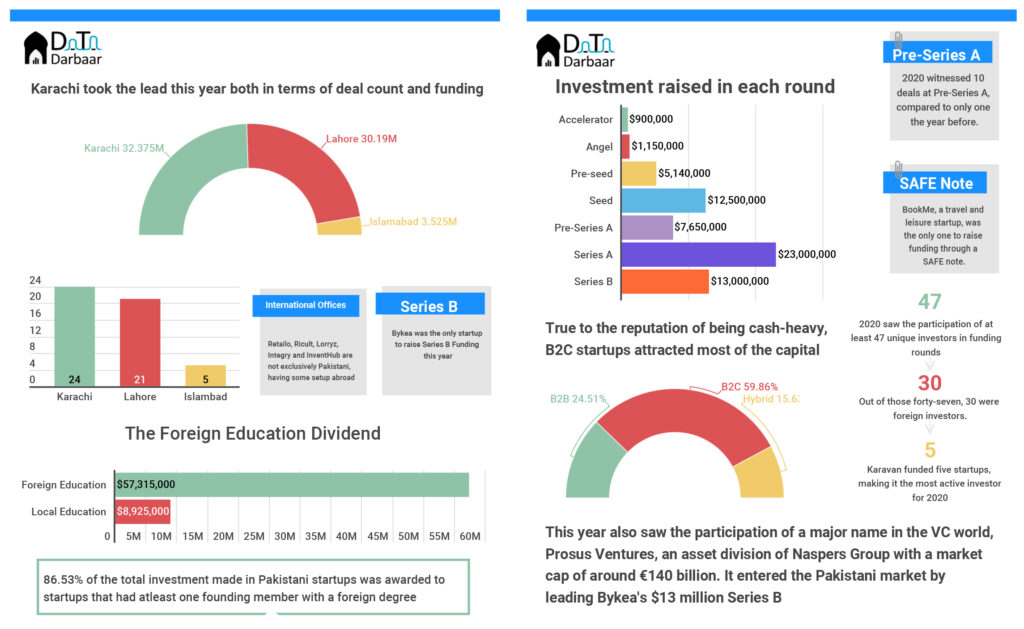 "In this regard, what we are doing in one initiative with the World Bank is that we have been training about 300 women led companies and also training incubators and accelerators in Pakistan how better to deliver content around investment readiness in Pakistan." 
"The second issue is that you see a lot of women in Pakistan that have raised very early capital but not later. There is also an issue of diversity of capital so we have also launched a programme called WeRise which is another women entrepreneurial finance initiative with the World Bank that is a bespoke coaching and advisory programme for women led companies that are looking to raise capital," says Kalsoom. Though the statistics about funding for female-led startups are not great, what is interesting, however,  is that the companies that did raise the deal sizes were larger than what has prevailed in the market before.