At first glance, it is almost like the financials made an accounting mistake. Matco Foods, one of the few commodity-oriented food companies listed on the PSX made a loss in the year 2021. This is strange for two reasons: first, this is the company's first loss since 2013, the last year for which there is publicly available data. And second, this loss happened despite this being the second-highest revenue that the company has earned in the last nine years. 
And what's even odder, is that the year 2020 was, ironically enough, great for the company. According to that year's company's annual report, Pakistan's basmati rice exports grew by 35%, mostly because there's been a surge in food products because of the pandemic (people are eating, cooking and stocking up more). India, which is the biggest exporter of basmati rice, was badly affected by the pandemic, which meant that Pakistan actually took over some of the basmati demand. At that time, the company had the highest sales in 2020, at Rs11,289 million.
Fast forward to 2021, and sales dipped just a little bit to Rs10,566 million. But net income fell from a profit of Rs150 million, to a loss of Rs60 million. To understand what is happening with Matco, it helps to have a little context.
The company has been around since 1964 (proudly noted still, in the logo), when it was founded by Syed Sarfraz Ali Ghori (Ghori family members still hold more than 60% of the company).He got the new name from the abridged version of the mother company, M.A. Trading Company.  In 1967, the company set up its first rice processing plant in Larkana, Sindh.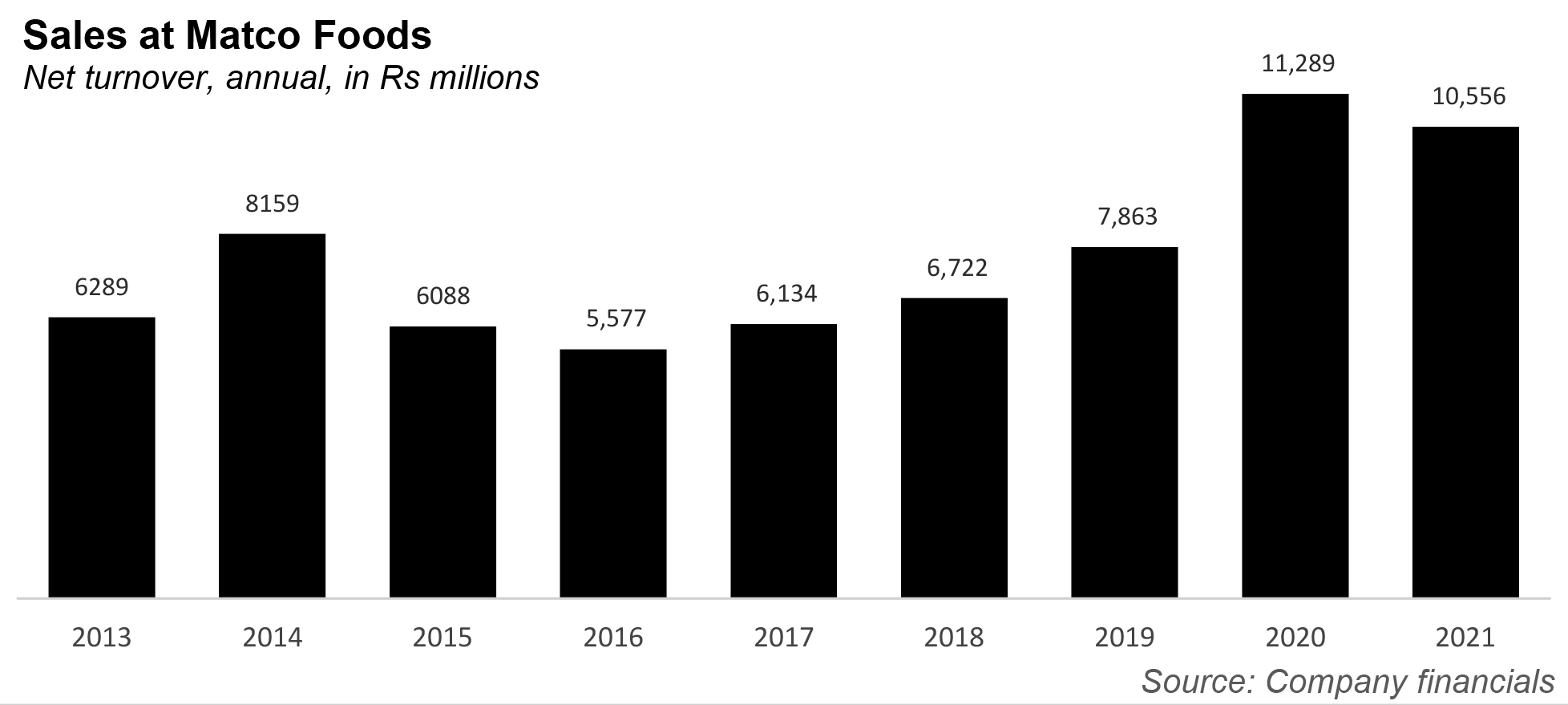 Its global ambitions were apparent right from the beginning: in 1970, just three years after its first plant, the company began to supply rice to the Satake Group in Japan, which specialize in rice processing. It also provided machinery to the Government of Pakistan. In 1980, this relationship was further strengthened, when Matco became an agent for Satake in Pakistan. And that is how Matco got the ultimate pay-off, with the first fully automated, modern rice processing plant in Pakistan supplied by Satake in 1990. 
Article continues after this advertisement
Backed by its Japanese friend, Matco gained confidence, and in 1999 shipped its first container of its own brand, Falak, and launched the brand formally in 2004. In 2000, it constructed its second plant in S.I.T.E in Karachi and added a fourth processing line in 2008. It added another plant in Gujranwala in 2010. In 2012, it became the only agro processing company in Pakistan in which the International Finance Corporation, which is a member of the World Bank, has invested, with a 15% share of the company. 
The Falak Brand is the company's flagship brand (it also has two other brands of rice, Amber, and Bahar).It is Falak that is shipped and distributed to 40 different companies – there's even organic brown rice made specifically for health conscious EU residents. Its brand ambassador is Mehboob Khan, better known as the beloved chef judge on MasterChef Pakistan. 
The company has sometimes experimented: in 2016 it launched himalayan pink salt, for example. But by and large, it remains a 'rice' company, though it has wanted to move away from that label. In 2015, the company changed its name from Matco Rice Processing to Matco Foods, right before it listed on the PSX in 2018. Even so, by one estimate, it was exporting over 75% of its Basmati rice abroad due to increased profit margins. 
Between 2013 and 2020, Matco had brought in reasonable, even great, revenues. Revenues climbed from Rs6,289 million in 2013, to Rs8159 million the next year. It then dipped, but stayed more or less in the Rs6 to Rs 7 billion range.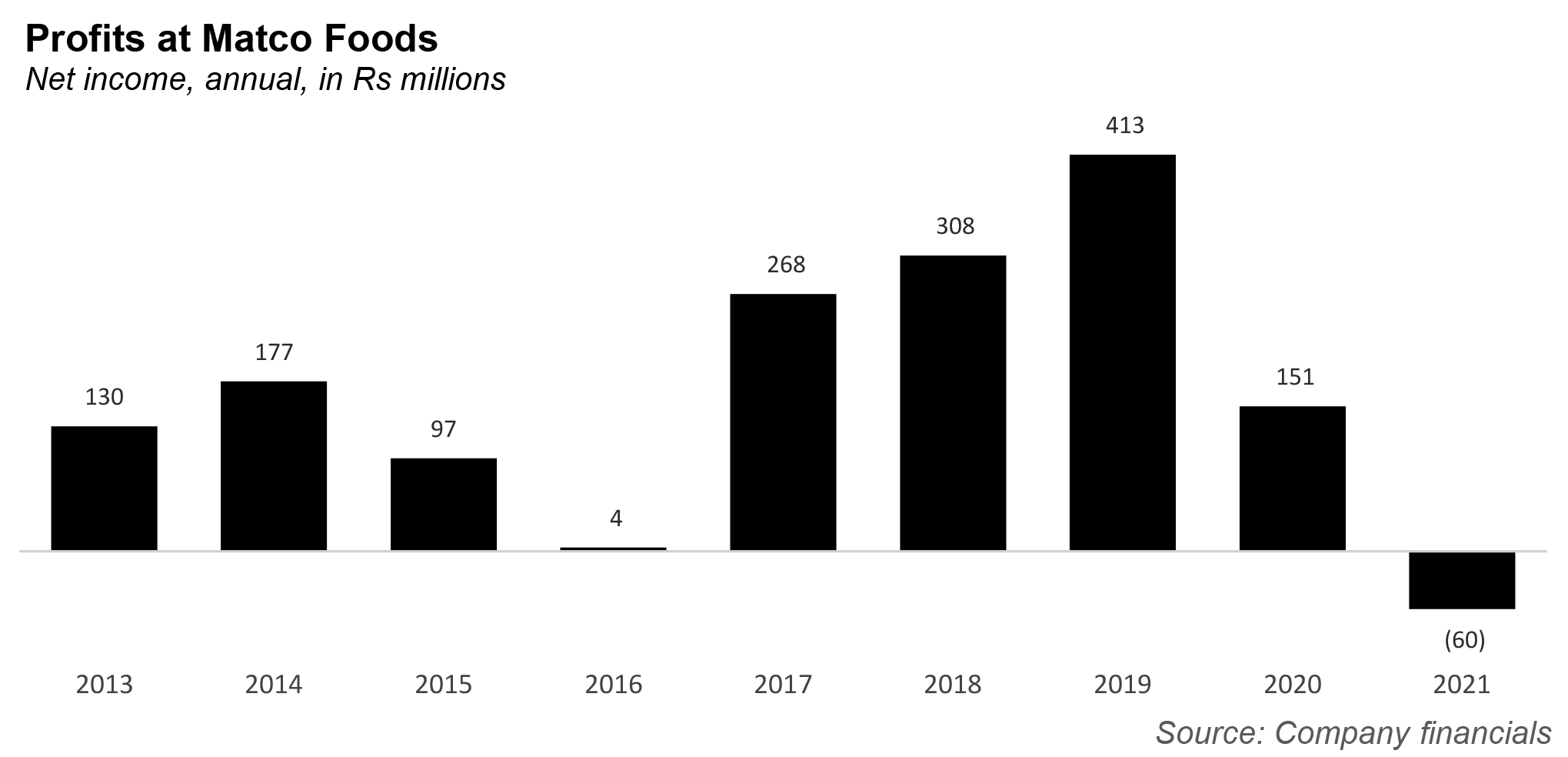 Net income on the other hand has been volatile. It's also been significantly lower. In 2013, the company brought in Rs130 million, then Rs177 million the next year. But profits drastically fell to just Rs4 million in 2016, which was also the year of the lowest recorded revenue figure (at Rs5,557 million). Profits then began to climb in 2017, at Rs268 million, then the highest recorded profits at Rs413 million. It then fell again to Rs151 million in 2020, and then its first loss in close to a decade, at Rs60 million. 
What happened? Understanding the revenue figures is not enough. The problem is the cost of the production is also quite high. In particular, distribution and administrative expenses cut operating profit by more than half every year. And over the years, while distribution expenses have stayed in more or less the same ballpark range, administrative expenses have simply shot up.In 2015, administrative expenses stood at Rs 165 million – in 2020 this figure had shot up to Rs271 million. And in 2021, the year in question, it had jumped to Rs309 million. The company;s operating profit stood at Just Rs151 million – the lowest that figure has ever been. That leaves little leeway to bear other costs, like finance, which resulted in a loss for that year.