Lahore: Automotive sales have fallen by 53% on average across all segments per the Pakistan Automotive Manufacturers Association (PAMA) report for July 2022. Profit explains exactly what happened in July for such a drastic contraction to take place. 
Firstly, the segment wise breakdown of the July contraction are as follows: 

The segment wise contraction bleeds into company wise contractions as well, with every company taking a hit. The breakdown is as follows: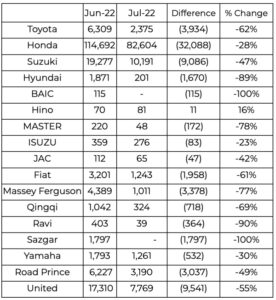 Pakistani automotive manufacturers operate on a Just in Time (JIT) model that aims to perfectly balance demand and supply of vehicles for optimal efficiency. Consequently, a reduction in one will lead to a reduction in the other. A contraction in sales of this magnitude is attributable to a contraction in both supply and demand. 
Inflation is perhaps the primary reason on the demand side. "There is too much inflation. Fuel is also expensive. Customers cut demand on cars first as everything becomes expensive." said Asghar Ali Jamali, CEO Toyota Indus Motor Company,  when asked about why there had been demand destruction in the sector. 
On the topic of inflation, it is important to note that cars themselves also became more expensive during June and July with many companies introducing price increases in the two months. 
Another factor that may be attributable to the demand destruction is the State Bank of Pakistan (SBP) changing the prudential requirements for automotive loans back in May of this year to discourage lending. 
Muhammad Faisal, President Automotive Division at Lucky Motors, had said to Profit in a conversation in June that "30-40% of industry volume is because of auto-financing. 30-40% of demand will be wiped out just because of the high interest rate, low tenor, and high up-front payments" It looks as if there was a time lag between the SBP's change in prudential requirements and customer response. The ominous prediction now seems to be becoming a reality. 
On the supply side, looking at PAMA's figures, it is evident that automotive companies simply did not manufacture cars in the same quantity seen in June. These supply constraints manifested themselves across July when various automotive manufacturers suspended bookings. Profit had spoken to various dealerships across Lahore in July and found that bookings were largely suspended across the board in the build-up to Eid-ul-Adha, with many automotive companies not taking bookings even in the week following Eid. 
Jamali cited the State Bank of Pakistan's  (SBP) import restrictions when asked if there was any reason for companies simply producing cars in the same volume as they had done so previously. 
The question then is whether August's figures will look similar to the ones we see in July? Jamali believes that demand will contract by 40-50% going forward whereas Faisal cites automotive volumes to be 40% lower in FY 2022-23 compared to FY 2021-22.