For the past two years, Dr Umar Saif of PITB fame has been sending out teams to recruit marriage consultants. These marriage bureaus or rishta aunties are told they will get a chance to reach a larger audience for their business and wil be able to work through an app. In these two years, Dr Saif's team at Dil Ka Rishta, an up-and-coming matrimonial services app, estimates that there are nearly 33,000 marriage bureaus in 210 cities in Pakistan, of which at a certain time 13,000 to 14,000 bureaus are active. By recruiting many of these bureaus, to their app app, they have managed to put in a total of 520,000 profiles 
This is the closest thing to a tech disruption in the wedding industry. For one second, step back and appreciate the size of the wedding industry. In Pakistan alone, a single wedding involves so many different sectors, trades, and smaller industries that it ends up taking a small army to manage two to three days of festivities. From wedding halls to jewellers, caterers, card printers,  florists, and tailors all the way to the little details like mehndi add up creating the dangerous, monstrous, wedding industrial complex. 
In the United States, it is worth upwards of $60 billion. In India, a 2016 KPMG report titled Market Study of Online Matrimony and Marriage Services in India estimated that the Indian wedding industry is worth about INR 3.68 trillion. Since it is largely informal and undocumented industry, there are no real estimations as to its size in Pakistan, but  ballpark figures suggest it is worth hundreds of billions of rupees.
Yet this industry does not operate like others. It has no associations to protect its interests, yet it is surprisingly powerful. During the pandemic, wedding halls openly flouted government lockdown orders with half-baked measures with impunity. It is also one of those rare industries that does not go to the government to promote their trade. Mostly because weddings are going to happen as surely as funerals, and people are going to spend on them. 
As per the Pakistan Demographic and Health Survey 2017-18, approximately 2.7 to 3 million people got married in 2018. Assuming the higher end of the range, that means 1.5 million weddings happen in a year. Considering a 2% growth rate in population, we're going to assume that the number of weddings also increases by 2% in a year. That means approx 1.6 million weddings happened in 2021. The business is inextricably linked to a very common human experience (getting married) in a culture that places a high value on the ostentatiousness of weddings.
The scale of the industry is gargantuan. And whenever there is a big kahuna in town, the one thing you can bank on is that there is someone out there thinking they have the next great startup idea that will disrupt the industry. And Dil Ka Rishta is not alone in this hope. Applications like Muzz, a UK based Muslim matrimonial website, has also found its way to Pakistan and has made quite the buzz. The question is, will these apps succeed? 
Article continues after this advertisement
They are targeting one very small segment of the wedding industry: the set-up. In one way, it is disruptive since the traditional idea of meeting a partner is to meet them through family. But on the other hand, matrimonial services have existed for a very long time. Since the late 17th century, advertisements for 'mail-order-brides' were a regular feature in American newspapers up until as recently as the 20th century. In Pakistan and India, matrimonial ads continue to appear in newspapers with families looking for rishtas for their children. And this trend shifted to the internet almost immediately with the advent of the internet. 
Across the Rubicon, things are a little different. There are not matrimonial websites but rather dating apps like Tinder and Bumble. In Pakistan, while Bumble is operational and Tinder is banned, these are mechanisms for casual dating and not matrimony.In India, JeevanSaathi.com, Shaadi.com and BharatMatrimony to name a few have been able to rake in millions of users and have ended up becoming multimillion dollar businesses, with more users than dating apps. For instance, Shaadi.com advertises that it has 35 million verified users on the platform, though the trend of dating apps is rapidly on the rise as well in India.  Until July 2020, according to Hindustan Times, Bumble had crossed 4 million users in India. 
Pakistan has the most cultural similarities with India. And if matchmaking businesses have been able to grow in India, chances are that matchmaking apps in Pakistan will be able to grow rapidly here as well. Once again, it would be the old against the new. Two new players have entered the market. On the one hand there is Muzz and on the other there is Dil Ka Rishta. Both are matrimonials. Both claim to bring something different to the table. Both are grappling with religious, social, and cultural barriers. And both are hoping to tap into the massive pool of money the wedding industry is sloshing around. But will they succeed? 
Those damn billboards. 
You wouldn't think any company calling itself a startup would be spending the big bucks on marketing these days. If anything, all of our startups have really had to tighten their belts on the marketing budget. Yet scores of billboards of matchmaking apps have started popping up in major cities like Lahore and Karachi. Commercials are being aired on mainstream channels by one of these apps to create awareness – mostly unprecedented for the now (temporarily) bogged down startups and internet companies in Pakistan. 
Yet for all the talk of disruption, the wedding industry is one place where these new entrants seem to be bowed, bent, and broken by the weight of cultural implications. On the one hand we have the presence of a number of dating apps which are majorly not focused on marriage thereby presenting a threat of disruption. On the other, we have the rising matchmaking apps focused on marriages in a culture that cherishes marriage over dating.
The two new entrants we have are Muzz and Dil Ka Rishta, both of them billed as matrimonial apps not dating apps. Yet both of the companies have their own unique take on the proces. In a country like Pakistan, the search for a suitable candidate for marriage is your parent's job to initiate. Muzz falls somewhere in the middle, that it allows individuals to initiate the search for finding potential marriage partners, of which other family members can be chaperones in this search on the app, though it is optional for the persons using the app to allow any chaperones.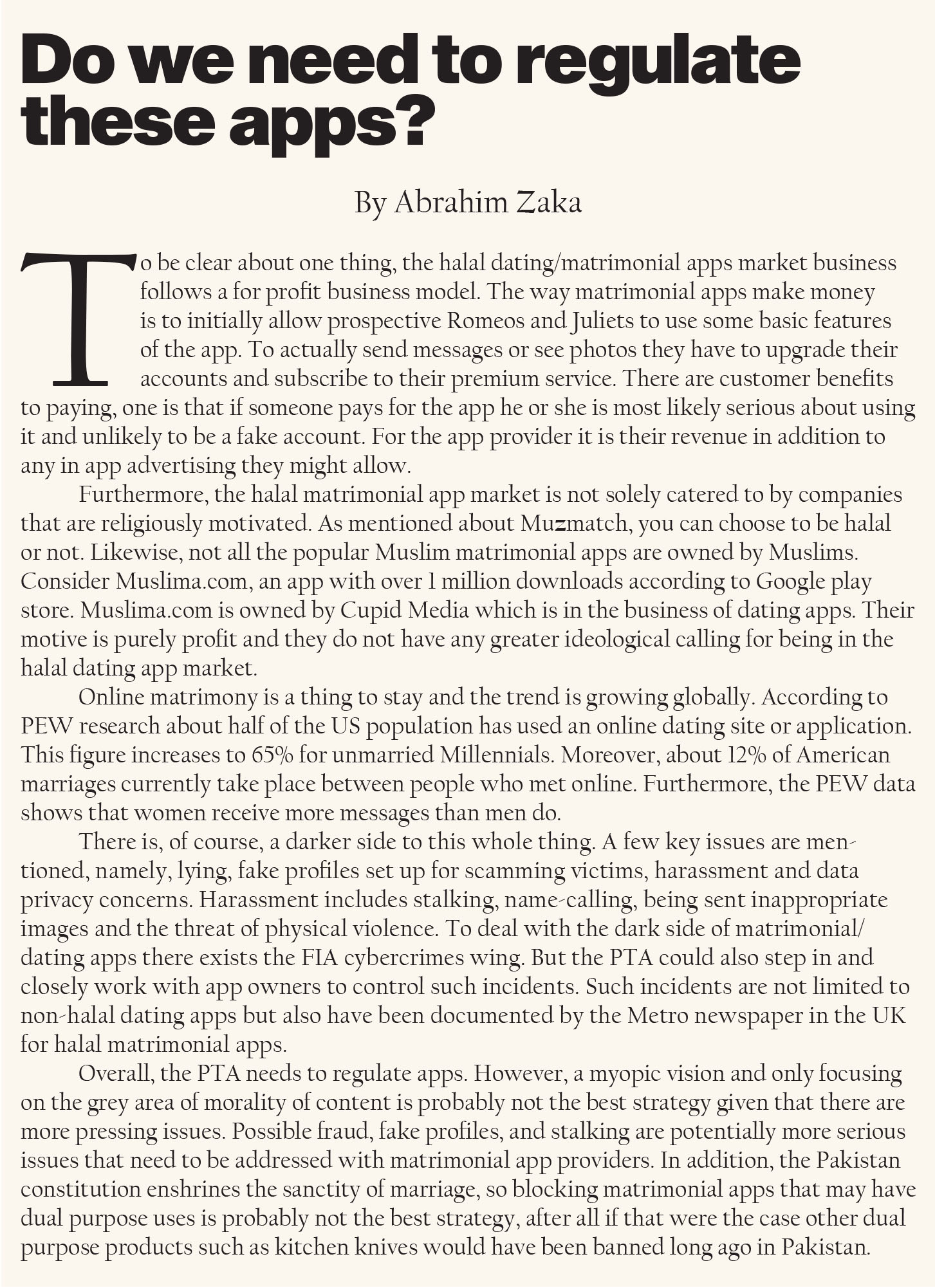 Dil Ka Rishta, on the other hand, is on the more traditional end of the spectrum. It is entirely focused on promoting the institution of marriage, promoting the way it is culturally done, with a touch of technology to create convenience and open it up for mass adoption. It is also that way less disruptive for the traditional business models of matchmaking. 
So you want to find a partner
"Dating apps like Bumble have given rise to the hookup culture in Pakistan more than dating culture," said a female candidate interviewed for this piece. The open unacceptability of these apps because of the culture they promote also leads to people not disclosing their marriage even if they happened on Bumble. 
"Most of the people think that dating apps are all fun and games but they can be made to work in any way one wants. They can also end up in meaningful relationships. Women need to do their due diligence on these apps, which they should do anyway," a female Bumble user on the app told Profit, requesting to stay anonymous. 
While this points towards the willingness of users, particularly women, to use dating apps for the purpose of finding a partner for marriage, it particularly highlights an important issue in matchmaking: the issue of reliability, trust and security when it comes to finding a partner and hence the need to do due diligence. This is followed by a layer of considerations with regards to preferences for a partner, for instance their income and qualifications.
It is primarily because of issues related to reliability and trust that a culture of marriage consultants like rishta auntys or bureaus exist in a localised setting. These consultants have a network of families that would be looking for suitors for brides to be, or vice versa. These consultants, through their network and word of mouth, recommend suitable candidates for marriages keeping in mind the cultural nuances and preferences of a family. In other words, these consultants would do the due diligence for the respective families first and then forward their recommendations based on their preferences. 
It is because these consultants have to always keep a network and know people, they are very localised. 
It is where candidates do not want to remain bound by the restrictions of culture and when they are financially empowered, they want to make the decision of finding a partner on their own. Till now, the options for both categories, ones that want to make this decision on their own and the ones that rely on family to do it for them, have either been finding someone in their own network or get to dating apps like Bumble in the case of the former, and marriage consultants in the case of the latter. Statistics with regards to matches leading to marriages on Bumble would be unavailable since the company focuses on connecting dates only. 
Dil Ka Rishta, which has at its helm the very prolific Dr Umar Saif, who has previously founded market intelligence firm SurveyAuto and had remained the chief of Punjab Information Technology Board (PITB), started off by partnering up with the very marriage consultants that some other apps are planning to disrupt. It is exactly because the overwhelming majority of weddings in Pakistan are understood to be arranged marriages because of the religious and cultural nuances of the Pakistani society, the status quo has been personal networks or the marriage consultants, and dating apps have not really taken off. 
Dil Ka Rishta, while it has now been creating the buzz with tall billboards and TV commercials recently, had been silently recruiting the status quo on the app. For a conservative society, Dil Ka Rishta's beginning is also very conservative. The process of signup on the app had been restricted to consultants until only recently and with consultants, the profiles are submitted by family members.  
For the last two years, Dil Ka Rishta had been sending out teams to recruit these marriage consultants and as Umar Saif tells Profit, there are nearly 33,000 marriage bureaus in 210 cities in Pakistan, of which at a certain time 13,000 to 14,000 bureaus are active. Of the total bureaus on the app, Umar Saif says that they have put in a total of 520,000 profiles of candidates looking to get married. In the last two years, the platform had over 1,000 successful marriages that were consummated through the Dil Ka Rishta platform. 
"These weddings culminated under the B2B model of the business where consultants connect with consultants to connect people for marriage," says Dr Umar Saif. The number of marriages, he says further, is small in the beginning because the app has been around for two years only for the B2B model and the process of getting married only starts with connecting through the Dil Ka Rishta app. From connecting first to culminating into a marriage can be a very lengthy process. 
Dil Ka Rishta has started accepting individual users to come on the app and find suitable matches for the intention of marrying. The matchmaking can be done with profiles of individual users or with profiles of marriage consultants. But it is really the protocols that make Dil ka Rishta a purely marriage app. It collects the information that are the considerations of families for any marriage: for instance caste, religion and sect of the person looking to get married and matching with the caste religion and sect of potential partners are informations that even Muzz does not collect. 
Individual users start off with a trial for a week during which Dil Ka Rishta sends recommendations and profiles to the user based on his/her preferences. The app has an automated recommendations setting whereby it tries to match users with candidates that should ideally be the right match based on the candidate's profile. The algorithms behind the app would automatically recommend a graduate level male or female and not a PhD for someone who has a graduate degree only. While this can be overridden on the app, the idea is to generally nudge candidates towards more realistic choices. Connects are initiated based on permissions – a feature of dating apps like Bumble as well that empowers a female to initiate a chat with a user and not males. 
To clinch it completely, Dil Ka Rishta sends a verifier to the person's house creating a profile for marriage to verify their credentials. All these protocols reduce the instances of Dil Ka Rishta being used as a dating app. 
The UK-headquartered Muzz, which brands itself as an app for marriage, has also deployed some protocols to create a safe and respectful environment for finding a suitable partner for marriage. For instance, permissions are sought to connect, and chaperoning is allowed on the app albeit optionally. Preferences for a partner are asked and the app specifically asks when someone wants to get married. 
"The heart of what we are trying to do is empower the young person, a single Muslim, to find a partner on their own terms. The Muslim faith is the foundation," says Shahzad Younas, the founder and CEO of Muzz. But because these controls are loose, Muzz app has also been used for dating and not strictly marriage, according to Profit's conversations with some of the Muzz users. 
While Muzz acknowledges that startups are trying to disrupt in a good way, they say that Muzz is providing an affordable alternative to make marriages happen for Muslims. As mentioned above if you do not have a network and have to go to a marriage consultant, they can charge you a pretty penny for making a marriage happen with a suitable candidate, and wouldn't be considerate of your financial health. Alternatively, Muzz, which follows a freemium model where you can use most of the service for free and pay for value added services, 90% of the users that have made it to the marriage stage have never paid a penny to Muzz. 
"They come and find a partner and leave and don't pay a penny. We are happy with that and that is the core principle of the company that you should never have to pay to find a partner," says Shahzad Younas. 
In that way, Muzz is disruptive for traditional marriage consultants. And it has some numbers to prove that they have been able to present Muzz as an affordable alternative: they have had about 4,000 self reported marriages in Pakistan, between people for whom the journey towards getting married by connecting on Muzz. This also points towards a trend, which according to Shahzad is one that points towards the death of conventional businesses anyway. 
Is Muzz really a great business too? Its not focused on making money just yet. And while, Muzz has been in existence for the last eight years, they have raised only $9 million so far in funding, but say that as a business, they are financially very very sound. 
On the other hand, Dil Ka Rishta is currently free for consultants and charges a small amount to individual users after a week of free trial, but is looking at an opportunity to make big money from the roughly Rs120 billion marriage consultancy market, by charging a cut of its own to users for providing the services of a marketplace for matchmaking. While it does not currently make much money in its initial days, it is backed by Khudi Ventures, which Umar Saif says is backed by people who have "patient capital" to deploy on big problems that can be solved through technology and is hence able to foot the bill of massive advertisements on billboards and TV commercials on mainstream channels. 
Do we need to regulate these apps? 
By Abrahim Zaka 
To be clear about one thing, the halal dating/matrimonial apps market business follows a for profit business model. The way matrimonial apps make money is to initially allow prospective Romeos and Juliets to use some basic features of the app. To actually send messages or see photos they have to upgrade their accounts and subscribe to their premium service. There are customer benefits to paying, one is that if someone pays for the app he or she is most likely serious about using it and unlikely to be a fake account. For the app provider it is their revenue in addition to any in app advertising they might allow.
Furthermore, the halal matrimonial app market is not solely catered to by companies that are religiously motivated. As mentioned about Muzz, you can choose to be halal or not. Likewise, not all the popular Muslim matrimonial apps are owned by Muslims. Consider Muslima.com, an app with over 1 million downloads according to Google play store. Muslima.com is owned by Cupid Media which is in the business of dating apps. Their motive is purely profit and they do not have any greater ideological calling for being in the halal dating app market.
Online matrimony is a thing to stay and the trend is growing globally. According to PEW research about half of the US population has used an online dating site or application. This figure increases to 65% for unmarried Millennials. Moreover, about 12% of American marriages currently take place between people who met online. Furthermore, the PEW data shows that women receive more messages than men do.
There is, of course, a darker side to this whole thing. A few key issues are mentioned, namely, lying, fake profiles set up for scamming victims, harassment and data privacy concerns. Harassment includes stalking, name-calling, being sent inappropriate images and the threat of physical violence. To deal with the dark side of matrimonial/dating apps there exists the FIA cybercrimes wing. But the PTA could also step in and closely work with app owners to control such incidents. Such incidents are not limited to non-halal dating apps but also have been documented by the Metro newspaper in the UK for halal matrimonial apps.
Overall, the PTA needs to regulate apps. However, a myopic vision and only focusing on the grey area of morality of content is probably not the best strategy given that there are more pressing issues. Possible fraud, fake profiles, and stalking are potentially more serious issues that need to be addressed with matrimonial app providers. In addition, the Pakistan constitution enshrines the sanctity of marriage, so blocking matrimonial apps that may have dual purpose uses is probably not the best strategy, after all if that were the case other dual purpose products such as kitchen knives would have been banned long ago in Pakistan.