KARACHI: More than three years after taking charge as CEO of Easypaisa, M Mudassar Aqil has decided to step down from his position to pursue an opportunity overseas. The departure marks the end of a formative period in the history of the Telenor Microfinance Bank Limited, better known as Easypaisa, in which the company came out of the smoke of fraud allegations and became profitable.  
Mudassar joined Telenor Microfinance Bank Limited (Easypaisa) as CEO in November 2019, replacing Shahid Mustafa. This was not his first stint in the microfinance sector, previously he was a CEO at FINCA, another microfinance institution in Pakistan.
At the time, a large fraud in the microfinance lending business had just been uncovered, presenting Aqil with a daunting task upon his arrival. "The bank was in a difficult situation when I joined due to the recent discovery of significant fraud in our microfinance lending business. The aftermath of fraud was what I had to deal with after my joining," says Aqil while reflecting on his first days heading Easypaisa. 
How did Easypaisa come out of this mess? 
When the management of Mudassar Aqil came in, they identified credit irregularities in the loan portfolio, which  included cases of collusion to commit fraud between employees and people outside the bank. This resulted in a lot of controversy for the microfinance bank.
Apart from the controversy, the fraudulent loans resulted in huge losses. As of 2019, Telenor Microfinance Bank had accumulated losses of around Rs 16.5 billion which had increased to a whopping Rs 27 billion in 2020. The fraudulent loans contributed to more than half of the losses the bank experienced between 2019 and 2021. 
To counter this, Easypaisa restructured their lending portfolio and wrote off loans. "So basically what we did in a nutshell was we cleaned up our lending portfolio. We restructured the book. We exited the agriculture bullet lending business where the majority of the fraud had occurred", says Aqil.
Apart from restructuring loans, Telenor injected more equity into the business. "We eventually moved the business to a new strategy where primarily it is a digital-first bank. We embedded both businesses into one business and made the entire bank on a digital-first strategy. And in that process, we had to take an impairment charge on the lending portfolio of roughly Rs14 billion – 15 billion."
Telenor and Ant group, major shareholders of Easypaisa, funded the impairment loss which gave Aqil a clean slate to establish the business once again. The shareholders have collectively invested $270 million in the bank. More recently, the two shareholders injected equity of Rs 3.9 billion or $ 22 million in February 2022 to help the management carry out its business plan of becoming a digital retail bank.
"When you are building a digital platform, you incur some high upfront costs. And then the idea is that to achieve scale and after scale profitability will follow. Scale is expensive because of the high cost of customer acquisition through digital channels. So that's basically where the investment went. So the other half is an investment." 
And now the bank has turned profitable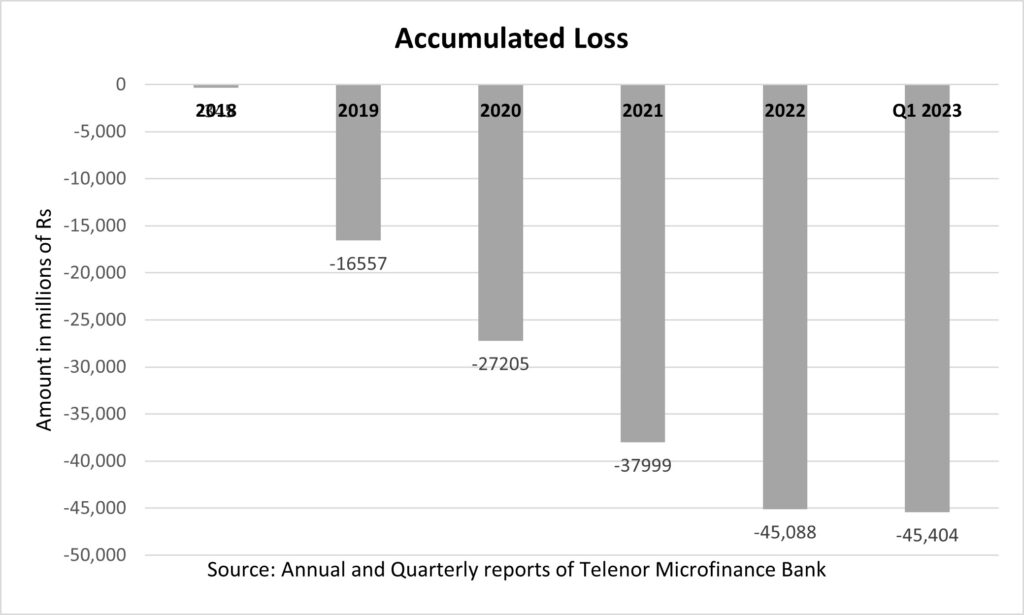 How are things looking for TMB now?
Telenor Microfinance bank has managed to steer itself towards profitability. In the first quarter of 2023, TMB incurred a meager loss of Rs 185 million. It succeeded in reducing its pre-tax losses by over 90%, from PKR 2.185 billion in the same period last year to PKR 185 million.
"In March, we made a profit. Beginning quarter two, you will see profit before tax", added Aqil.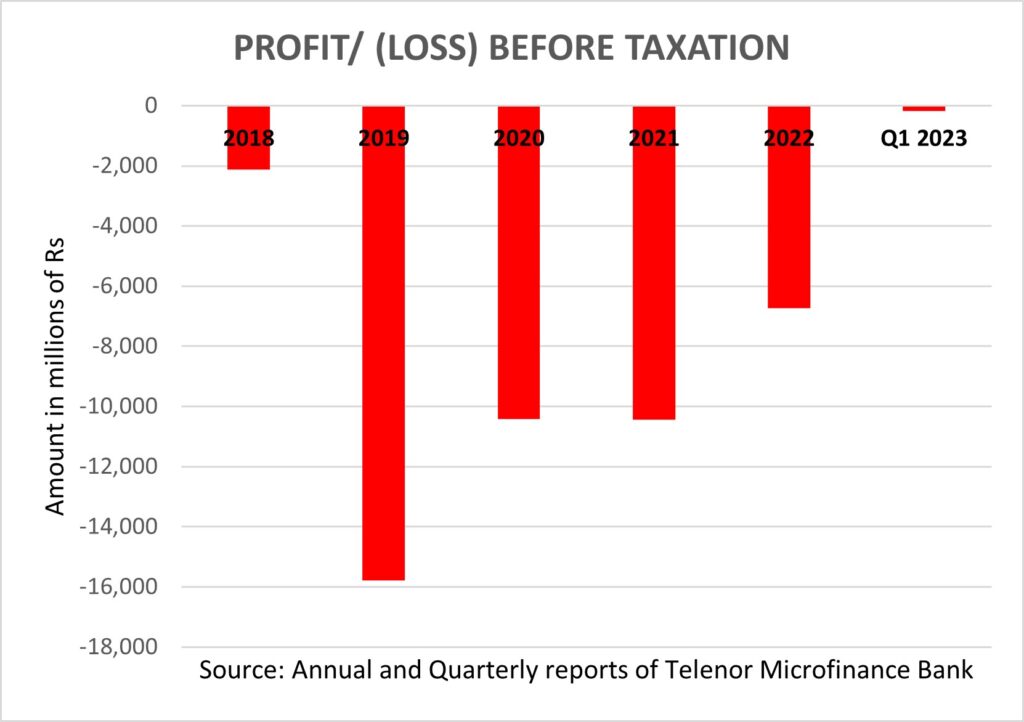 Future outlook of Telenor MFB:
"We are very excited for the future of TMB because of the new license and very large profitable business (which will be) the largest digital platform in the country. Firstly, we have received NOC (no objection certificate) for a digital banking license. We are actively working on our conversion plan to submit to the SBP to convert to a digital retail bank." Telenor Microfinance Bank/Easypaisa was one of the five applicants who received NOC earlier this year.
Within retail banking, our core focus will be on the mass market which is still predominantly unbanked or underbanked. We want to become a retail digital bank of choice for a common Pakistani. The second focus will remain on small businesses. Apart from that international remittances, freelancers, and women. We are already keenly working on and in touch with relevant institutions."
On his next stint, he commented that he would share the information in a couple of week's time. "It is an exciting opportunity. I have been in the Pakistan market for the last 17 years.  I spent the first 8 years outside Pakistan. And now I am getting a new opportunity to go and learn a new market. To grow myself, and learn new things. But I will still be in the fintech space. It is an exciting opportunity and I look forward to continuing learning and growing."
Despite his departure, Aqil is confident in the strong foundation of Easypaisa, believing that it will continue to thrive and achieve even greater success. He remarked, "I am very excited for what I am leaving behind. I think easypaisa is on very strong footing. It is stronger than ever. And I think it will be growing from strength to strength."