Mondelēz is out for halwai blood. Over the course of the past year or so Cadbury's parent company has been on a warpath trying to position itself as a player in a very important market: the wedding industry. 
You see, when it comes to gifting sweets, some distinctions are clear. Cake is for birthdays, chocolates are for Valentines, kheer is for Eid, and mithai is for weddings. In fact, the role of mithai is central and historic to weddings in this region. But for a very long time Modelez has felt they can position Cadbury in a way that can challenge this. After all, the concept is 'mou meetha karna' — something that can be achieved as easily with chocolate as with mithai. 
That is why Modelez has produced products such as Cadbury Celebrations which are conveniently packaged and giftable. The concept has been in the mind of Modelez execs for some time now. In a 2012 TVC directed by Asim Raza which was part of Cadbury's "Kuch Meetha Ho Jaye", the focus was chocolate replacing mithai in wedding festivities. People in the typical colourful clothes surrounded by traditional regalia were carrying around bars of cadbury on silver trays serving them to guests. 
Now, more than a decade later, Modelez is sending Cadbury out to war again. And if they can market it enough, the mithai makers might not even know what hit them. 
What is Mondelēz doing then? 
An American multinational food company, Mondelēz is famous for the brands that fall under its umbrella: Oreo, LU, Cadbury, Tang, and Toblerone to name a few. Now onto the product this piece is centred on.
Article continues after this advertisement
Cadbury Occasions. A box of seven Cadbury Dairy Milk chocolates. Three regular milk chocolates, two bubblies, one fruit and nut, and one roast and almond. 163 grams of chocolate for under Rs 1,000 as of writing. Barring any special gift pack they release — this is what you get. In all honesty, you'd be correct to ask if this even merits an entire story. However, there's two aspects that make this interesting: Mondelēz putting their weight behind this, and their advertising campaign itself.

Let's start with the former, why is Mondelēz even doing this?
Why on earth do they want a bite of this new market? 
The efforts from Mondelēz materialised from a place of internal reflection. According to the company's Senior Brand Manager, Gohar Syed, chocolate is a niche product in Pakistan. "We're discussing grand occasions here — Eid, Bakra Eid, Shaadis, and other locally significant events. Rarely would you find chocolate taking centre stage in these events," he says. 
That much is true. Chocolates are not a local product and mithai is dominant in all regions and by all accounts. According to Modelez's own estimations, the market for mithai stands at roughly Rs 40 billion. 
In the face of this, Modelez's conundrum is obvious. It finds itself as the most formidable entity in a relatively confined market. Per the latest report by Euromonitor on Pakistan's chocolate confectionery landscape, Mondelēz already commands an overwhelming 65.5% of the entire market. Its brands, Dairy Milk, Dairy Milk Bubbly, and Perk, also reign supreme in terms of sales.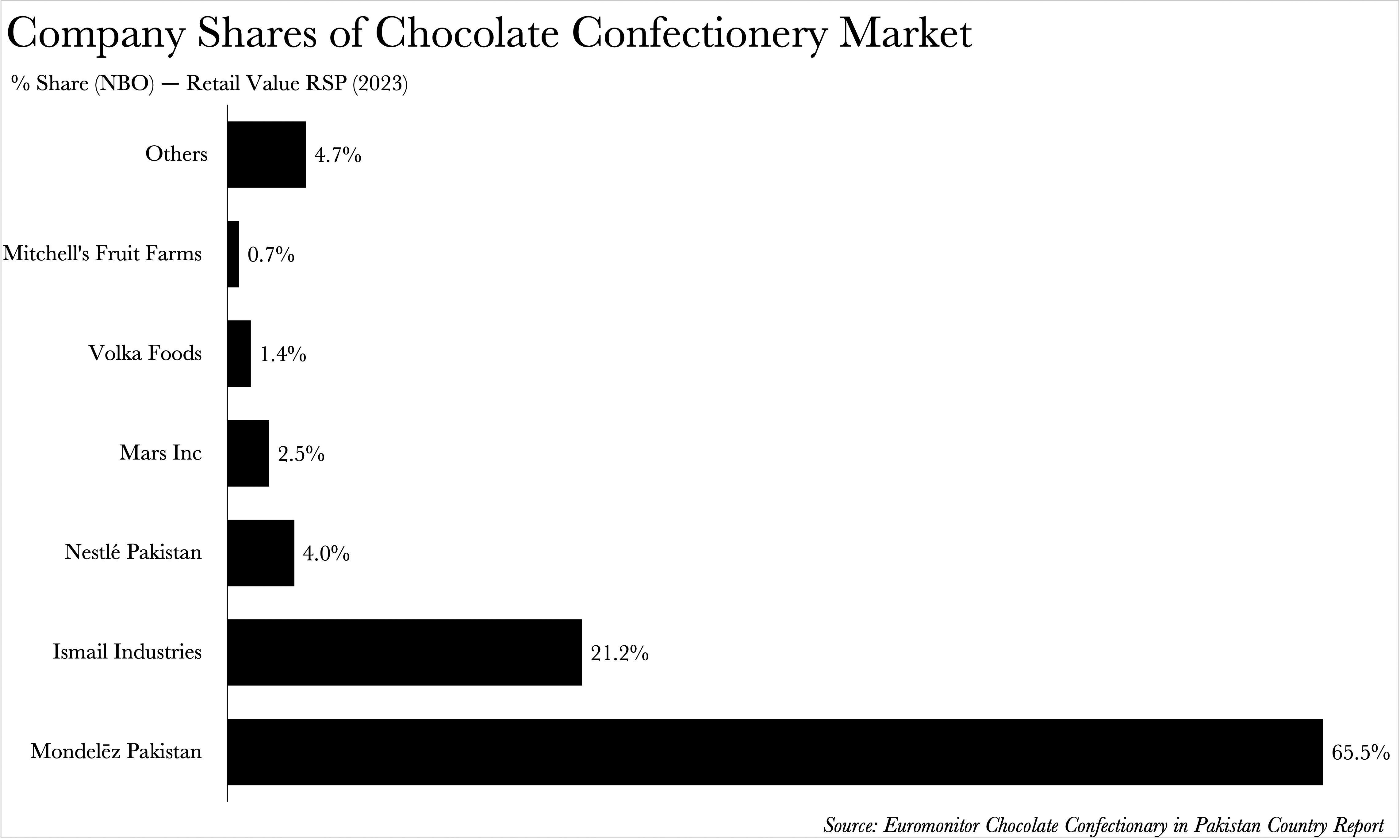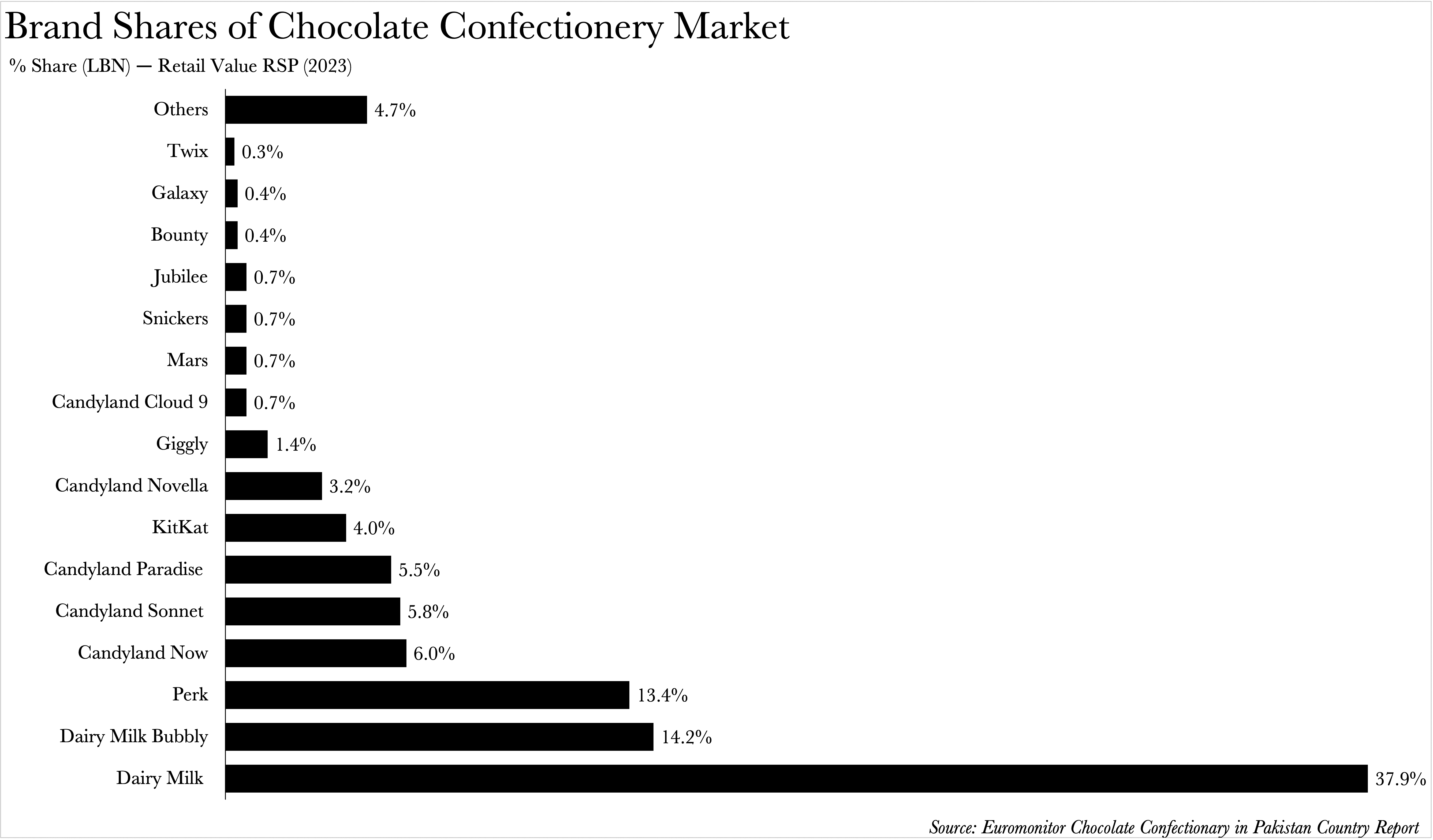 Its aspiration to penetrate the mithai market — or the gifting sector for that matter, reveals a stark reality: Pakistani consumers may have reached their saturation point in terms of chocolate indulgence. Mordor Intelligence approximates that Pakistan devoured 11.03 million kilograms of chocolate in 2022. When divided by a population size of 207 million, based on the 2017 census, Pakistan's per capita consumption amounts to a modest 50 grams. To put that into perspective, the Centre for the Promotion of Imports from Developing Countries estimates the global average per capita consumption of chocolate to be 900 grams per annum.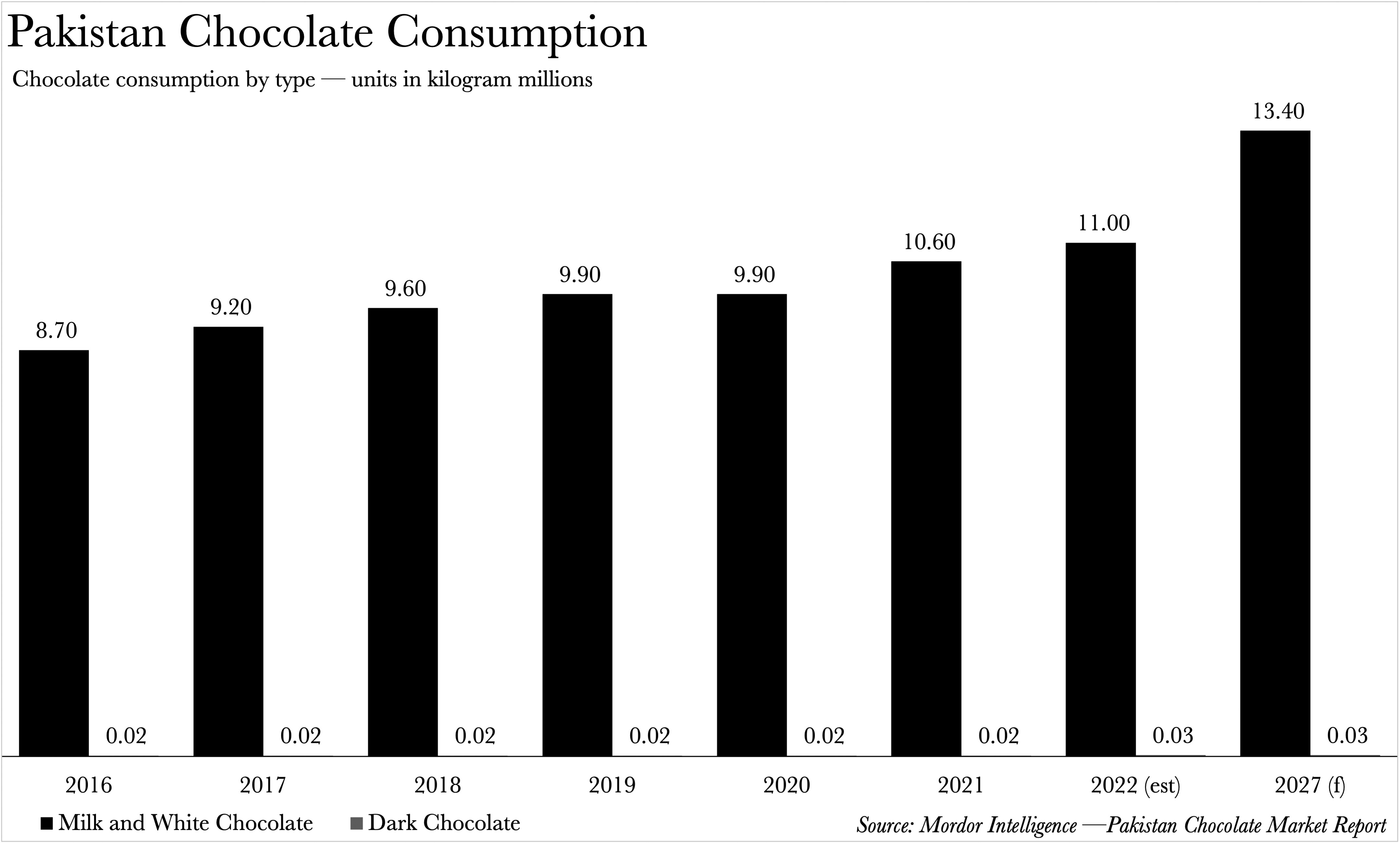 While this does illustrate potential growth for the chocolate industry, it goes without saying that the chasm between us and the global average is colossal. Could it be that we're inherently not a nation with a penchant for chocolate? 
There is only one real way to increase per capita consumption according to Syed. "Either you start offering more chocolate to those who already savour it, or you start introducing more chocolate to those who don't." It appears that Mondelēz has opted for the latter strategy. At surface level, Mondelēz's strategy does make sense.
When juxtaposed with the traditional mithai market, the chocolate market seems rather insignificant. Euromonitor pegs the chocolate confectionery market at Rs 35.2 billion, dwarfed by the Rs 40 odd billion quoted by Syed for the mithai market. While the report projects retail sales to escalate at a current value compound annual growth rate (CAGR) of 15% (2023 constant value CAGR of 8%), culminating in Rs 71 billion by 2028, it doesn't necessarily imply that mithai can't maintain its dominance.
But the million-dollar question is: can Mondelēz pull off this audacious endeavour? Well, before we attempt to answer that, we need to scrutinise their primary proposition to customers.
The anatomy of an ad copy 
There are two main ad copies relevant to us: one centred around a wedding, and the other revolving around Eid. There exists a third advertisement concerning Valentine's Day, however, despite its significance, it is not pertinent to our current discussion.
Both advertisements feature protagonists presenting a box of Cadbury Occasions amidst an atmosphere of uncertainty, deviating from the expected tradition of offering conventional confectioneries. Yet, in both instances, the recipients of these unconventional gifts commend the unexpected choice.

"When I first encountered this, it didn't strike me as surprising," states Umair Saeed, the Chief Operating Officer at Blitz Advertising. "India has been following this trajectory for a while now, and Cadbury, being a multinational corporation, tends to employ similar strategies across culturally analogous clusters," Saeed adds.
Look at it this way. Both creatives involve a younger individual introducing the product in the presence of an older individual who initially exhibits scepticism towards their unconventional choice. Now this is very important. Mondelēz has tactically selected a youthful figurehead for their campaign, and it's not merely due to the hackneyed belief of younger individuals being impressionable.
An impressive 56.64% of the demand for chocolate in Pakistan is driven by individuals who are 24 years or younger, per the data from Mordor Intelligence. Furthermore, with the median age in Pakistan being a mere 20.6 years, as stated by the United Nations Department of Economic and Social Affairs, it's clear that half the population is below this age. By connecting these facts, it becomes evident that Mondelēz has zeroed in on a potentially lucrative market segment.
"The lion's share of a chocolate bar category invariably belongs to the younger demographic," claims Saeed. "However, the appeal of chocolate transcends generational boundaries and cultural subtleties, necessitating a degree of mass targeting as well."
"They've endeavoured to persuade the family's decision-maker through their advertisements that this is an integral part of celebrations." He further expounds on how this aligns seamlessly with the cultural significance of these events — "the need to purchase, gift, and bring something sweet."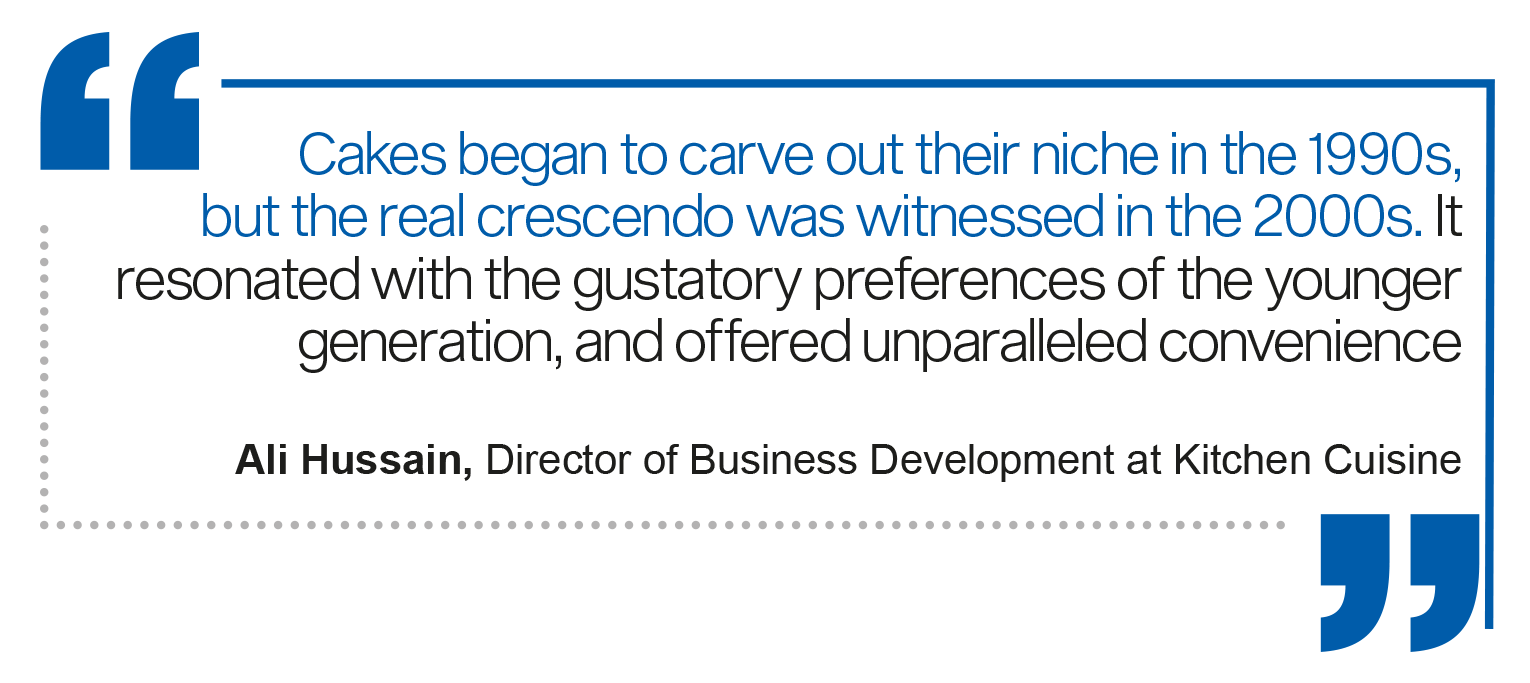 Now, Cadbury's brand ethos of disseminating joy is not a particularly distinctive brand position. Numerous other brands have made comparable propositions. However, their emphasis on cultural events is likely astute, given that these occasions are arguably the most reliable family gatherings throughout the year. If there's ever a time when one would need to bring something sweet, it would be during these instances.
Mondelēz is also acutely aware of this. 
"We've observed this shift already commencing, with consumers transitioning from mithai to cakes. Now, we aim to facilitate that switch," Syed affirms. This nugget of information is perhaps the most intriguing insight uncovered by Profit. It appears that mithai might not be the only target in Mondelēz's crosshairs.
Replicating what cakes did 
It seems like a foregone conclusion now, but how did cakes manage to get on a similar level to mithai at all? "Cakes began to carve out their niche in the 1990s, but the real crescendo was witnessed in the 2000s," begins Ali Hussain, the Director of Business Development at Kitchen Cuisine. "It resonated with the gustatory preferences of the younger generation, and offered unparalleled convenience."
Hussain then shifts his focus to the transformative role of social media. "The industry has reaped substantial dividends from social media. A casual scroll through Instagram or Snapchat would reveal a cornucopia of visually enticing and vibrant food items. However, these offerings often deviate from traditional culinary norms. Just look at the tidal wave of cafés we are currently witnessing." He observes, "In yesteryears, Gloria Jeans might have been a solitary contender, but now there's a plethora of options that defy enumeration.These establishments serve as popular venues for casual rendezvous or business interactions." 
Despite this Mondelēz is confident in its ability to go above and beyond — especially in Pakistan's smaller cities. In fact, Syed claims that the company is projecting a significant uptick in conversions in smaller cities. This is because in larger cities consumers are spoilt for choice. There are a number of chocolatiers, imported brands, and bakeries offering tantalising cakes. Just look at Karachi and Lahore where local chocolate specialists such as Laals or imported products such as Quality Street are considered up-market while Cadbury is more of a casual gift. 
This isn't the case in smaller cities, where Cadbury is the most alluring and accessible option. It is highly probable that individuals in Thatta and Karachi are consuming remarkably similar content on their social media platforms. Mitigating for  algorithmic adjustments, the majority of the content could well be identical. Content that gains popularity in Karachi could potentially create a ripple effect that extends to those of us endlessly scrolling in Thatta. It's not as if YouTube, Netflix or various local content creators are churning out bulk content tailored specifically for each city across Pakistan.
In fact, the more remote the area, the greater the potential benefits for Cadbury. To illustrate with our example of Thatta, it's more likely for residents to come across Cadbury throughout the city than say Lindt or Chashni.
Understanding limits 
At this juncture, one might naturally be inclined to inquire: why have the mithai establishments remained conspicuously reticent in our story? Despite our earnest attempts, we could not elicit a comment from them. Profit reached out to Bundu Khan, Chashni, Rehmat-e-Shereen, and Fazal Sweets, but our overtures were met with silence. However, a potential response can be inferred from the resilience of mithai in the face of the bakery boom.
How exactly has mithai managed to maintain its relevance amidst the burgeoning popularity of cakes?
Allow us to propose a query. Would you, dear reader, contemplate presenting a cake to your grandmother? Or at an engagement ceremony? Or perhaps at the birth of a child? While some of you might affirmatively nod, others would undoubtedly shake their heads. This dichotomy underscores how mithai has successfully withstood the onslaught of cakes.
"The selection of sweets is contingent upon the recipient's predilections. Barring those with a particular penchant for mithai, these confections have become occasion-centric. This is precisely why mithai has not receded into oblivion. It continues to be a staple for certain occasions, and is sold in substantial quantities when those occasions arise," explains Hussain.
"Whether it's weddings, baby announcements, nikkah celebrations, family events, or congratulatory gestures — mithai remains the preferred choice. Mithai establishments are acutely cognisant of this trend and have doubled down on their efforts over the past decade. They've refined their packaging specifically for these occasions and seize every opportunity that comes their way."
This is where the whole categorisation problem comes in. Cakes are typically bought for casual meetups, or sometimes business dealings. If you're visiting a family of four or five with whom you're not particularly intimate you're likely to opt for a cake or mithai. It's a safer option and would be perceived more as a gift. As the gravity of the situation escalates, so does the seriousness of the gift. Conversely, you're more likely to present chocolates to a close friend who actually likes them. At the same time, some of the new mithai places are coming up with fancier and more expensive products to reflect this seriousness. 
Assuming there is a hierarchy, what are the odds that Cadbury might actually end up even subsidising marketing efforts for the bakeries? Similarly, what if they do inspire a gift giving movement, but instead people also realise the hierarchy and opt for the product at the very top — mithai.
All of this then boils down to, can Mondelēz pull this off and how much money are they willing to burn in the process?
Can they pull this off? 
It would be rash to leap to conclusions at this stage, as Mondelēz has just begun to intensify its efforts in this realm. However, that does not bar us from indulging in some educated guesswork.
First and foremost, let us not disregard that Mondelēz is a financial colossus. Between 2018 and 2022, the company amassed an average sales revenue of Rs 12.5 billion, culminating in a staggering Rs 1.15 billion in earnings last year. While these figures are arduous to compare with those of mithai companies and bakeries, due to a scarcity of available data, one thing is glaring: Mondelēz is a force to be reckoned with.
Mondelēz already rules the chocolate industry. This venture into the gifting space is a bold move beyond their habitual turf. Even if they stumble in this new market, they have little to squander and deep pockets to fall back on.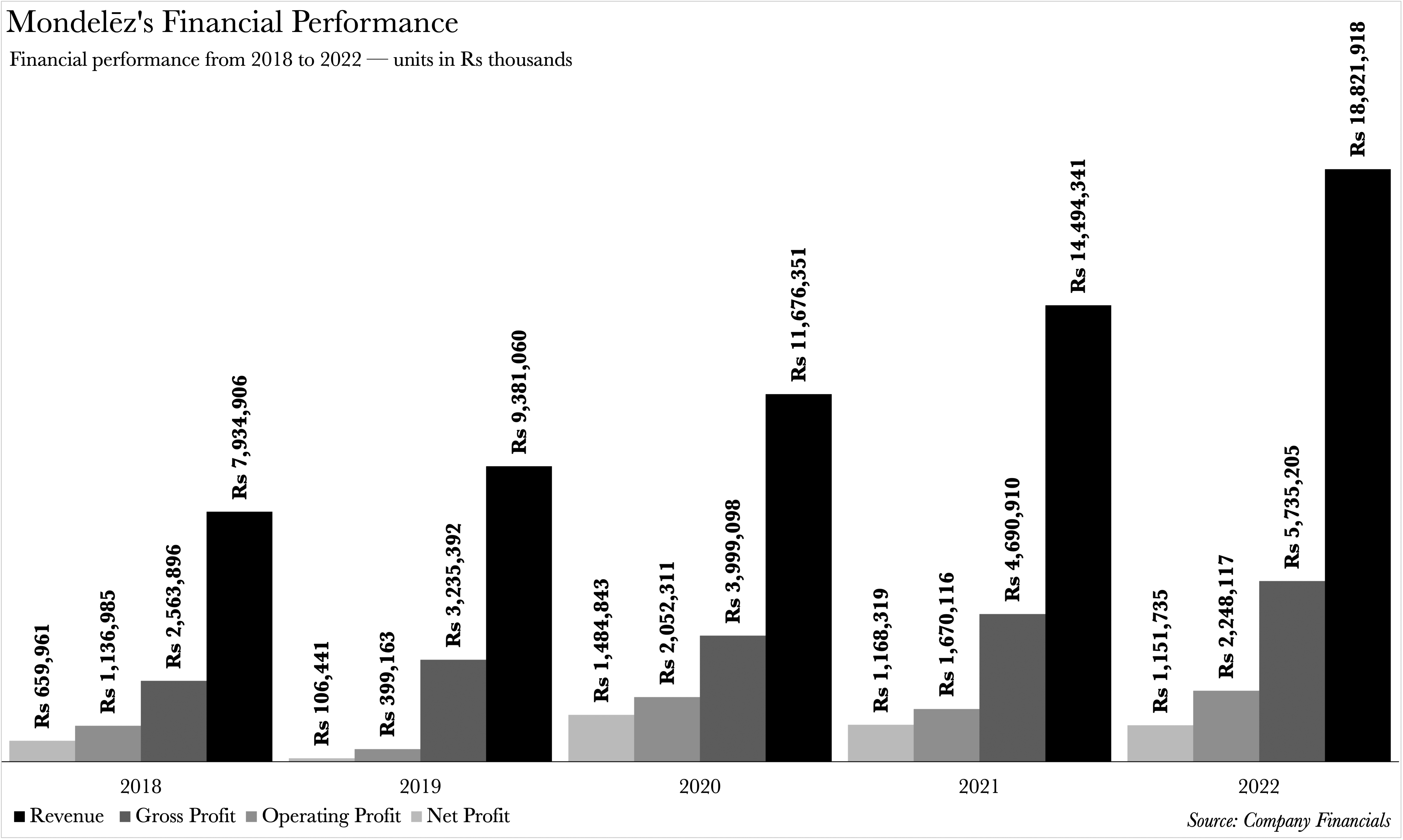 In fact, according to Syed, even if Mondelēz manages to capture just 5% of the gifting market, that's going to be a hefty sum given the enormity of the industry. In other words, any market share seized in this new space is a coup for Mondelēz.
So should the old guard of the gifting market be shivering in their boots? Quite possibly. There's a well-established order within the confectionery gifting market, and Mondelēz has the resources to either abide or overthrow it. One thing is indisputable: there's a giant on the prowl, and any mayhem it might unleash is not going to be in its own house.