It takes an extraordinary degree of tenacity to stage a demonstration in Pakistan during the blistering summer months. Yet, within a matter of weeks, citizens from all corners of the nation have taken to the streets to vehemently denounce their leaders for what they perceive to be unjustifiable increases in their monthly electricity bills and a government that is woefully oblivious to their suffering. 
The outrage sweeping the nation is palpable. Protesters are no longer appeased by the hollow gestures of solidarity from those in power who pledge to switch off their air conditioning. They demand that government officials be stripped of their access to free electricity and be made to pay the same rates as ordinary citizens. 
It would be unwise to intervene in any of these demonstrations and inform the protesters that their call for an end to electricity privileges may not yield the desired results. But that may well be the case. No unit of electricity is truly 'free'. In fact, revoking access to these units for certain individuals may even increase the government's expenses and burden the very same protesters with additional taxes. 

This is not to say that their anger is unfounded. It is difficult not to feel incensed when some are able to enjoy the luxury of air conditioning while others are forced to adjust their business hours. However, not all 'free units' are even equal — and tackling the behemoth that is our crumbling electricity sector is a far more complex task than we might imagine.
Looking at the damage 
Article continues after this advertisement
So, how many people in Pakistan benefit from free electricity? The answer is not straightforward. Due to a lack of transparency and data, it is difficult to estimate the exact cost of free electricity being provided to government officials, power sector employees, the judiciary or the military.

The Power Division estimates that 15,971 employees from BPS 17-21 consume 7 million units of free electricity per month, and 173,200 employees from BPS 1-16 consume 330 million units of free electricity per month. Sadly they do not provide a more granular look into the matter.  
According to the National Electric Power Regulatory Authority's (NEPRA) State of Industry Report for 2022, serving and retired employees of power distribution companies (DISCOs), generation companies, the National Transmission & Despatch Company (NTDC), and the Water and Power Development Authority (WAPDA) are entitled to free electricity units. 
The amount of free electricity provided amounted to Rs 6.4 billion in fiscal year 2022 (FY). This figure, however, excludes the electricity provided to WAPDA employees. How much do they consume? No one knows. NEPRA is yet to conduct that exercise. 
The report also reveals that electricity consumers are paying for the pension benefits of retired employees of these power companies. The report elucidates on the total pension benefits, including free electricity, of six DISCOs located in Gujranwala, Quetta, Hyderabad, Sukkur, Multan, and Peshawar. 
Across these six DISCOs, the benefits in terms of just electricity units given to retired employees stand at an average of Rs 664 million per year from 2017 to 2025.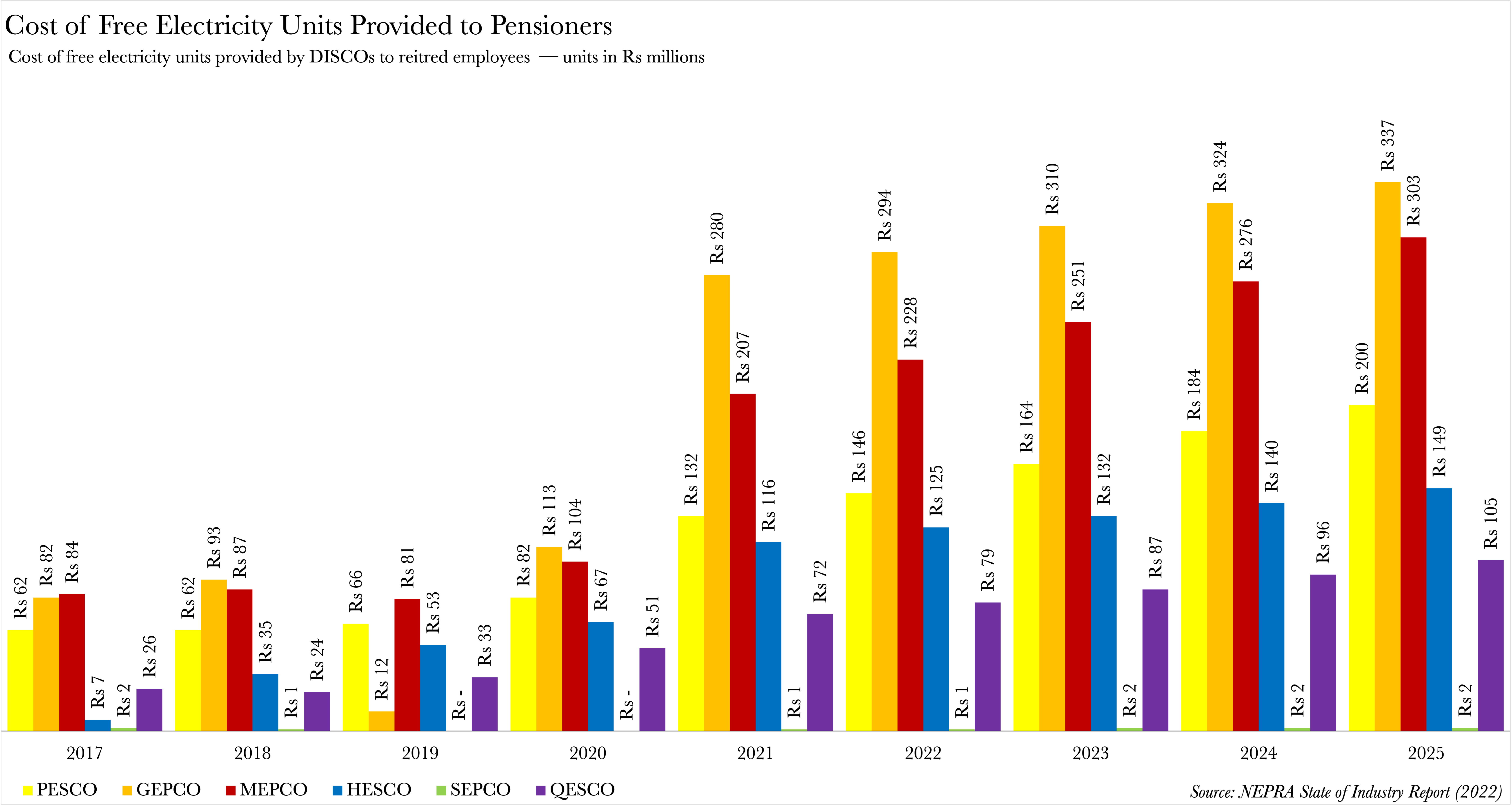 However, the true scale of the numbers remains elusive. The report misses out on the larger DISCOs such as those located in Faisalabad, Islamabad and Lahore. 
All the numbers that we've discussed till now are in one way or another paid for by the average Pakistani. However, in different ways. Let's start with the ones whose perks are directly financed by our monthly bills: power sector employees. 
The cost of our electricity employees on our monthly bills 
"The cost of the electrical units provided to all employees across Pakistan's energy infrastructure is incorporated into the operations and maintenance (O&M) charge, as part of the electricity tariff," informs Dr Fiaz Ahmad Chaudhry, Director of the LUMS Energy Institute and former Managing Director of the NTDC.
Now this O&M charge might come as a surprise to most of us, because we don't actually see it in our bill. So, what is it? 
"Essentially, all companies across the generation, transmission, and distribution supply chain receive a margin for these costs, which they can bill as part of the tariff for the electricity they provide. The O&M charge is embedded into the base tariff of the electricity we consume," explains Chaudhry. How much does the O&M charge add to the current sky high tariffs? 
NEPRA tentatively estimates that these electricity infrastructure employees cost us approximately 30 paise per unit per month on average across FY 24 through their free units.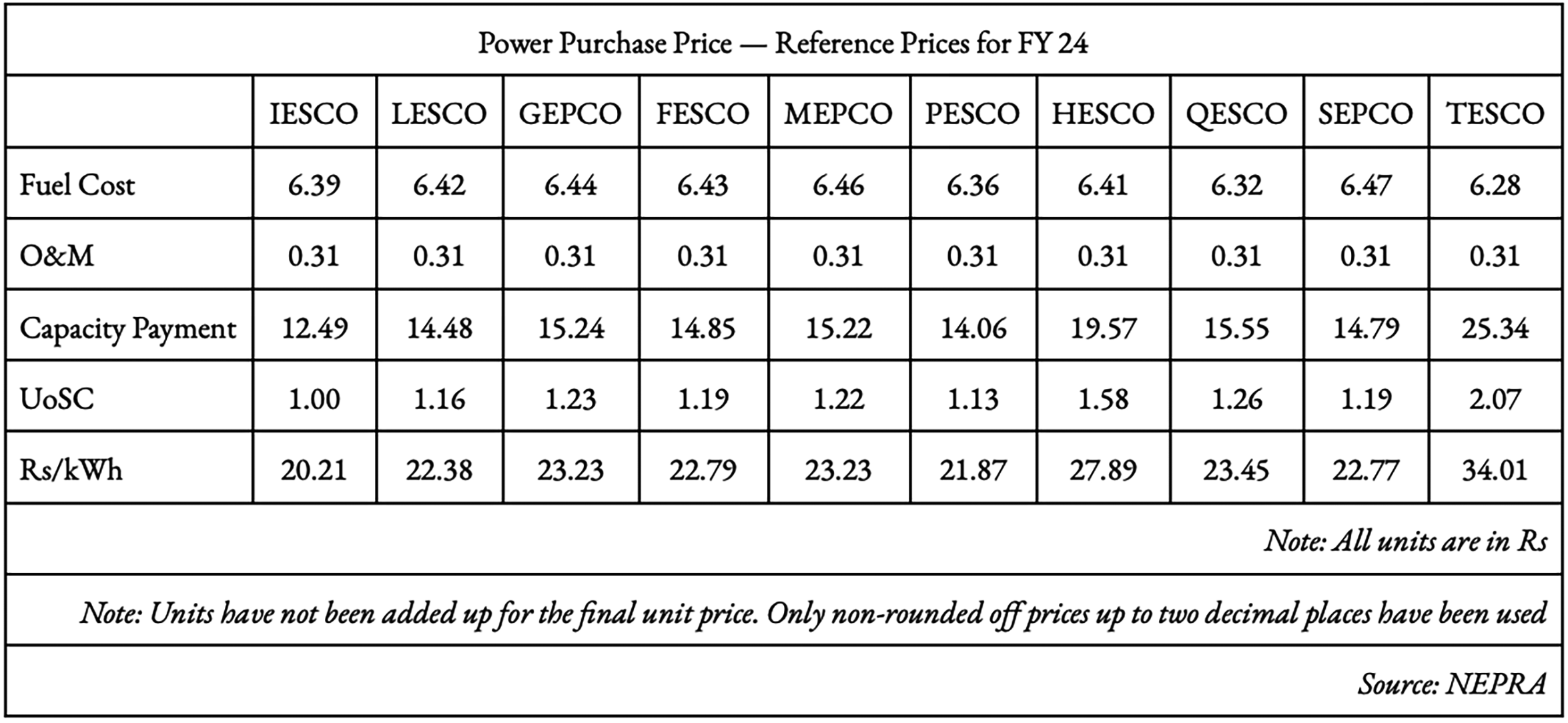 Examining NEPRA's reference power purchase price (PPP) across all DISCOs, excluding K-Electric, the O&M charge remains consistent at approximately 30 paise throughout FY24. Now, what on earth is the PPP? 
The PPP encompasses the cost of generating electricity, the capacity charge, transmission costs, and market operator fees. It represents nearly the final tariff of electricity without taxes. The only additional costs are distribution and supplier margins, and any prior period adjustments. However, it accounts for 90% of the final tariff without those two costs.
For reference, the current peak price per unit is approximately Rs 42, while the off-peak price is approximately Rs 36. "People seem more intrigued by the cost associated with free electrical units than with the staggering Rs 2 trillion in circular debt," muses Chaudhry.
Even if we were to double the O&M charge, it would still only be approximately 60 paise of the tariff. Removing it may not be easy and could have far-reaching consequences beyond just the O&M cost.
Before we delve into that, let's discuss another public sector that receives these units — arguably the more glamorous, and one that people seem eager to strip this privilege from.
Our non-electricity employee beneficiaries 
The exact specifics of the free electricity units allotted to every office holder in Pakistan remain a mystery. While rough estimates exist for individual offices, no large-scale exercise has been conducted to uncover any meaningful data.
However, let's begin with a startling revelation: not all public sector employees receive free electricity units.
"There is no universal provision of free electricity units for government employees. However, 
some public sector companies/corporations, including the power sector, may have extended this facility to their employees," clarifies Hamed Yaqoob Sheikh, former Secretary of Finance to the Government of Pakistan.
"The Secretaries of Provincial Governments authorised a utility allowance that has remained stagnant at Rs 30,000 ever since it was granted in the 2000s. This amount covers utilities (electricity, gas and NTC/PTCL bill). The officers are not allowed to withdraw the allowance and are reimbursed. Any remaining funds at the end of the month lapse and cannot be carried over or withdrawn," Sheikh adds.
"The Chief Secretary, Chairman Planning, and Senior Member of the Board of Revenue across the provinces are the only ones whose entire utility bills — electricity, gas and NTC/PTCL — are fully paid for by the government," Sheikh continues.
It is worth noting that under Shahbaz Sharif, the provincial government did introduce a similar utility allowance for BPS 1-16 cadre employees, albeit at a lower and variable rate. 
However, a simple internet search reveals that information on the free electricity units received by the President of Pakistan and Judges of the High Court and Supreme Court is readily available. Numerous other individuals can also be found. So, who is footing the bill for them alongside the individuals highlighted by Sheikh?
These expenses are budgeted as part of the annual Budget. Sheikh explains that the Ministry of Finance pays a lump sum, which relevant Departments are then free to allocate as they see fit. They pay energy companies for the units used by individuals to whom they have allocated the allowance as part of their department-specific compensation packages.
Should we care about this expense if it doesn't appear on our monthly bills? 
"As long as a department pays their bill to the electricity sector, why should we worry about how much of its funds it allocates to this?" posits Chaudhry.
The issue is not so simple. These are public office holders, not private companies doing as they see fit. "Yes, there is a conflict when compensation packages lead to a widening disparity between employees of certain organisations and cadres and the rest of society," Chauhdry continues.
Ultimately, with this set of individuals, it becomes a conversation about public sector remuneration packages.
However, what if the Government were to wake up tomorrow and abolish this particular privilege? That is, after all, what the caretaker Prime Minister seems to be contemplating.
The pandora's box that eliminating free units opens 
Let's start with the genesis of free electricity units. 
"In 1974, WAPDA concocted this scheme for its employees as a mere accounting expedient," highlights Chaudhry. He adds, "At that time, they surmised it would be more convenient to remunerate employees by allocating electricity units rather than incessantly revising their pay scales." 
"There was also an aspiration to deter employees from resorting to fraud or pilferage in any way," he further reveals.
WAPDA's innovation was perhaps the epiphany that Pakistani human resource managers needed, as the rest of the country soon emulated them.
However, at its core, this scheme is simply an accounting facility that liberates human resource departments from the onus of constantly updating pay scales for their employees K-Electric does not provide its employees with these units, but their human resource department might be more comfortable with this accounting exercise than its public sector counterparts. That's not to say it cannot be done.  
"I believe there is a need to scrutinise and analyse all the perks being granted by the public sector," proposes Sheikh. He suggests, "It would be more prudent to monetise these privileges and pay individuals upfront for housing, electricity, and so on."
Herein lies the quandary. These privileges could be abolished, but we would then need to monetise them to avoid risking individuals simply renouncing their jobs.
The Government of Pakistan can still deliberate over how much it wants to monetise perks for non-power sector employees. After all, these perks are funded by the aforementioned annual budget, which is sanctioned by Parliament.
The argument becomes more intricate when it comes to power sector employees. Not only do we risk employee resignations, but there is also the possibility of a general commotion. Allow us to explicate.
Profit conversed with a very senior individual at WADPA who outlined their remuneration contract on the condition of anonymity. They confirmed that there is nothing precluding the Government of Pakistan from terminating access to free electricity units at any time since these are not baked into base compensation.
They further confirmed that employees could not take legal action against the Government since this perk is not part of their base pay.
However, they did confirm that WAPDA employees could take legal action against the Government on grounds of discrimination. They rightly pointed out that all public sector companies in Pakistan compensate their employees through privileged access to the final product they produce. For example, Pakistan International Airlines provides free or discounted tickets.
Their argument in court would be: why are they being denied access to the final product when no one else is?
Mind you, this is on top of any possible resignations that might ensue.
So where does this leave us? At the end of the day, even if free electricity units are removed, the Government of Pakistan will foot the bill one way or another. The only scenario where this does not seem to be the case is one where mass resignations occur due to the Government ending this privilege altogether without providing similar compensation.
This is on top of potentially upending the entire public sector utility remuneration system.
There is a moral argument for the Government of Pakistan contemplating this option. After all, it's difficult to sympathise with a protestor debating whether or not to turn on their fan when your air conditioning is paid for by someone else.
And the thing is, if they want to, the Government of Pakistan could do it.
"Change always hurts," Sheikh expounds, "But that's the Government's job: to manage change. If it is to be done, it should be done in one fell swoop with consistency."
The economic argument is dubious. The paltry 30 paise in our tariffs for the remainder of FY 2024 are the only tangible savings we can identify. Yes, half of our electricity bills are just taxes to fund an irresponsible sovereign and reducing the spending by the agents of the sovereign would be beneficial. But over Rs 5 trillion of our Rs 7.3 trillion budget for FY 2024 is just debt servicing — so are we missing the forest for the trees?