Daewoo, Thar Coal, and K-Electric. Until a few days ago this was the investment portfolio of AsiaPak Investments. That is until the company announced they had acquired Bol TV. 
That in itself should raise the alarm for more people. Since its inception Bol TV has been mired in multiple scandals ranging from accusations of misconduct and bad journalism to staff protesting against the management for not paying salaries. The television channel which started off with a bang by giving politicians their own shows and hiring all the big names in the industry quickly found itself facing a credibility issue. 
The fall from grace that followed was matched only by the channel's financial woes. So why would anyone want to buy Bol out? According to Sameer Chishty, the man who will now be running the show, AsiaPak plans to gut the channel and build something new out of it.
But can they turn it around for a profit? The possibility is doubtful. Buying any kind of media organisation is a bad idea in this day and age. Journalism all over the world has suffered as a business and there is little hope in buying a television channel and making a profit off of it. Even if one pulled it off the future would be very uncertain. So what other reason could AsiaPak have to buy Bol News?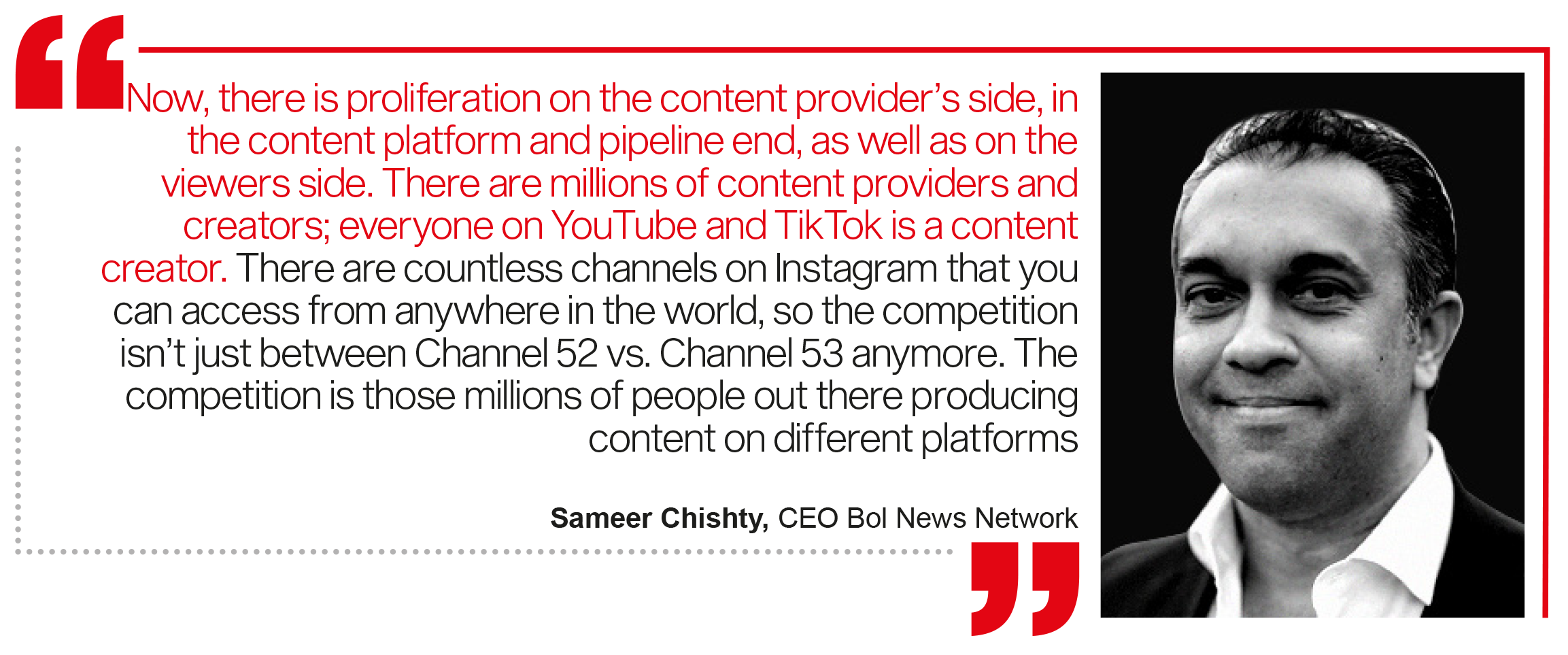 Some might say the answer is influence. After all, the only people buying television channels in Pakistan right now are politicians and businessmen that need the protection a media house can offer. Just look at Aleem Khan, the former PTI stalwart turned IPP leader who owns Samaa news. Or for that matter Blue World City, which is a real estate project that also operates a television channel by the name of Suno TV. But is AsiaPak looking for similar protection or do they have other reasons for acquiring Bol News? Profit sat down with Sameer Chishty to find out. 
Article continues after this advertisement
Attack dog or guard dog? 
There are two reasons to own a television channel in Pakistan. The first is protection. People, particularly powerful people, often find it useful to have a voice that will stand up for them if they ever get in trouble. The other possibility is a more proactive approach. A sort of 'get 'em before they get you' philosophy if you will. 
Even though the company has not disclosed the exact amount of the transaction, sources close to Chishty told Profit that the buying price and the capital injection by AsiaPak is collectively estimated to be around $27 million. That is a heavy price to pay for some protection. But when you're dealing in even bigger numbers, sometimes it is worth it. And in recent days AsiaPak has very much been in the limelight. 
AsiaPak investments, owned and run by two brothers Shaheryar and Sameer Chishty, is a private investment firm with operational assets in Pakistan and Hong Kong. The company has an expansive portfolio of prominent investments in sectors that include infrastructure, energy, power, transport, logistics and technology.
The company is the owner of Daewoo in Pakistan and has significant interests in multiple energy projects including mining rights in Block 1 of Thar Coal. K-Electric and Bol network are the newest companies the investors have acquired in recent years. 
Sameer Chishty is the Executive Chairman of AsiaPak investments, a General Partner at SparkLabs Global Ventures, who formerly held the positions of Partner at Bain and Company, Senior Executive at Standard Chartered Bank, Managing Director at Merrill Lynch and Partner at McKinsey and Company. He is a seasoned investor, who invests in infrastructure and technology ventures. 
"The goal really is to create not necessarily the biggest or best known channel because that's more of a job for the existing media giants, who I have learnt a lot from and have respect for. But we don't necessarily want to be like them," Sameer Chishty tells Profit. 
Articulate and straightforward, Chishty asserts that he doesn't have or want political clout. "I am an investor, I am driven by data and analytics which make me a rational decision maker. At AsiaPak we invest in areas where others fear to tread." That has been the modus operandi of AsiaPak. They take an approach of adopting orphan assets — meaning they acquire companies which they feel have the potential to be profitable but just haven't received the proper guidance and leadership. 
He gave the example of another portfolio company Daewoo, which according to Chishty wasn't a fashionable business when AsiaPak came in. "However we were able to build Pakistan's biggest transport company, with inter and macro city services, as well as a cargo and logistics business. And we did this because Daewoo is a data driven business that uses new technologies, like telematics and AI to plot the routes and schedules, which did not exist in Pakistan before." 
"There is room for a tech-driven content platform, where more so than the nature of content, it is about how and to whom the content is delivered. And that is what we are doing with Bol. It is a technology play."
He explained that AsiaPak is more interested in developing the underlying infrastructure and processes by which a piece of news, opinion or entertainment is delivered to a particular segment, in a streamlined and targeted way. According to Chishty, technology has embedded itself in most spheres of life but has yet to embed itself sufficiently in the media world. "It's going to happen and we understand that it is risky but the rewards are going to be huge in terms of customer loyalty and shareholder value," he concluded. 
Chishty agreed that there are many channels that are owned by politically driven or self-serving individuals, but insisted that Bol is not meant to be a political platform for AsiaPak's business interests or the owner's political beliefs. "People shouldn't care about what I believe in because I'm an investor and all they should care about is how my investments can help develop a better basic infrastructure. We are in this for not the usual reasons. We want to give people what they want using technology and to create a company that can list on the PSX and be popular within the segment we want to target. The real competition is to get the most awake hours of people's time to engage with the media we provide to them."
How does Bol complement AsiaPak's other investments? 
When you look at AsiaPak's investment portfolio, you will see businesses that span over sectors including infrastructure, energy, power, transport and logistics. A media network is the last thing that fits this expansive portfolio. 
When Profit asked Chishty how he justifies his recent acquisition and how it relates to the existing businesses that fall under AsiaPak's wing, he said that, "They might seem unrelated, I agree but there are uniting factors. Firstly, in all our investments, a common function is creating value through better use of technology and secondly the overarching goal is to build the country's basic infrastructure."
According to Chishty, Pakistan severely lacks a number of baseline services that don't exist or are underdeveloped. He calls them the basic infrastructure, which would include electricity, water, gas data and transport. "These basic services and giant building blocks in the economy need to be bigger and a lot more robust, affordable and reliable," he explained.  
He continued, "These basic building blocks are where big opportunities lie and our goal for the past few years has been to build these basic blocks." Chishty used the analogy of the iPhone problem to explain his point. "Imagine that you have developed a software or an app. If the iPhone or smartphones don't exist, there will be little to no value of your application. But when you have the AppStore or PlayStore, suddenly your app has massive reach and then your job is to make that app good and offer a reasonable price." 
Chishty highlighted how a robust infrastructure with all the necessary services is easily accessible will open a world of opportunities. He believes that having scale is necessary to ensure that you get cheap and reliable services in all areas be it transportation, electricity, land or data. "That's how we think all of these are connected and we provide a base infrastructure upon which others can build super-value-added businesses and applications, but that's not our forte." 
With Daewoo, the company aims to fix the country's transportation infrastructure. Similarly, with coal, they aim to solve the energy problem. "When we did Thar coal block 1, people said, "Oh my God, coal?" and I said, yes Pakistan needs cheap energy! It took us eight years, which is a lot longer than we expected, but what we delivered was 1320 megawatts of the cheapest energy into the grid. The good news is that the incremental output is much cheaper than the first set of output if you consider economies of scale and the subsequent benefits. So, if we convert all the coal power plants to Thar coal instead of imported coal, we can lower the cost of electricity." 
So, what unites AsiaPak's investments that seem unrelated on face value, is the fact that each business comprises an important building block of the economy's basic infrastructure, which the investment company aims to develop and improve. According to Chishty, it's a technology business and ultimately it's a customer business. 
The media landscape currently, according to Chishty
Let's understand AsiaPak's investment in Bol as a technological play, as they call it. When Chishty said that he wants to build a technology and data backed infrastructure for content creation and distribution, we had one pressing question. 
Why invest in a legacy media company? 
Before answering the question, Chishty recalled that when he was growing up there was one TV in their house and only one TV station called PTV but over the years, expectations have changed dramatically. 
"Now, there is proliferation on the content provider's side, in the content platform and pipeline end, as well as on the viewers side. There are millions of content providers and creators; everyone on YouTube and TikTok is a content creator. There are countless channels on Instagram that you can access from anywhere in the world, so the competition isn't just between Channel 52 vs. Channel 53 anymore. The competition is those millions of people out there producing content on different platforms." 
He also highlighted how there is a massive increase in the platforms that deliver the content. Social media applications and digital media platforms have grown exponentially and people are not loyal or exclusive to just one platform.
"They can knit something together by using a combination of different platforms to create a brand for themselves and something much more powerful than just having a show on TV. So, all these content creators and providers mix in unique ways, and gone are the days of one production company for one TV station into one TV," Chishty explained. 
"The screens have also grown and come in all different shapes and sizes now. One household may have multiple phones, TVs, tablets and computers. But then there are households in Pakistan where there is one, maybe two screens if they're lucky." 
He maintained that the difference by device ownership or proxable income and affluence is just one facet. There's also a psychographic element of what different people want, in terms of the combination of news, information and entertainment, according to Chishty. He believes that people's expectations from news have changed, whereby news isn't just about news anymore. "Not everyone wants to watch politicians screaming at each other anymore. There's a segment that wants to hear political views, discussions engaging in how opinions distort news and a growing demand, especially in younger segments, those below 35, for technocratic and intelligent debates." 
Chishty shared that their research suggests that viewers prefer to know more than just news of what's happening. "They want to know how it affects them and what it means for them, delivered to them in a simplified or clarified way. All that combined is a tall order. So, we want to provide news that's important for people to know just so they can be functional adults in the society, but also news that they are interested in knowing, which can differ from person to person or segment to segment." 
Chishty's plans for Bol
The initial aspect of their plans involves taking a broad perspective on the entire media value chain, which is currently undergoing swift and substantial transformations. "Whether it's in the realms of production, delivery, or consumption, this landscape is evolving at a remarkable pace," said Chishty. "Our aim is to spearhead these technological advancements and innovations. We've yet to explore the profound potential of technologies like AI, limitless bandwidth, and interactive media," he added.
It is crucial to emphasise that technology is the cornerstone underpinning this entire process and value chain.
Second is the asset itself. Chishty believes that Bol has the best technology for this job, at least in Pakistan. This involves the entire technological backend of delivering content through a channel and enabling people to consume said content on different platforms. "The studio, production, broadcast facilities, as well as the internet, the digital media and the social media teams at Bol are second to none in the country and the proof is in the way that they have efficiently built amazing technologies in-house and adapted external technologies."
He believes that Bol has the strongest technological platform for creating, producing, delivering and consuming media. 
According to Chishty, the whole concept of a data and tech driven system of content generation and provision is to hire experts and empower them, as well as to use analytical techniques and professional management techniques to decide what content should be delivered on which platform.
"Discovering what psychographics and media preferences clusters of consumers have is the job of our marketing team and the job of our content team is to create that content and partner with production houses to produce that content. And the job of our news and entertainment channel is to put that out there and for the distribution team to make that content available to the right segments within the digital space," he explained. 
"My job is to enable all those capabilities by making sure that all the technology is available and cutting edge. We will provide the capital for the team to do all this wonderful work that they've successfully argued for with data and analysis, coupled with the art of their experience," he concluded. 
So, basically the media landscape has experienced a drastic change, but broadcast has so far taken a backseat to this development. AsiaPak's acquisition of Bol involves assisting the technological development within this sector to match the technologies used by broadcast media around the world. 
A clean slate? 
Chishty and his new team have big plans for Bol. Considering their past investments, one thing about the Chishty brothers is that when they take on a new challenge, they deliver. Consider the example of Daewoo, which started off as an inter-city transport service that would go to only 11 cities. It is now an inter-city and metro service that spans over 55 cities, along with an additional courier and cargo business arm, which according to Chishty will grow as the roads infrastructure also improves.
Moreover, after the acquisition of K-Electric, the company has proposed to the government an ambitious plan involving the conversion of the 660mw Jamshoro supercritical imported coal-based power plant into indigenous Thar coal for the next thirty years.
However, Bol is a whole other ball game, with its poor reputation, controversial past and the subsequently terrible brand equity. Profit asked Chishty how he plans to shed the baggage that he inherited along with Bol's cutting-edge technology. His response suggested that despite it being a challenging task, he is confident that they will overcome it.  
Chishty proclaimed that, "I think it's time to turn the page. I cannot comment on the past because I wasn't here. It is important to understand there are places where change is welcome and necessary and then there are places where no change is needed. We have installed a new ownership structure, with me being the newly installed chairman and CEO. We will be announcing a new board of directors and an executive team soon."  
According to Chishty, the new executive team consists of individuals that have sterling professional credentials and he recognises that there were some people at Bol who believes to have outstanding technical skills, creativity and work ethic that he is eager to work with. He also shared that the company has received applications from promising candidates who wish to work with Bol under the new ownership. "The overwhelmingly positive response from people shows that it is time to move one from the past and focus on creating a better data and media infrastructure."
Chishty, refusing to comment on the scandals involving the previous owners of his new company, shed light on some of the positive aspects of Bol to justify his acquisition. "Apart from all the bad things that have come to light in the past, it cannot be dismissed that Bol has a world class technology platform that the founders have built. It is not easy to build something like that. We have and will continue to make necessary changes and regear into a fresh direction but hold on to what's valuable and has worked in the past. The idea is that with the capital we are injecting and the direction we are going in, we hope that people will see the opportunities and the value that we will be offering," he stated. 
When Profit enquired whether a rebranding is to be expected, Chishty answered, "I have been involved in 25 acquisitions as an advisor, as an executive and as an investor and I've learned a few things, by making mistakes, as well as by being part of spectacular successes."
The first thing he said one does after an acquisition is to take a hippocratic oath. "This is an oath where you sincerely pledge to do no harm. There are some terrific talents inside Bol, who we have retained and want them to come to the forefront. Once we have 'done no harm,' then we start focusing on the value. We aim to create value by partnering with developers and content creators, some in house, some outside, some in Pakistan, others abroad, and put them in front of our audience."
The question now remains; will Bol be able to have a fresh start and will Chishty be successful in his ambitious endeavours to revamp the network into a technological swirl pool of content generation?