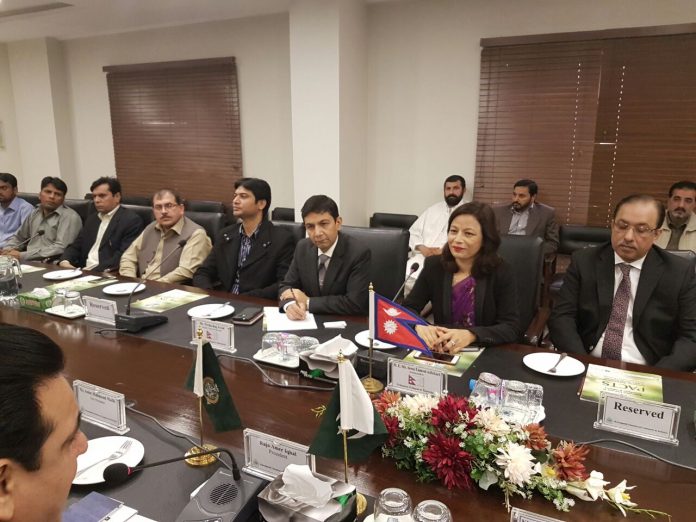 Nepal's Ambassador to Pakistan, Ms Sewa Lamsal Adhikari said here on Monday that Pakistan and Nepal had a tremendous potential in areas of trade, tourism, investment and cultural promotion. Also, she invited the business community of Pakistan, including Khyber Pakhtunkhwa to explore investment opportunities in her country.
Addressing traders' community and elected office bearers of Khyber Pakhtunkhwa Chamber of Commerce and Industry (KPCCI), the Nepalese ambassador said that the people of Pakistan were vibrant and innovative in business enterprises with an established tradition, proven skills, innovation and craftsmanship in the region and beyond.
She said both the countries had signed a Bilateral Trade Agreement (BTA), which provided MFN treatment on export and import of goods and commodities.
She also highlighted the fact that Pakistan and Nepal had established a Joint Economic Commission (JEC) at finance ministers' level besides other several bilateral mechanisms aimed at enhancing bilateral relations.
The Nepalese ambassador invited the business community of Pakistan to visit her country and explore the vast investment opportunities in the diverse array of fields there.
She said Nepal had a friendly visa policy for tourists and businessmen and Pakistani tourists could easily get a tourist visa upon arrival.
She said that trade was an important aspect of bilateral relations in the today's interdependent world and an integral part of sustainable development. She underscored the need for increasing volume of bilateral trade, tourism, investment and people to people relations between the two friendly countries.
She said "We need to invest our efforts for research, market survey and promote frequent interactions and meetings between the business communities and host trade fairs, exhibitions and promotional activities. The promotional events will not only help to identify potentially tradable products between the two countries but will also provide an opportunity to build a closer business link between stakeholders."
She said Nepal was well-known for its best organic tea, coffee production, Pashmina products, woolen carpets, handicrafts, jewelry, optical lenses, papers products, mechanical herbs etc., while Pakistan is very famous for products like leathers, textiles, machinery and parts, medicines and medical equipment, shoes, sandals, dried fruits etc, adding leather and textile products were very popular in Nepal and both the countries could take advantage of each other potential by increasing volume of their exports.
She said the foreign companies registered in Nepal could purchase, own and sell land and her country's laws assured security for industries besides the guaranteed security of investments against nationalisation.
She said the government of Nepal had opened up almost every sector for foreign investment including manufacturing, hydropower, tourism, IT, mining and agro-based industries and that recently the Nepalese Parliament had endorsed the SEZ bill, which provides strong incentives for industries including liberal labour law.
She said both the countries were enjoying cordial and friendly bilateral relations since the establishment of diplomatic relations and shared identical position and views on multiple regional and global forums including the UN system.
The ambassador highly lauded the support provided by people, business community and the government of Pakistan for providing rescue and relief aid in the aftermath of the massive earthquake in 2015.
She said doors of Embassy of Nepal were open to facilitate traders and business community of Pakistan including Khyber Pakhtunkhwa.
KPCCI President Haji Afzal in his addressed underlined the need for increasing volume of bilateral trade, exchange of traders' delegations, holding of trade fairs and events, business conferences and people-to-people contacts between the two countries.