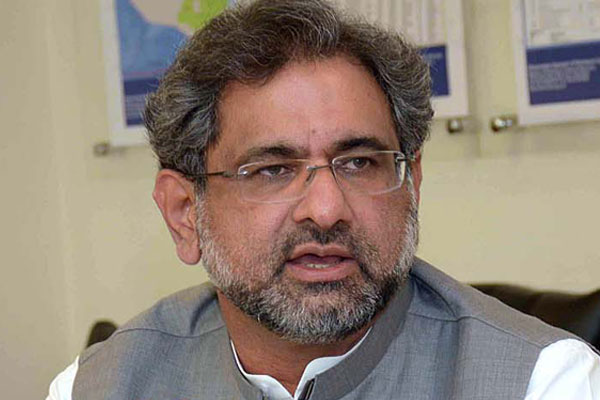 Islamabad: Prime Minister Shahid Khaqan Abbasi directed on Friday the recently created Ministry of Water Resources to focus on ongoing development projects and ensure their timely completion.
Chairing a meeting on the Water and Power Development Authority (Wapda) affairs at the PM Office, he said the new ministry has been constituted to resolve issues related to water storage and supply more efficiently.
"We must make the Ministry of Water Resources productive and renew our efforts in this regard," the prime minister said, noting that water security has been neglected in the past with hydroelectric power generation gaining the entire focus.
Wapda Chairman Lt General (Retired) Muzammil Hussain presented an overview of current operations and briefed the prime minister on the ongoing water and power projects.
He also informed the PM on the status of planned projects with special focus on water resource management. Hussain assured him that all the strategic projects conceived by the present government are on targets in terms of timelines.
The meeting was informed that among the ongoing projects, Kachhi Canal was ready for inauguration. The government plans to irrigate 72,000 acres of land in Dera Bugti through the canal, whose construction cost has increased over the past 15 years.
The prime minister expressed satisfaction over the project and said the entire demography of Dera Bugti and other regions of Balochistan would improve once virgin lands are irrigated.
The Wapda chairman also briefed the meeting on the 969-megawatt (MW) Neelum-Jhelum Hydropower Project and said the first unit of the plant would be commissioned on schedule in February 2018.
Regarding the 1,410MW Tarbela IV Extension, the chairman informed the premier that its first unit would be ready for generation by February 2018, second by April 2018 and the third by May 2018.
The meeting was also briefed on the progress of other planned projects including Dasu Hydropower Project and Diamer-Basha Dam project. The prime minister directed Wapda to prevent frequent cost escalations without compromising on the quality of projects.
He also directed the officials to constantly monitor the progress of planned projects and ensure discussion on the projects during the next meeting of the Council of Common Interests to thrash out consensus on the outstanding issues.
"Our focus on Diamer-Bhasha must be renewed and all the bottlenecks must be removed," the prime minister said, adding that indecision is out of the option.