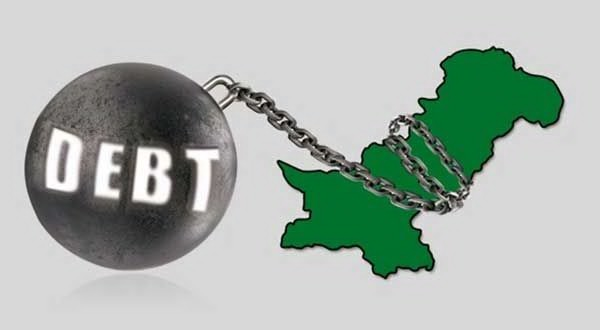 Islamabad: A local newspaper reported a massive surge in short-term public debt share in total domestic debt to Rs6.6b or 44.2pc by end of June 2017.
Latest data released by State Bank of Pakistan reveal a major rise in total domestic debt to Rs14.9t, increasing 9pc compared to same period last year (SPLY).
Also, this has resulted in the reduction of maturity period of total domestic debt, besides the rising re-financing and rollover possibilities facing Pakistan.
By end of financial year 2016-17, short-term domestic debt rose by Rs1.6b or 31pc within a span of a year. During FY 2015-16, the figure of short-term debt had stood at 36.7pc or Rs5.1t.
This rise in short-term debt has been fueled by Market Treasury Bills (MTBs) to finance depleting forex reserves and cash flows. Government of Pakistan raised its total borrowings through MTBs to Rs4.1t, constituting 27.5pc of the total domestic debt.
To refill cash coffers, MTBs worth Rs2.5t were issued, resulting in a net increase of Rs452b in one year.
A major spike in total debt and liabilities to Rs25.1t by end of FY 2016-17. 78.7pc was the GDP of the country's total debt and liabilities, which is considered inconceivable for developing countries like Pakistan.
This change in makeup of domestic debt highlights the failure of the government to enact its Medium Term Debt Management Strategy 2016-19, whose purposes was to increase maturity profile for decreasing refinancing risk.
As a result of low interest rates, short-term loans are much cheaper to obtain compared to long-term debt, but carries huge refinancing repercussions.
Compared to 6.4-7.93pc borrowing rates for Pakistan Investment Bonds (PIBs), MTB's average borrowing cost for the government is a touch above 6pc.
Data released for September 20th by SBP showed that banks were reluctant to invest in long-term papers, as the average three to ten-years PIB rose between 0.32-0.61pc in the latest auction.
Long-term debt having a maturity period between one to ten year saw a reduction to Rs8.3t from Rs8.62t, resulting in a decrease of Rs326b at end of FY 2016-17.
Total domestic debt share constituted a 55.6pc by end of FY 2016-17, compared to 63.6pc in SPLY.
Also, the share of federal government issued bonds saw a reduction to Rs4.8t by end of FY 2016-17 in comparison to Rs5.2t, despite an overall rise in public debt.