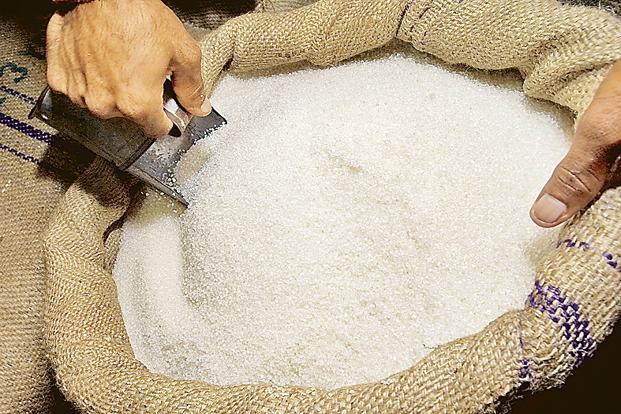 ISLAMABAD: Federal cabinet's economic coordination committee (ECC) has allowed export of 0.5 million ton (MT) of sugar (Crop-Year 2016-17) under certain conditions, it was learnt reliably on Thursday.
A copy of the official document available with Pakistan Today shows that ECC of the federal cabinet while considering the summary dated September 12, 2017, submitted by Ministry of Commerce regarding the export of sugar (Crop-Year 2016-17) has allowed export of 0.5 MMT of sugar on certain conditions. The ECC also decided that a committee already constituted by the PM will meet during the first week of every month to review the sugar stock, export and price situation.
Similarly, it has been decided that in case of any abnormal increase in the domestic price of sugar from the level of September 7, 2017, the committee would recommend to the ECC, the stoppage of further exports. Similarly, the ECC decided that the export quota will be approved and monitored by the State Bank of Pakistan (SBP) on first cum firsts serve basis.
More, only those mills would be allowed to export who have cleared the outstanding dues of farmers relating to last season and have started crushing at full capacity. Furthermore, ECC decided that export will be completed within sixty days of quota allocation by the SBP. In case of non-shipment within the said period, a non-performance penalty of fifteen per cent will be imposed on the respective miller.
The ECC further decided that the provision of subsidy will not be available for already utilised sugar export quota from the SBP allowed vide ECC decision dated July 18, 2017. The rest of unutilised quantity (including quota issued but not executed) out of 0.3 million MT shall be considered withdrawn. More, the subsidy will be shared by the federal and provincial government on 50:50 basis.
During the ECC meeting, Ministry of Commerce informed that ECC vide its decisions dated December 28, 2016, March 28, 2017 and July 18, 2017 had allowed sugar exports of 0.225 million metrics tons (MT) with April 30, 2017 as deadline subject to a common condition that "in case domestic sugar price stability as compared to December 15, 2016, was not maintained, the Committee would immediately recommend to ECC for stoppage of further exports".
On the request of Pakistan Sugar Mills Association (PSMA), a meeting of Sugar Advisory Board (SAB) was held under the Chairmanship of Ministry of Industries and Production secretary on September 7, 2017; SAB observed that total sugar stocks available in the country were 2.788 MMT as of September 1, 2017. Keeping three months (September 2017 to November 2017) buffer stock of 1.275 MMT @ 0.425 MMT/month, SAB recommended export of 1.5 MMT of sugar (2.788MMT – 1.275MMT – 1.513MMT). It was stated that the price differential between the domestic cost of sugar production (worked out as Rs.52.46/kg by MoIP) and the international price of sugar (taken as USD 376.60 PMT as on September 8, 2017) was Rs.10.70/kg, which may form the basis of subsidy to the sugar exporters.
However, the committee observed that during the meeting of SAB, the representative of the government of Khyber Pakhtunkhwa was neither in the favour of sugar export nor of giving any subsidy on the sugar exports.
During ensuing discussion, minister of finance stated that ECC earlier decided that in the case of an abnormal increase in domestic sugar prices due to the export of sugar, the ministry of commerce will submit a report thereof to the ECC for further order/guidance.
However, it was not done despite some increase in domestic sugar price by Rs5-6 per kg and other measures had to be taken to keep the price stable. He further stated that ministry of commerce did not mention in the summary of the financial impact of proposed subsidy for export of 1.5 MMT of sugar. It was stated that financial impact of proposed subsidy would be around Rs 15 billion.
Minister of Industries and Production was of the view that SAB has no authority to make recommendations for payment of subsidy to the exporter of sugar as mentioned in the summary; rather it was the domain of ministry of commerce to make recommendations for any subsidy. Ministry of National Food Security and Research Secretary stated that export quota should be given to those exporters, who have cleared outstanding dues of sugarcane growers.
Prime Minister endorsed the view of the secretary, Ministry of National Food Security and Research and observed that recommendations for the proposed subsidy to the exporters of sugar are to be recommended by the ministry of commerce. He was of the view that export of sugar might increase domestic sugar price, therefore, the ministry of commerce should keep a close watch on price. Planning, Development and Reform Division Secretary opined that since the considerable quantity of surplus sugar was available in the country, therefore, its benefits should be passed on the people in terms of reduction in price.
The PM observed that total sugar stock available in the country were 2.788MMT as of September 1, 2017,  and after keeping a buffer stock of 1.275 MMT for September 2017, a stock of 1.513 MT would be available as surplus. He emphasised that domestic sugar price should not be increased as the cost of proposed export as it will affect ordinary people.
Minister of Finance, Revenue and Economic Affairs emphasised on the fact that the wording used in earlier permission was developed after a thorough effort by the ECC, therefore, to avoid any misunderstanding the same template may be used only changing the permitted amount and adding the subsidy clause.