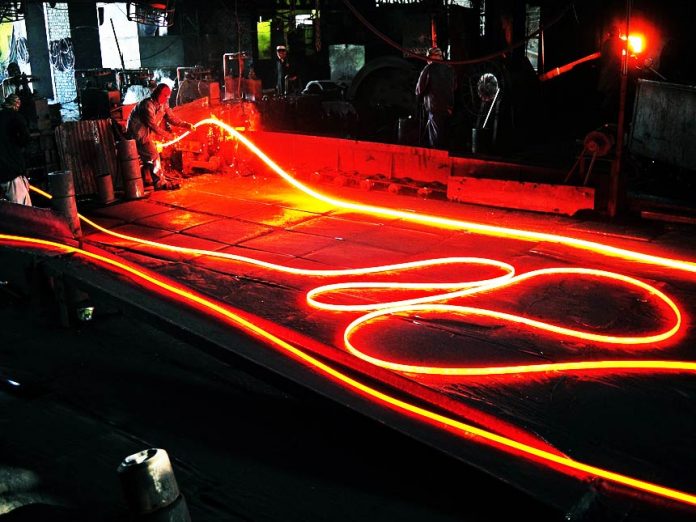 ISLAMABAD: Secretary Privatization Irfan Ali on Friday reiterated that Pakistan Steel Mills (PSM) privatization was still on the cards and it was also under consideration to give it away on a 30-year lease.
He apprised the Senate Standing Committee on Industries, which was chaired by Senator Hidayatullah that Pakistan-China consortium chosen for transaction advisory suggested the government had to clear the state-owned entity's liabilities to privatize it, reported a local newspaper.
Liabilities of PSM are said to have touched Rs180b, said Ali and 8,000 of acres will be sold to National Bank of Pakistan and Sui Southern Gas Company (SSGC) respectively to make payments for gratuity and provident funds of its retired employees.
He added the government planned to lease out PSM on a 30-year lease and interested bidders will submit their plans to the government in this regard. The committee demanded details of 930 acres land sold to NIP and payment received against it.
Senator's Mian Attique and Kulsoom Parveen reminded about plans to privatize PSM during Musharraf's regime but PM Shahid Khaqan Abbasi's sister had moved the apex court against it and the deal was struck down by then CJP.
Parveen alleged that government was only interested in selling PSM because of its land. Senator Taj Haider said he won't permit the sale of PSM land to go-ahead and said he would himself lead a sit-in this regard.
Haider asked the federal government to provide details of the communication it had with Sindh about the offer it had made for PSM.
Furthermore, Haider said the government had told the senate in writing that none of the 89 units privatized were operational and their land had been sold. He got backing from other senators in this regard. The committee was apprised that a Rs18.5b bailout package had been approved by Economic Coordination Committee (ECC) in 2014 for PSM. During that period, it was also decided that outstanding gas and interest payments would be frozen for two years.
Haider said ECC decision remained unimplemented and SSGC not only cut off PSM's gas supply but also sent it huge bills with surcharges, which had left the entity non-operational since 2015.
Earlier this week, Profit had reported PSM had agreed to settle its debts of Rs99b against exchange of 5,774 acres of its land.
As per provisional agreement, NBP and SSGC had been given the option of acquiring 5,774 acres of PSM's clean title land, whose market value was said to almost equal the latter's outstanding debt, a CCOP official then said.